The article has been automatically translated into English by Google Translate from Russian and has not been edited.
How a blind Ukrainian entered a prestigious university in the USA
'12.02.2019'
Source: Facts
The story of this girl is amazing. Having lost her sight at the age of two, Irina Bilogorka not only lives a full and active life, but also achieves much greater success than many people who have no vision problems.
Ira travels a lot, (while doing so without accompanying people!), She practices salsa, swimming and modeling, plays the guitar and piano. But her most striking achievement was that the girl learned English without any courses and teachers, won the "Flex" student exchange program at an American college and free living for a year in an American family, they write Facts.
After graduating from college, she enrolled at once in several foreign universities, including Ca-Foscari in Venice. However, she stopped her choice on America. Now Irina is a student at the University of Minerva in the USA, as well as an organizer of charity forums and trainings for Ukrainian applicants who want to study abroad.
"I have never perceived the lack of vision as a barrier to living an interesting and active life," says Irina Bilogorka. - Just a person with disabilities needs to work three times more to succeed. But nothing is impossible - the main thing is to decide what we ourselves want. For ten years I studied at the Lviv boarding school for children with vision problems. Education there was not bad, but at some point I realized that for me there are few opportunities and prospects. I decided to leave and try something new. The family supported me, they always support me, even when I "strike at" something absolutely incredible. For example, it was when I decided to apply for Flex. This is a student exchange program that was created by the Bureau of Educational and Cultural Affairs of the US Department of State, and is administered in Ukraine by American Councils for International Education with the support of the Ministry of Education of Ukraine. Its goal is to enable talented Ukrainian youth to study in an American school and live in an American family for one year, that is, to immerse themselves in the language environment. And all this - for free. The main thing was to qualify.
- How did you find out about the Flex program?
- My younger sister Diana told me about her - in 2016 she decided to take part in this program. I said I would also like to try. True, we thought that only she would pass - Diana studied in an English special school, and I studied English on my own, using video tutorials on Youtube and Dmitry Petrov's Polyglot program. And I improved my spoken English by talking to Peace Corps volunteers.
The selection on the "Flex" was held in three stages, I passed tests in Braille. What was my surprise when it turned out that I reached the final, and my sister - no! By the way, the next year Diana took part in this program again and this time she won. But then, in 2016, my joy knew no bounds. I went to Texas to El Paso school.
- What were your first impressions of America?
- This is my first serious trip abroad. I, of course, was very excited. A lot of impressions, new people, environment. She lived in a family that, apart from me, adopted a girl from Indonesia. We became friends. Then, however, it so happened that I had to move to another family. But I did not regret: my new "host-parents" (guest parents. - Auth.) Were young, they have three children, they have been to Ukraine many times. I especially liked that this family very actively spends its free time, is engaged in volunteering, organizes some meetings, trips. It was very interesting with them.
- They say that after a couple of months of residence in a new country, the original charm passes.
- Yes, I also had some not very pleasant discoveries. First, when you come to a new school, you think that you are new here, so you will be interesting to other people and quickly "grow" friends. But it turns out that there are a lot of newcomers here all the time, and you need to try very hard to make real friends. Yes, Americans are positive people, they never complain, they are always friendly. But at the same time, this friendship is superficial, about nothing. You do not know what a person has inside, and you yourself cannot share your experiences.
I was lucky that my school was on the border with Mexico - Mexicans are more open. It is easier to talk with them heart to heart. It was a Mexican friend who reassured me about a second disappointment - a language. In America, it suddenly became clear that my English, which I considered excellent in Ukraine, is not so perfect. At first, I did not keep up with the pace of people's conversation, did not catch the nuances, did not understand slang. It also turned out that I had a strong accent. I began to complex. But my friend assured: here all the visitors speak with an accent, you should not be shy. If people understand me, and I understand them, then everything is in order. I calmed down and was able to quickly adapt. After three months of living in conditions where there is no one Ukrainian or Russian-speaking around, willy-nilly, you begin to think in English, the brain gets used, and you already begin to speak freely.
What else of the minuses? In small towns, transportation is poorly developed, sometimes, to get somewhere, you need to ask for help from other people. But in general, positive impressions of America still prevailed. For example, I was surprised how much less time people spend there on cooking. They'd rather quickly fry ready-to-cook foods, order food at home or go to a restaurant, and spend their free time with the family. There is an amazing leisure time, including among schoolchildren: football, autumn balls, sitting by the fire and baking on marshmallow fire. It is so cozy and so cool!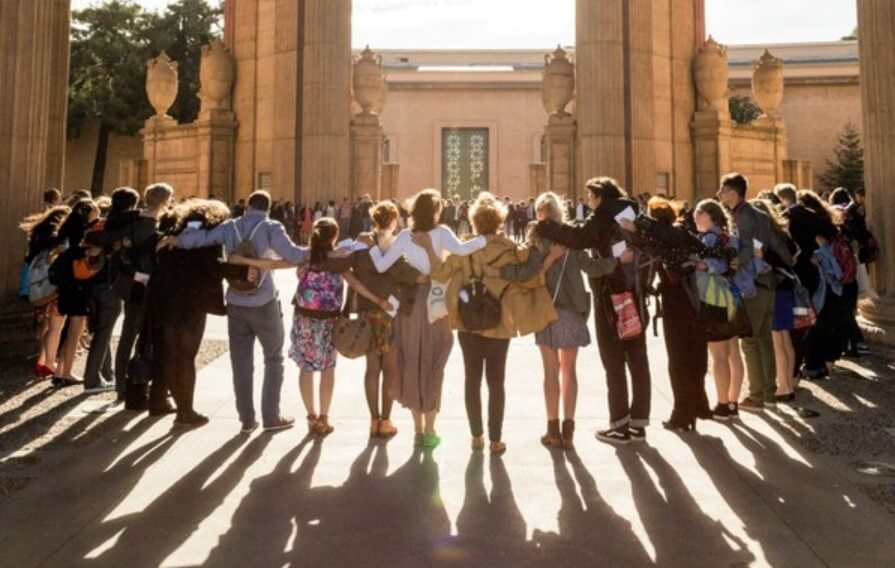 * In order to enter Minerva University, it is important for the entrant not only to show excellent knowledge, but also to have volunteer experience at home
- Tell us about schooling.
- We could choose subjects that are interesting to us. I chose those that I did not have in Ukraine - for example, the most difficult level of the English language, cosmology. Then I realized that I made a mistake by neglecting the usual lessons. Indeed, in the United States, classes, even on those topics that I have already taken at home, are at a much higher level.
The classes lasted from 9 in the morning until 4 in the evening, then there was dinner and free time. On weekdays we did our homework, and on weekends we went traveling with friends or our host-parents.
- As far as I know, an American family provides you with shelter and food for a whole year, without receiving a penny for it - not from you or from the organizers of the Flex program. Why do they need all this?
- Yes, for us it really looks strange: so much trouble and no gain. But when you live in the USA, you begin to overestimate the motivation of people's actions. They want to do a good thing, it is important to teach this to children, to give them the opportunity to communicate with people from other countries, and for us to immerse in the American atmosphere. Having lived there for a year, I myself also took the girls from China to visit. While I was in the USA, I didn't pay attention to how much my thinking had changed. I noticed it only in Ukraine. I have become much wider to look at things, to realize that everyone has the right of choice and opinion. For example, in Ukraine, students, in order to get a good grade, memorize the words of a teacher. American never do that. It is important for them to understand, to comprehend, and if they do not agree, they easily talk about it, and this is the norm. America teaches people to think critically and perceive people as they are.
- Including people with disabilities.
- That's for sure. In Ukraine, there is de jure inclusion, but de facto neither teachers in educational institutions, nor peers, nor simply people on the streets at all know how to behave in relation to people like me. I spent a year studying at the Ternopil Law College. Sitting at lectures, outlined the material on a laptop. And one of the teachers all this time was unhappy with me, because I thought that I was just brazenly opening a computer and doing other things. Other teachers simply did not know what to do with me, how to teach me, how to check. Everyone had to walk, ask, explain. In America, this is all clearly organized, structured, no problems arise. Of course, both transport and house entrances are adapted for people with disabilities. It is convenient there. And most importantly - you are not perceived as disabled. On the other hand, the University of Minerva, where I am currently studying, obliged me to walk with a cane - I had not done this before. I submitted, although reluctantly, because I consider this requirement to be discrimination.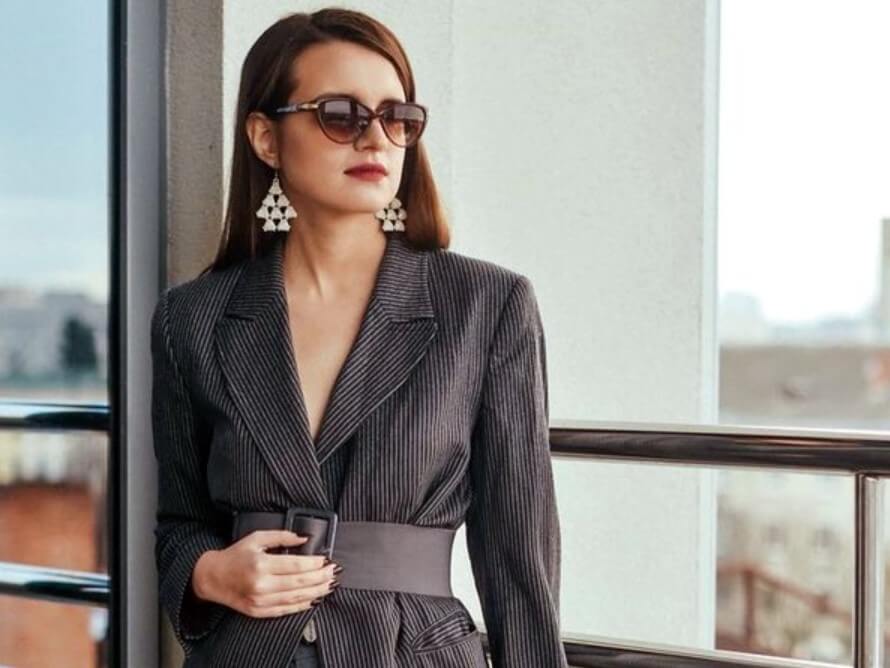 * "I have never perceived the lack of vision as a barrier to live an interesting and active life," says Irina Bilogorka
- After a year of study at an American school, you entered several foreign universities at once, but chose Minerva University. Was it hard to do?
- In most foreign educational institutions there is a similar procedure: you submit an application, a TOEFL or IELTS exam certificate confirming your level of English, letters of recommendation, you write a motivation letter on the topic of why you want to study at this particular university. I really went to several universities at once, but I wouldn't financially pull my studies there - in Italy, one year costs 20 thousand euros. In Minerva, however, it is even more expensive - 30 thousand dollars a year, but the difference is that the admission procedure there is Need blind, that is, blind reception, when a student is not tested for his ability to pay. If he passed the competition (and the competition is huge), but is not able to pay, the university provides very substantial financial assistance. And student loans, and discounts on tuition, and pocket money. As a result, the amount is reduced by six times! That is, in fact, I paid 5 thousand dollars for the year, and this is taking into account the necessary books, a computer, etc. Next year it will be even cheaper.
Minerva is a relatively new university, quite unusual. The admission procedure here is different from other universities: you take the exam for creativity, knowledge of mathematics and English right from them. It is also important to have volunteer experience at home. But simply writing "helping the orphanage" will not work: the university will definitely call back and check it. All training in Minerva - seminars, tests, lectures - are conducted online. For each lesson we receive materials in advance and carefully prepare. It takes a lot of time - as a full-fledged working day. Three times a year, students pass practical work. I am currently studying genetically modified products, the influence of the media on people's understanding of the risks and benefits of perception of the body of GMOs.
- What do you do in your free time?
- Salsa. Charity I organized several large-scale projects in Ukraine. For example, charitable educational conferences. The graduates of Flex shared their experience with the applicants, and we transferred the collected money to charity. In addition, I went to the European Union Model (this is a simulation of the process of adopting European legislation for anyone who wants to understand how this structure works) as a UN model. It will be interesting to participate, to understand the intricacies of their work. I am also approached by many students and applicants who would also like to study abroad, but do not know where to start or how to overcome obstacles. I advise, help.
I also plan to create my own business, which will bring not only money to me, but also benefit to society. We take the phrase about the "struggle for human rights" as a figure of speech, as something that is taken for granted and followed always and everywhere. This is not yet the case. I would like to return to Ukraine after graduation and influence this situation. The only thing that can interfere is if there is not enough money to complete the training.