The article has been automatically translated into English by Google Translate from Russian and has not been edited.
How Americans really eat and what Russian food is found strange
Alisa Ksenevich, a Belarusian who has lived in this city for many years, tells about various aspects of life in New York, without embellishing this difficult, but insanely interesting reality. Today we will talk about popular misconceptions related to the diet of Americans, such as immigrants and tourists imagine it.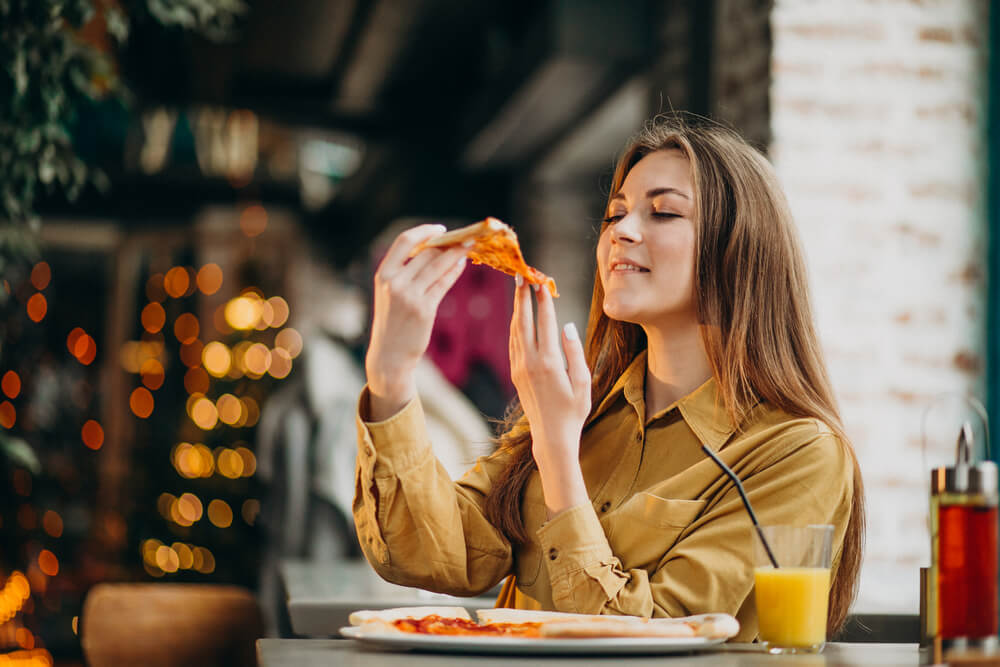 How Americans feed
It would be naive to believe that American cuisine is limited to chips, hot dogs, hamburgers and fries. Tut.by... So many cultures and peoples have mixed in this country that they could not help but influence the food habits of Americans. Tacos are just as popular here as burgers; Belgian waffles are a worthy competitor to donuts; and pancakes (Russian pancakes with cottage cheese or berry filling), as well as French croutons with nutella, are an indispensable must have for Sunday brunch.
New Yorkers eat breakfast modestly and most often on the go. Classic version: coffee and bags (a ring made from boiled in water, and after baked dough). Bagels are to Americans what croissants are to the French. The loaf is cut across, dried in the oven and stuffed with melted cheese. I haven't touched the bagels for a year and a half, but once I tried it and realized that this is one of the most successful flavor combinations. A variety of bagels - bagels and bagels - were baked by Belarusian Jews. Smorgon is considered the birthplace of the bagels.
In the 30s of the last century, there were about 60 bakeries that supplied bagels to Lithuania and Russia. Perhaps it was the Belarusian Jews who immigrated to the United States who baked the first Begles in New York.
American Lunch is a massive ham, salad, cheese sandwich and potato chip soup. Panini (grilled bread stuffed with meat, vegetables and cheese), potato (potatoes, mayonnaise, olives, canned corn) and pasta (the composition is the same, only instead of potatoes - pasta) salads are very popular.
Those who advocate a healthy lifestyle, have a snack on a protein bar and smoothie (milled fruit, ginger, greens).
Sushi Americans began to eat relatively recently - about twenty years ago.
- In the eighties, when I was a child, the attitude to sushi was like to something vile: "Ugh, raw fish!" says my former roommate Matt. - The realization that it is tasty and prestigious came after the most expensive restaurants in New York included sushi in their menu.
Matt is a typical representative of "big" Americans (in politically correct America, very fat people are not usually called fat, they are called "big" or "heavy", and girls are curvy, curvy). Matt eats mostly at night, ordering pizza, corn dogs (sausage in a fat and crumbly corn dough) or Indian food (rice with chicken in a hot sauce).
On New Year's, parents gave Matt a grill in the hope that the guy would take his head and start eating right. Matt used it twice already. Moved from regular to diet. According to him, in two weeks he managed to take off three kilograms, which, of course, is not very noticeable with his weight.
Continuing the theme of the tastes of Americans, I would like to mention a dish like waffles with pieces of chicken, fried in breading. Not only that there is a million calories, so they still eat it with maple syrup! And what about the toasts, on top of which is put fried bacon and grape jam?
It also seems strange to Americans that we eat dumplings with sour cream, and not with soy sauce. Milk soup in their understanding is generally terrible horror. Here, it seems to me, it is important to be open to the new. Before my trip to Spain, I had no idea how tasty it is - red wine with pickles!
A weekend in New York begins with brunch - a hearty breakfast that blends into lunch
Brunch is served from 11 am to 4 pm with a glass of "Mimosa" (orange juice with champagne), pruseco or "Bloody Mary" (tomato juice with vodka, spices and Tabasco sauce).
Branch was invented by the author of "Alice in Wonderland" Lewis Carroll (real name Charles Lutwidge Dodgson) in the 80s.
Professor Dodgson combined the words "breakfast" (breakfast) and "lunch" (lunch) into one - and sent a letter to the rector of Oxford University with a request to introduce "brunch" into the daily routine for more productive work of students and teachers. The proposal was approved and brunch became a new Oxford tradition. Soon the brunch idea was picked up by other educational institutions in Britain. In 1896, the "gold rush" began, and hundreds of immigrants from the UK went to Alaska. That's how they learned about brunch in America.
In general, it is strange to drink champagne in broad daylight, eating it with toast, sugary-sweet biscuit cookies and soft-boiled eggs. The brunch menu seems to be tailored specifically for a severely hungover person who smokes midnight in the clubs. Omelet (usually made with cheese filling), fried potatoes, butter-soaked toast with jam, fried eggs with bacon ...
It happens that the price of a brunch ($ 14-25) includes an unlimited number of alcoholic cocktails. They are poured into a glass like filtered water. This practice is common in New York, but banned in most states in America.
The pricing policy of many cafes and restaurants is designed to make it cheaper and more convenient for people to dine out. Therefore, many in New York either stop cooking altogether or plunge into cooking with their heads: attend cooking classes, buy products at farmers' markets.
I spend about $ 600 a month on food, which is not much by local standards.
I have breakfast at home or in a coffee shop, I buy lunch in Delhi - these are something like canteens with an excellent selection of dishes (salads, hot dishes, desserts) and self-service. A couple of times a week I go out somewhere where they play live music, have wine and light snacks available. The average check for a dinner is $ 25-30. I would give the same amount for a trip to the store.
The cheapest food is in street carriages. A generous portion of meat with a salad and side dish costs six dollars.
Hot dog and pizza are sold on every corner, but the main thing is to know the place: for $ 2 you can get an amazing juicy hot dog (for example, at Gray's Papaya) or a pale bun with sausage and a spoonful of ketchup.
Bottled water is expensive in New York, so I would recommend getting a water container and filling it in the drinking fountains on the city streets, or quenching your thirst at the Starbucks chain (free of charge). New Yorkers take pride in the quality of their drinking water and drink it boldly from the tap.
The city is so spoiled by different cuisines that something new constantly appears to intrigue and attract the consumer to a particular establishment. In the spring of 2013, the kronat, a croissant-donut hybrid, invented by the owner of a confectionery in Soho, caused an unprecedented excitement. From 6.30 in the morning, queues lined up for crowns - no more than a dozen of them were released into the hands at a price of $ 4,5 per piece. Enterprising citizens posted advertisements on the Internet, where they offered to stand in line for you and deliver a crown for $ 20. Whether such a wrapping of a fat flaky bun with butter cream and jam inside is worth it, I don't know, I haven't tried it, I was not tempted.
Only in New York can you find restaurants that specialize exclusively in hummus, rice pudding (served in tubs, as food for astronauts), desserts, peanut butter ...
The latter has had such a powerful impact on the American food culture that a rare dessert does without it. For example, American-style "French toast" is nothing more than toast generously brushed with Nutella and peanut butter. Pieces of banana, berries, grape jam are placed on top. A popular New York City sandwich called the Elvis is oven-toasted bread with banana, honey, bacon and, of course, peanut butter! Americans love peanut butter so much that they are even ready to eat celery with it and drink a milkshake based on it.
The most popular desserts in the US are apple pie with ice cream, carrot cake with walnuts, and cupcakes (cupcakes with a cream filling under a frosting cap). Compared to Belarusian pastries, American ones are sugary-sweet. Even Italian hot chocolate, which should actually be bitter, crunches on the teeth with grains of sugar. Quite ordinary products also have a sweetish taste: milk, butter, bread, cereals.
In New York, people are willing to wait in line for several hours to feast on "New York's best pizza," "New York's best frozen yogurt," "New York's best french fries," and so on. The rating of all the "best" in the restaurant industry in New York is compiled by critics of the authoritative publication Zagat. It is they who set the fashion for certain establishments.
Most city dwellers surveyed about the benefits of living in New York cite "XNUMX/XNUMX food delivery" as their top priority. "Dine like a New Yorker - order food seamlessly" (the most popular online food ordering app with delivery from nearby restaurants) reads a subway advertisement.
With gluttony sin 36% of Americans. In 6% of them, obesity has reached a critical point. 50 kg in excess of the norm have 5% of children and adolescents, with black girls and Hispanic boys twice as often becoming fat.
Meanwhile, the New York pastry chefs continue to invent new ice cream flavors: black tea, ginger, lychee, red pepper ... The ghost of a zephyr giant in a sailor's cap wanders through the megalopolis.