The article has been automatically translated into English by Google Translate from Russian and has not been edited.
How dozens of Russian women left for their jihadi husbands, but ended up in a Baghdad prison
The central women's prison in Baghdad is currently awaiting trial for 50 women from Russia who have been in the IG. Almost all of them with children, almost all of them got into the IG after their husbands, many spent six months in captivity of the Iraqi military group.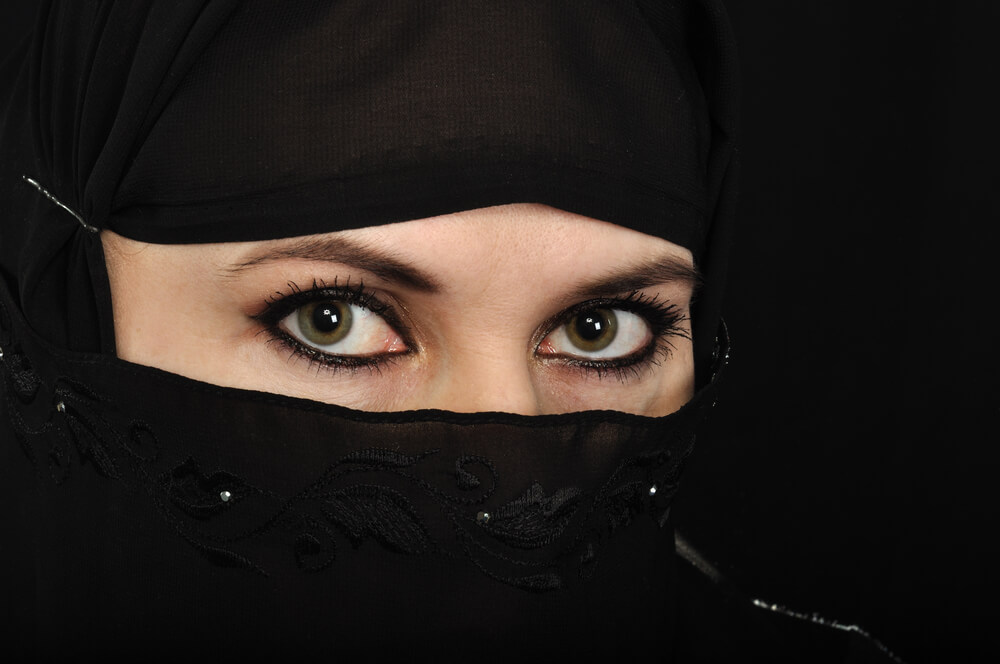 In Iraq, they face life imprisonment and even the death penalty. In Russia, relatives are fighting for them, claiming that their relatives are innocent. Russian service Bi-bi-si tells the stories of girls.
At the beginning of December 2017, a Simferopol-born woman Irada Tahirzhanova received a message in WhatsApp from an unknown number: "Hello. I have news about your sister Rushan. " The girl sent seven messages in a row in response:
"Good evening.
What news
Who you are
She is alive
??
Where's she
Answer me".
By that time, Irada had not had any news of her younger sister for almost four months, since she got in touch in August from the besieged city of Tel Afar in Iraq. The settlement 50 kilometers west of Mosul at that time was under the control of the "Islamic State" *. After the liberation of Mosul by the Iraqi army - the battle for the city lasted nine months - the IS * stronghold moved to Tel Afar.
Rushana told her sister that her husband was dead and that she is looking for an opportunity to get out of the IG territory. A few days later, the bombings of Tel Afar began, and then the assault that lasted a week. After that, the connection with Rushan disappeared.
The interlocutor replied: "I can not only Russian, Arabic". Irada suggested that he used an electronic translator. "I love helping Rushana know her news and health," the unknown continued. "Talking to her is not so good his son Adam." Irada recalls that she decoded this message like this: now you cannot talk to her sister. The interlocutor sent a photo of Rushana's little son, and Irada responded with several emojis with folded palms in gratitude.
Three days later at 2.43 am Rushana got in touch. In the voice message - a choked whisper: "Do you hear me? Everything is fine with me, we are safe and sound. "
"The girl to whom songs were dedicated"
Relatives still do not really understand exactly how Rushan Tahirzhanova got into 2014 from Simferopol to the territory of the IG. By nationality, the sisters belong to the Crimean Tatars, but Islam in the family was rather part of the cultural tradition than the religious one: their mother, who had raised three children alone, never hid their hijab.
Rushana herself studied to be a hairdresser-stylist, went to photography courses and, according to her relatives, she never showed any interest in Muslim and even more extremist ideas, but grew up as a spoiled beauty: she adored expensive perfume and sunglasses on half her face, studied Greco - Roman wrestling and did not miss an opportunity to demonstrate her figure - in the photographs she flaunts in tight dresses and leopard leggings. In general, Irada explains about her sister, she was "a girl to whom songs were dedicated".
In the spring of 2014, eighteen-year-old Rushana fell in love by correspondence with the Chechen Mansur. The religious wedding ceremony - nikah, - as Irada suggests, was carried out remotely, after which the younger sister "secretly packed her bags and ran away from home." "We were not only surprised, we were just shocked," says Irada about the reaction of the family. - I say: "Where are you?" - "I am in Turkey, I came to study" - "How did you go there without our permission?"
For a while, the couple really lived in Turkey, but when the relationship with her sister became irregular, Irada suspected something was wrong and asked directly. Rushana admitted that she and her husband were in Mosul - a city in Iraq at that time was under the rule of the Islamic State - and that they had neither money nor regular access to the Internet.
Whether the husband of Mansur's sister was a militant, Irada does not know, although she assumes not: "If he had fought, he would have had some money." But she claims that she knows "for sure that my sister was at home." Rushana spent three years in IS, first being pregnant - she gave birth to a son - and then nursing. It was forbidden to go outside unaccompanied by her husband, to communicate with other people's men too. Rushana also went to Internet cafes only with her husband, so communication with her family was irregular, once every two or three months.
Rushana, Irada says, "experimented with her hair color: sometimes she had light blond, sometimes orange," and only went to visit her friends - Karina Beshirova and Makka Umaeva. Both girls are now also awaiting trial in a Baghdad prison. They, like Rushana, ended up in IS with their husbands - according to Irada's explanation, out of naivety or as a result of deception, since they were "young and stupid" (Makki Umaeva's mother, in a conversation with a BBC correspondent, recalled that on the second her daughter fainted at the sight of blood, and wondered how she could end up in IS). Both friends had children: Karina had four, McKee had one newborn daughter. When meeting, the girlfriends closed at home, drew arrows and took selfies: now Irada jokes about the photos that this is "VIA Gra" right in Tel Afar ".
In the summer of 2017, Mansur managed to organize wi-fi at home - Rushana "was already so desperate that she begged him to talk to his sister." On August 9, Mansur died: there was no light in the house, he went in search of fuel, and a bomb hit the car. "He was driving for diesel fuel - or what is it called when you pour it into a lamp? - explains Irada. "When the lights were turned off in Crimea in 2014, there were such people everywhere."
On August 14, 2017, Rushana reported that a guide was found who offered to take her and her child out of ISIS for five and a half thousand dollars - this practice of "guides" was repeatedly told by people who managed to escape from Syria and Iraq. Irada collected the required amount in two days and flew to Turkey.
"We had negotiations with them for a week. A week. Then they asked for another thousand dollars. We agreed to this too. Then they raised the rate to ten thousand. " After that, both Rushana and potential guides disappeared. Irada returned home with the money.
For four months Irada had no information about what was with her sister and whether she was alive. It was said that women could be sold to the "white market" - that is, into sexual slavery. It was said that after the capture of Tel Afar by the Iraqi troops, no one was left alive. All this time, Rushana Takhirzhanova and her child were held captive by the Hashd al-Shaabi association - popular mobilization units fighting on the side of the Iraqi government against the Islamic State. At some point, she managed to pity one of the guards so much that he agreed to write to her sister, Irada.
"They live like in a five-star hotel"
There are many emojis in the correspondence between a native of Simferopol and a fighter of the people's police from the Iraqi city of Karbala - it was quickly discovered that they are the best way to remove the language barrier. Irada wrote messages in Arabic with the help of an online translator or turned to her brother who knew the language for help. The guard answered in the same way - in a mixture of broken Russian and native language. In addition, he began to give Rushana herself a phone for 10-15 minutes every two or three days, when he had shifts - usually communication sessions took place late at night. The girl wrote short messages in transliteration or read in a whisper, "secretly," voice messages.
Rushana said that other natives of Russia were also in captivity with her, told her sister the name of the group holding them and the approximate location. The girl did not have exact data: the captives were kept in a closed room - neither women nor children were out for about six months. According to Rushana, there were about two hundred people in captivity - about seventy women of different nationalities and their children. A hundred people lived in one room at the same time. In one of the voice messages Rushana complains to her sister about the food: "I will have this rice in my head soon. Rice, rice, rice, rice ". I had to sleep on the floor. There was only one toilet for two hundred people. There was no medicine or medical assistance. Rushana's friend Karina Beshirova gave birth to her fifth child under these conditions.
In January 2018, another captive, Aisha, Madina Naloeva's daughter-in-law from Nalchik, was able to hand over several letters to her mother-in-law - she wrote them by hand on a piece of paper and asked the guard to take a photo and send the image. Aisha also ended up in IS with her husband, Nadar Efendiyev. Madina Naloyeva claims that her son was actually pushed out of the country - in 2014, the man was detained by law enforcement agencies on his birthday on suspicion of extremism and tortured with electric shocks (the mother believes that the real reason was personal revenge). After that, Nadar almost immediately left with his family, first to Egypt, where he was in the "Caucasus Emirate" *, and a year later he got to Iraq through Turkey. Trying to protect her daughter-in-law, Madina Naloeva even compares her to the wives of the Decembrists.
In IS, according to Madina, her son did not fight, but "worked as an electrician." He did not give details about everyday life, but he sent photographs - one of the last was a portrait with a child by a bright blue pool in the summer of 2017. In late August, immediately after the liberation of Tel Afar by the Iraqi authorities, the family was captured and divided. Aisha and her two children were taken away by "Hashd al-Shaabi", but what exactly happened to Nadar, his wife and mother do not really know.
Both Rushena and Aisha reported repeatedly to their relatives that women and children were beaten by guards and the head of the prison. Aisha mentions their names in letters: "Abu Seif, a finished creature, cruel" and a military field commander, a certain "bald Abu Jafar".
BBC correspondent Tim Huell was able to track down Abu Jafar in Iraq using this description and meet with him in February 2018. The interview began with a conversation about a rare Shabak ethnic group, to which the field commander belongs - the Shabaks suffered massively, first from Al-Qaeda *, then from IS. In the middle of the conversation, the reporter asked a question about women and children. Abu Jafar confirmed that he had held "200, 210 people" in captivity, but denied the beatings and said that he had created "very, very good conditions for the captives, they live like in a five-star hotel".
"Help, we are very bad, there are a hundred people in the room with me. We are in military territory. We feel bad why it took so long. Very cold. Here the roof is dripping ... My head hurts, I can't already, help, please, for the sake of Allah, "Rushana wrote in her turn to her sister.
Trying to make life easier for her sister, Irada decided to transfer money to the guard so that he could buy essential things. Arranging the Russia-Iraq transfer was not an easy task. "We were exhausted," Irada recalls cheerfully. As a result, she sent the money using one of the American money transfer systems: she herself told the military what it was (he did not know), she herself found a branch in the city of Karbala. The most difficult thing was to correctly transliterate the Arabic name into Latin letters so that the translation would be given to the recipient. Irada and the man exchanged photos: she sent a snapshot of the statement, and he, in the photo editor built into the phone, made corrections with his finger directly over the image.
Nevertheless, it was far from immediately possible to do everything right: "This poor fellow went back and forth for three days." But the guard did not grumble and only melancholy sent Russian phrases composed with the help of an online translator: "Now I go home tired of walking", "How long does it take to pray at the bank".
Irada, in turn, documented each step and sent illustrations to her interlocutor: here she was in a taxi, and now she was standing in line at the window. Once, seeing a photo from a taxi, an Iraqi soldier answered in monosyllables: "Snow." And when the epic was finally crowned with success, a stern armed man sent emoji - three dancing women at once.
The cooperation was mutually beneficial: the guard could keep the difference between the value of things and the money received, and Irada could take care of her sister and other women. "I typed screenshots into the search engine and showed what to buy: diapers, warm suits for girls, the Koran - my sister asked me to read, sneakers because my feet were cold, toothbrushes, shampoo, vitamins for children, cookies, sweets," Mars "," Snickers "and" Coca-Cola ", gloves, pacifiers, bottles, flashlight, warm socks, women's slippers, cotton swabs, syrup from the throat, towels, socks for newborns".
The guard, in turn, threw off photographs of purchased things as proof. During this time, a kind of friendship developed between Irada and the young military man: they added each other on Instagram and exchanged photos of their own children.
A separate translation, Irada, sent a security guard to buy a small phone and a SIM card for her sister. Thanks to this, she was able to constantly keep in touch, take selfies and send photos of herself and her son.
In a curt message, Rushana told her sister how she escaped from the IG:
"From the bombing
Published
Like from kin
Helicopter
Moaning [probably "shooting" - approx. BBC"]
And I'm running with a child "
Rushana also dreamed of returning to a peaceful life: shopping, a dentist and a beautician - to pin her lips. But more often than not she just asked for help: "Bad. I want to go home "," Damn, we are alive, and they are "," There is a disease here "," Why can't you do something for four months? "," Do panic ". The leitmotif is "Tell Ziyad".
Irada reassured: "Ziyad knows"; "You are our beauty, don't give up, I wrote applications everywhere - both to the embassy and in Grozny, Ziyadi will pull you all out", "I love you and I will find you, I promise, I swear, I will find you".
"Sabsabi", "Ramzan Kadyrov", "Russia"
Ziyad is Ziyad Sabsabi, a senator and representative of the head of Chechnya in the Middle East and North Africa. It was he who, since August 2017, has been directly involved in the export of women and children from the territories liberated from IS. The campaign is supervised by Ramzan Kadyrov, the coordination of relatives is carried out by a member of the Human Rights Council under the head of Chechnya, Kheda Saratov, and the Objektiv agency, which she previously created. According to Saratova, the list of women and children wanted in Syria and Iraq (it is compiled on the basis of requests from their loved ones) is now almost 2000 people.
In total, nine aircraft have flown to Russia since August. The rescue operation peaked in the fall of 2017. Alpa Gazieva, executive director of the organization, said in an interview: to be saved, you need to get to the Syrian cities of Al-Qamishli or Al-Hasaki, and then just come to the mosque and say the words "Sabsabi", "Ramzan Kadyrov" or "Russia".
However, already in October, the Dagestani special services arrested two returned residents of the republic. In November, another girl, a native of Ingushetia, was literally taken off the plane before returning to Russia and left in Syria. The reason is unknown - in the report of the Dozhd TV channel there is a version that the return was banned by the Ingushetian special services, but the head of the republic, Yunus-Bek Yevkurov, in turn replied that he learned about the incident only in hindsight. At the same time, speaking about women in IS in general, the head of Ingushetia admitted that he was skeptical of the idea of ​​their return: "If you take it from a human point of view, I believe that they left purposefully with their husbands to fight. Kill people. "
In December, Ziad Sabsabi explained that according to the new rules, all women older than 14 years who have been in the IG should be brought to justice in Iraq before returning to their homeland. They are accused of terrorism and illegal border crossing.
At the very end of February, Rushanu and his son and other women and children were also handed over to the Iraqi authorities by Abu Jafar. At that moment, even the exact number of those issued was unclear: the official representative of the Ministry of Foreign Affairs, Maria Zakharova, spoke about twenty-two women, and Kheda Saratova gave RIA Novosti a list of twenty-five names. It is still not known how many Russian women are now awaiting trial in Baghdad: Ziyad Sabsabi named the number 57, and Maria Zakharova at a briefing in April 2018 - the number "from 50 to 70" and emphasized that so far they are talking about persons, only presumably having Russian citizenship. In case of confirmation of the citizenship of women, the Russian Embassy in Iraq "will ensure that their rights to defense are respected by local lawyers," Zakharova added.
On the way from captivity to the central women's prison in Baghdad, Rushana managed to take the last selfie. From prison, she wrote to Irada that the phone had 20% of the charge left, that there was no outlet, that the conditions were even worse than captivity: "Those, it turns out, were good. Soon, apparently, the girl's phone was found and taken away. Her last messages before the disconnection were "concrete shmon", "khalas, khalas". In Arabic, this word means "end".
Among the messages that the former security guard Rushana sent Irada goodbye were emoji: the flag of Iraq, the heart, the flag of Russia.
"My daughter couldn't be a terrorist"
In December, before her sister first contacted her from captivity, Irada had a dream. "I could not sleep, and lay and prayed, said: Lord, when will my sister appear? Give me some chance to find out if she's alive. I lay with my eyes closed and seemed to be talking to her. She asked: where are you, tell me how you are, what's wrong with you. And then I had a dream that I took the phone and talked to her. "
Having received the news that Rushana was alive, Irada, along with her little son and mother, moved from her native Simferopol to Moscow to a rented apartment outside the Moscow Ring Road in order to devote all her time to saving her sister. "I swore to my sister that I would defend her honor and dignity before every person. If necessary, I will talk to everyone personally so that they understand that she is innocent, "the 24-year-old girl ardently explains. The husband supports the family - he is from Dagestan and is engaged in "business and charity". In search of help, Irada even reached Ramzan Kadyrov: she flew to Grozny, arrived in his native village, stood at the gate and began to sob excitedly. The girl was allowed in, interrogated and listened to.
In April, about twenty-five women went to the Iraqi embassy with a series of one-off pickets - their daughters, sisters and grandchildren, like Rushana, are awaiting trial in the central women's prison in Baghdad, or have disappeared altogether in IS.
All the protesters insist that their loved ones were taken to the territory of IS against their will - hiding the truth from them or openly threatening to take their children away. They assure that young women did not shoot at IS and did not fight, but devoted their time exclusively to children and households, cried and wanted to return to Russia. One of the posters read: "My daughter couldn't be a terrorist - she gave birth to children every year." "On the other it was written:" Our girls did not go to war, they followed their husbands, as required by Islam and Orthodoxy. "
In April, a court in Baghdad began to deliver the first sentences: on the 17th, two Russian women were sentenced to life imprisonment - according to Maria Zakharova, this implies twenty years in prison with subsequent deportation. Both women are now awaiting an appeal. One French citizen received the same term. At least eleven more women of different nationalities were sentenced to death in 2018.
But there are exceptions: in February, a German citizen, a native of Chechnya, was acquitted of terrorism charges and sentenced to a $ 400 fine and a year in prison for illegally crossing the border. According to her mother - she asked for anonymity because she wants "to leave this story behind" - Germany provided her daughter with a lawyer who was in touch with her parents.
The next trial in Baghdad will take place on April 29. According to Maria Zakharova, eleven Russian women must decide on decisions. When she has the strength, Irada goes shopping in Moscow and buys things to her little nephew, whom she has only seen in photos:
"I bought such cool sneakers, and they are already small for him. I bought jeans for him, they too have become small. How long is it possible? So fashionable, but he doesn't go. "
* IS, "Islamic State", "Caucasus Emirate" and "Al-Qaeda" - organizations are recognized as terrorist, their activities are prohibited on the territory of the Russian Federation.
The BBC does not have reliably known information about the preparation, commission or planning of any of the offenses referred to in the article, the responsibility for failing to report them to law enforcement authorities is established by article 205.6 of the Criminal Code of the Russian Federation.