The article has been automatically translated into English by Google Translate from Russian and has not been edited.
How Alla Pugacheva congratulated the Russian stars, Maxim Galkin and the children on the 70 anniversary. PHOTO, VIDEO
'15.04.2019'
ForumDaily Woman
Over the past half century, hundreds of stars have been lit on the national stage. Some of them initially shone not too bright, some went out after 10 — 15 years. And only one singer has been pleasing her fans for half a century now, remaining the real queen of Russian show business. Of course, this is Alla Pugacheva.
April 15 Alla Pugacheva turned, just think, 70 years! It's really hard to believe, watching how she laid out on stage, how happy she is with her youngest children, the five-year-old twins Harry and Lisa, and how good she looks alongside their father, Maxim Galkin, notes teleprogramma.pro.
On the subject: "I made a lot of mistakes in this life": Alla Pugacheva - 70 years. PHOTO, VIDEO
Today, Russian stars congratulate Alla Borisovna on her anniversary. The first warm words addressed to Pugacheva were written by a former son-in-law, Valeria's husband, and the author of the famous robes, fashion designer Valentin Yudashkin, writes open.lv. Of course, Maxim Galkin, the husband of Prima Donna, published a video greeting. Philip Kirkorov did not stand aside.
On the subject: "You came so uninvited": novels and husbands of Alla Pugacheva. PHOTO, VIDEO
A well-known musician, ex-husband of Christina Orbakaite, Vladimir Presnyakov Jr., on Instagram, very touchingly congratulated the former mother-in-law on his seventy-year anniversary. He admitted that he spent half his life next to the singer and is grateful to her for each day lived.
"Dear Allochka !!!! I spent half my life with you and am grateful for every day I have lived. You are my teacher, my guru, who put so much heart, strength, and wisdom in me. I never tire of remembering the important lessons I learned from you. My sincere love for you is inexhaustible and forever. Alla, be healthy and happy! May your and our common children and grandchildren grow up happy! I never cease to admire your talent, talent - to live, to live on! I congratulate you on your jubilee, I love and appreciate you, "wrote Presnyakov.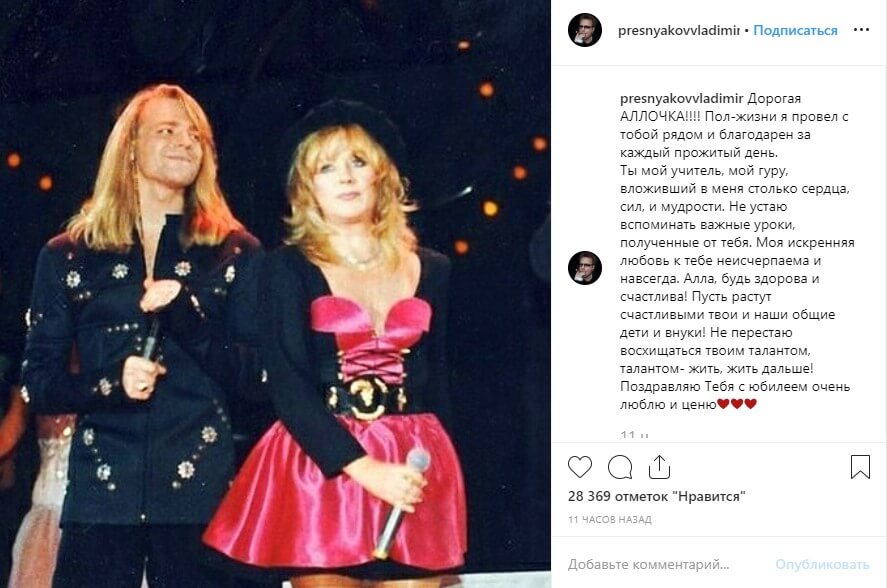 Designer Valentin Yudashkin in his microblog laid out an old photo of the singer on the stage and said a few warm words.
"Dear and beloved! Happy birthday, "wrote the designer.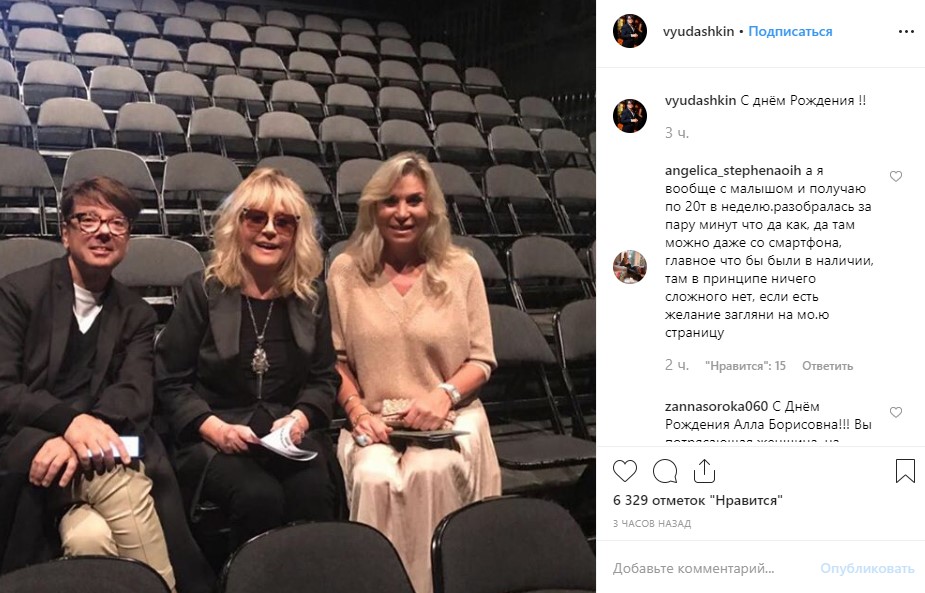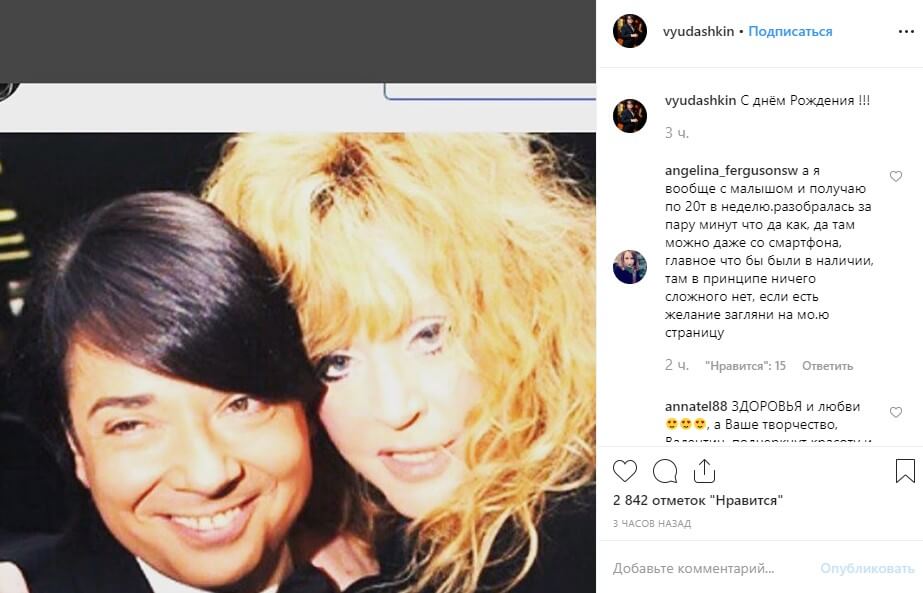 Following him, the prima donna was congratulated by producer Joseph Prigogine. On his Instagram page, he wished the performer health, as well as maternal and female happiness.
Soon Alla Borisovna's family video of congratulations was published by her husband Maxim Galkin. Lisa and Harry give mother flowers, read poems with declarations of love and show gifts made with their own hands.
Philip Kirkorov quoted a long congratulation from the @theonlyonesovietsuperstar insta blog (in full - here), which signed: "Happy birthday, dear, beloved, real and irreplaceable. I am so happy that YOU are. I am so happy to love you. "Everything is in it. I always wanted everything, and she gave it to me. "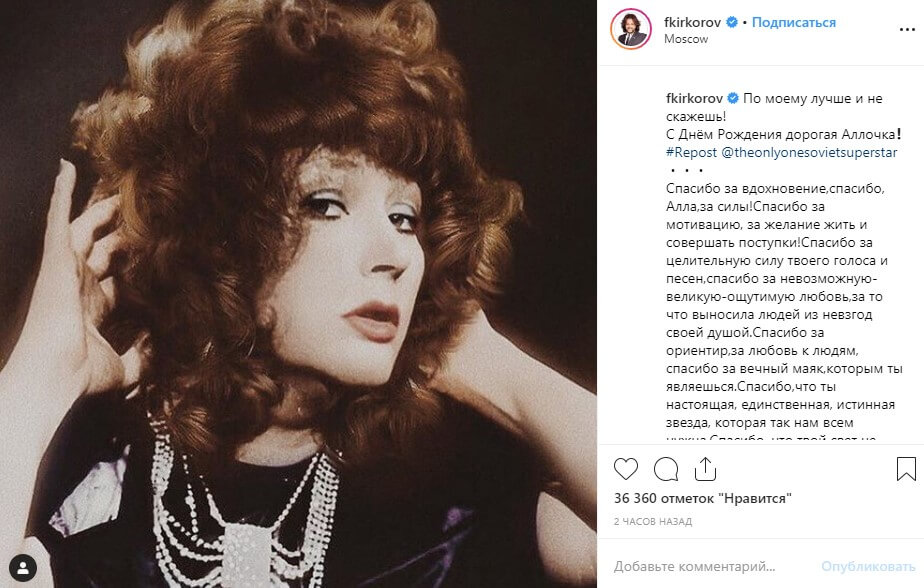 "Live very LONG! With Love -VV !!!! " - Vladimir Vinokur wrote on his Instagram.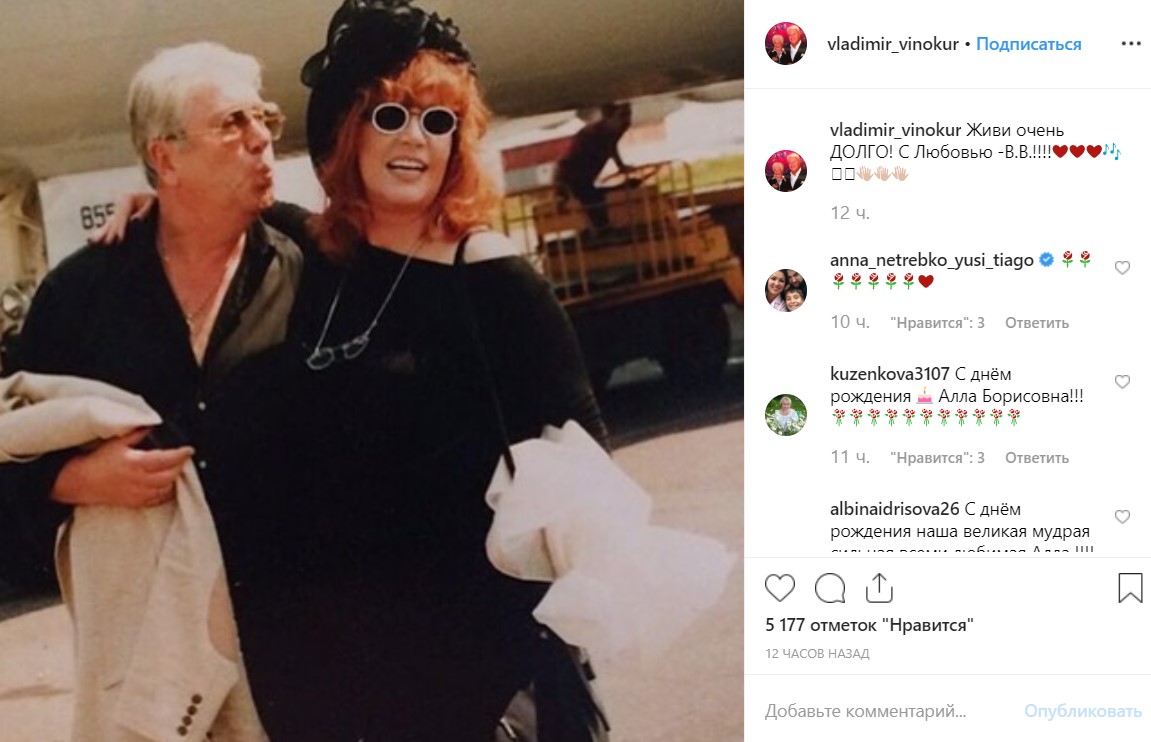 Pugacheva's best friend Alina Rodel congratulated the singer with the words: "Great Woman, brilliant singer, beloved and faithful friend on the Anniversary !!! Eternal youth and many years !!!! Thank you for being in my life !!! "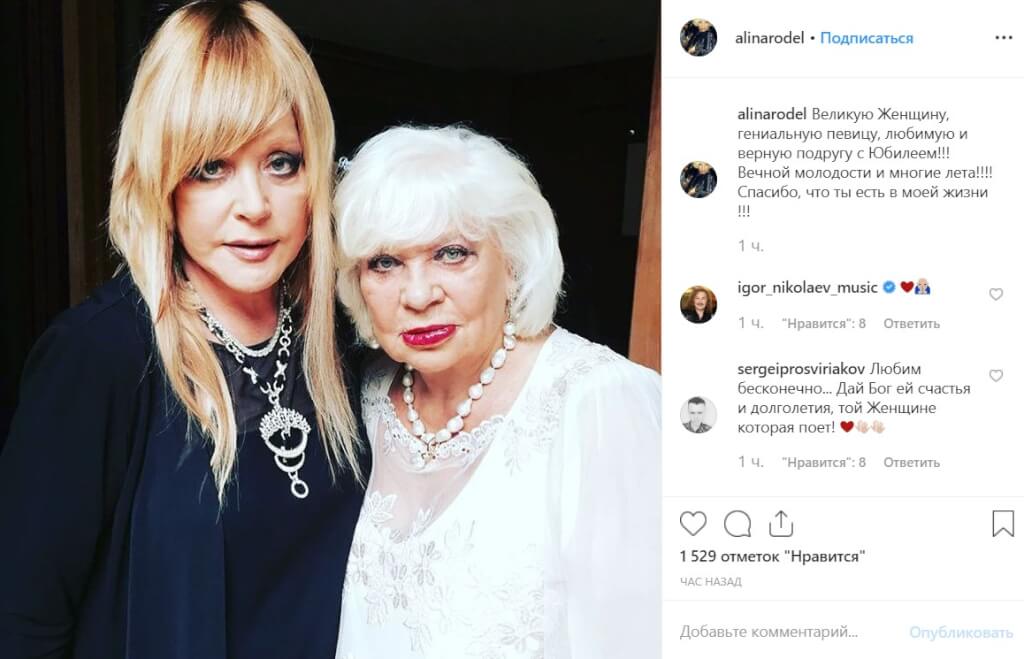 "ALLA BORISOVNA, THANKS FOR EVERYTHING! HAPPINESS! HAPPY ANNIVERSARY! ", - wrote an old friend and colleague of the singer Igor Nikolaev, having published several joint photos.
"Alla Borisovna, thank you for your life experience, for the necessary words in difficult times, for your wisdom! You are a great example of Women, Mothers, Artists for me !!! Happy Birthday !!! ", - Natasha Koroleva congratulated the Prima Donna.