The article has been automatically translated into English by Google Translate from Russian and has not been edited.
Ivanka Trump and her mother attended a party in honor of the future grandson of the president. A PHOTO
The daughter of US President Ivanka Trump and mother Ivana had fun at a party in New York in honor of the future grandson of Donald Trump, reports ABC News.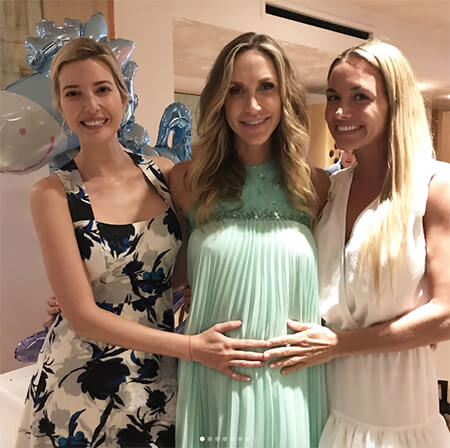 Very soon, the wife of the eldest son of the head of America Eric Trump Lara will give birth to a son.
10 May in an Italian restaurant Altesi ristorante in New York, in honor of the appearance of the future baby held a holiday called baby shower - for loved ones and friends of the Trump family.
Ivanka Trump, her mother Ivanna, daughter Arabella, wife of Donald Trump Jr. Vanessa, mother of Lara Trump, Linda Ann Sykes, and others became guests.
Photos from the party Lara and her relatives shared in Instagram.
Earlier, Eric and Lara Trump announced that their son will be born in September.
Note, Donald Trump has eight grandchildren. The five were presented to him by the eldest son Donald and his wife Vanessa, who bring up the daughters Kay Madison and Chloe Sophia, as well as the sons of Donald III, Tristan Milos and Spencer Frederick. And with three other grandchildren, the President of the United States owes his daughter Ivanka, who has given birth from her husband Jared Kushner to daughter Arabella Rose and sons of Joseph Frederick and Theodore James.