The article has been automatically translated into English by Google Translate from Russian and has not been edited.
The history of Kombuchi: how Russian kombucha conquered America
Boris Korkin remembers these three-liter cans with a sparkling sourish drink — they stood on the windowsills in a crowded five-room communal apartment in the center of Moscow, where he lived with his mother after the end of World War II. Writes about this journalist Los Angeles Times Sabra Aires.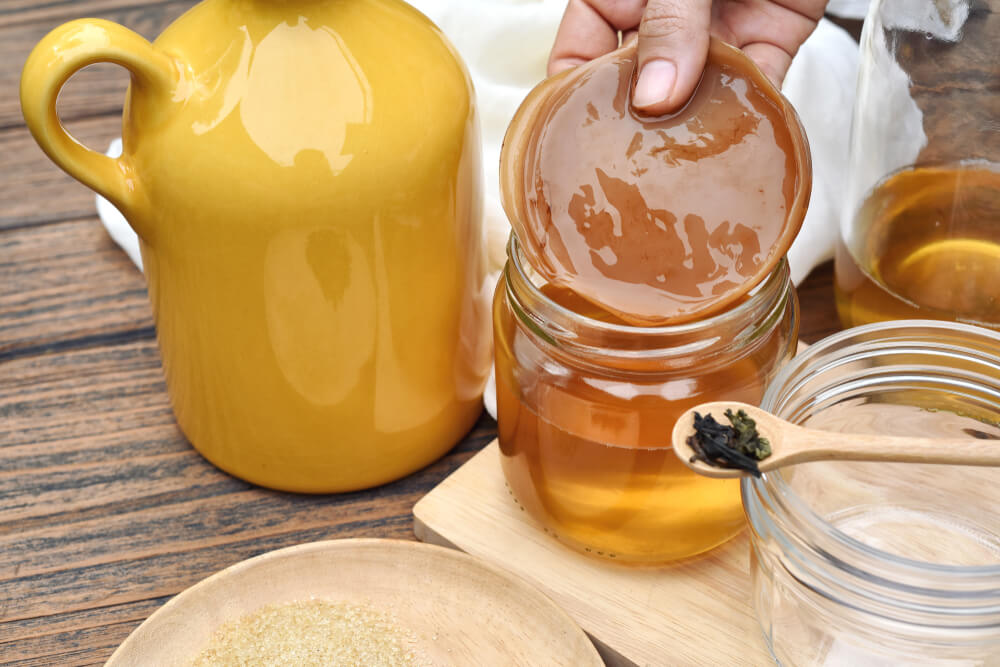 This drink was made from a strange-looking bunch of bacteria and yeast, which in Russia was called "Kombucha", and the same name he received. Sugar and tea were added to the jar, and then it was left to stand for a week, and during this time, as a result of fermentation, a slightly alcoholic drink was obtained, which Boris eagerly swallowed as a child.
"We drank it because there was nothing else. And this mushroom was, and it was at all, - said 72-year-old Korkin. "On special occasions, we poured it into beautiful decanters and set it on the table."
In the West, this drink is known as kombucha and is becoming more and more popular. However, long before it became popular in the United States, the drink had won a place on many Soviet kitchen tables. For Russians like Korkin, it was an affordable option for a carbonated soft drink such as Coca-Cola or Pepsi, popular in the West but not available in Russia until the 1980s.
But as soon as Coca-Cola, as well as its sweetish, carbonated counterpart, appeared in Russia in the last days of perestroika, the fermented tea drink began to gradually lose its popularity.
"Nobody wanted to drink this drink in 1990's, because everyone wanted fanta and cola," said Korkin.
Today, modern Russia is seeing the return of kombucha, thanks to young entrepreneurs who believe that the drink can free itself from its grandmother's image.
"I guess my generation got PTSD from our grandmothers who forced us to drink kombucha when we were kids," said 35-year-old Ilya Devedzhan, founder of the Moscow-based company Karibu Kombucha, one of Russia's ever-growing brands. "But, in my opinion, we are now ready to look at him differently."
When Korkin's two sons were still young, he made a drink for them, using the same method as his mother, whose childhood was spent in a communal apartment. Kombucha is a soft and slippery disc and is called a scoby in the United States. It is placed in some container along with sugar and tea for 10 days, and only after that the desired degree of acidity and effervescence is obtained. This kombucha can then be passed on to someone else or reused.
On the subject: 7 popular products that have changed in the United States beyond recognition
Korkin's children, like many other people who grew up under the Soviet Union, in the early post-Soviet years drank this drink on hot days as refreshing soda water.
A few days ago, Corkin sat down at the table to eat and drink a glass of vodka with his son, who is now 30 years old and who came to him from his home in Dublin, Ireland. When he poured vodka into glasses, the son asked to give him something to drink. Korkin brought his next can of Kombucha and poured the drink into his son's glass.
"Dad, but this is kombucha! She is actually very popular in the West, "the son told him.
Then Korkin first heard the word "combucha." The fact that this bottled beverage is sold in the West was less surprising to him than the fact that his son had forgotten how he drank it in childhood.
"I looked at him and said:" My God, I've been making this mushroom tea for a hundred years, and you can't even remember about it, "said my father, who still makes kombucha in his kitchen. This mushroom is a gift from a neighbor, he is about 12 years old.

"My mushroom is not that old," he said. "I have a friend who has been using the same mushroom for at least 38 years!"

Kombucha sales are skyrocketing in the United States and Europe. All over the world it is presented as the "elixir of life" and is touted as a positive influence of the drink on the digestive system, as well as cleansing qualities.
Many people believe that this fermented tea first appeared in China around 220 before the birth of Christ, and it was already accepted then that it has healing properties. In the end, the recipe for the fermented drink of Kombucha spread west and east, and a few hundred years ago it came to Russia.
Worldwide in 2016, Kombuchi sales amounted to 1,06 billion dollars. These data are contained in a report compiled in 2017 by consulting firm Zion Market Research. According to reports, its sales by the year 2022 may increase to 2,5 billion dollars. North America is one of the fastest growing markets, and in 2017, sales of this beverage in the United States amounted to 556 million dollars. This data was published by Bobby Leahy from SPINS, a consulting and research company specializing in natural and organic products.
Even the PepsiCo company got involved in this game - acquired in 2016 the KeVita company engaged in the production of kombucha. KeVita began operations in 2009 in Ojai and quickly became one of the largest fermented beverage companies in the United States. This data was provided by Kombucha Brewers International, which held its fifth annual conference in Long Beach this February.
Kombucha was popular in overcrowded Soviet prison cells, because the prisoners there knew how to breed him and treated the guards with their drink. In 2015, Viktor Bout, a convicted Russian arms dealer, presented by Nicholas Page in the film "Lord of War", was found guilty of producing Kombuchi in his prison cell in Illinois, where he is serving 26-year for trying to sell missiles alone paramilitary groups in Colombia. Bout's 26-year sentence was increased by 40 days for what he, according to prison officials, was trying to produce an alcoholic beverage.
On the subject: "Are they eating blood candy ?!" 10 Russian foods and dishes that will shock foreigners. VIDEO
In the process of fermentation in the production of kombuchi, in fact, a small amount of alcohol is produced, and this issue has become a legal problem in the United States.
The reputation of kombucha as a digestive drink is gaining momentum in Russia, where healthy lifestyles are becoming fashionable among the next generation in Moscow, St. Petersburg and Yekaterinburg. Research carried out by specialists from the Higher School of Economics shows that Russian youth began to drink and smoke less than their parents, and instead they began to turn to vegetarian and vegan diets. While the older generation used vodka and cognac, the new generation prefers local cider and beer companies.
Kvass is another fermented drink made from rye bread. He is also popular among Russians of different generations. It can be bought in plastic bottles at any grocery store, and in the summer, kvass is often sold directly from a cistern on the street.
Do-it-yourself trend is popular in places like Brooklyn in New York, but now it has spread here, as has happened with farm-to-table products and grocery chains advertising vegetables. and other local products.
Healthy people are exactly the category that fermentation enthusiast Devejan hoped for when he launched Caribu Kombucha last year.
Five years ago, Devejan worked for an ocean shipping company in New Jersey, where he first saw a bottled kombucha at a grocery store. Devejan started drinking it after a 20-year hiatus and found that he liked it more than what he had tasted as a child.
Returning to Russia, he began to produce his own kombucha at home using only Russian products, including tea leaves. Devejan brought a large batch of his drink to the mushroom festival, which was organized in 2016 in the Moscow suburbs for mushroom pickers, and there his drink proved to be quite popular, which led him to the idea of ​​commercial production.
He called his drink "Caribou Kombucha" by the name of deer, which are found in the northern part of Russia.
"We get our tea from Krasnodar, located in southern Russia, and this is the northernmost place in the world where tea is grown," said Devedzhan.
But there are no caribou deer in Krasnodar - it is a port city located 1300 kilometers south of Moscow. However, according to Devedzhan, the image of a deer was supposed to give the kombuche a touch of Russianness. Caribu Kombucha is sold in stores in three versions: classic kombucha with green tea, black currant with juniper, and tarragon wormwood with needles. He is also working on a quadruple flavored version - buckthorn tea with sage.
The drink is also sold at Devedzhan's vegan cafe called MOX, which he opened in January 2017 at Moscow's Danilovsky market. This place is a renewed Soviet roofed market with dozens of stalls selling ethnic and regional food. It is popular with Moscow city hipsters.
Karibu Kombucha is forced to compete with at least two of the larger mushroom drink producers from St. Petersburg. According to Devidjan, he is quite confident in the market, so in the spring of this year, the production of "Caribou Kombucha" was established on a large scale in Moscow - it doubled.
According to Devedzhan, he was surprised that two bars in Moscow began to make a Kombucha cocktail using the Karibu Kombucha beverage.
"I think that we, Russians, love our commander more carbonated and stronger than the Americans," he said. - for us, this drink should be sour and not too sweet - the way we remember it from childhood. "
Text translation prepared edition ИноСМИ