The article has been automatically translated into English by Google Translate from Russian and has not been edited.
We walked around New York and starred in a film with Keanu Reeves: how to participate in the USA film show
New York is a city where dreams come true. Even if you are just walking around with a cup of coffee, you can stumble upon an interesting action, says the author of the Popcorn blog at Yandex Zen.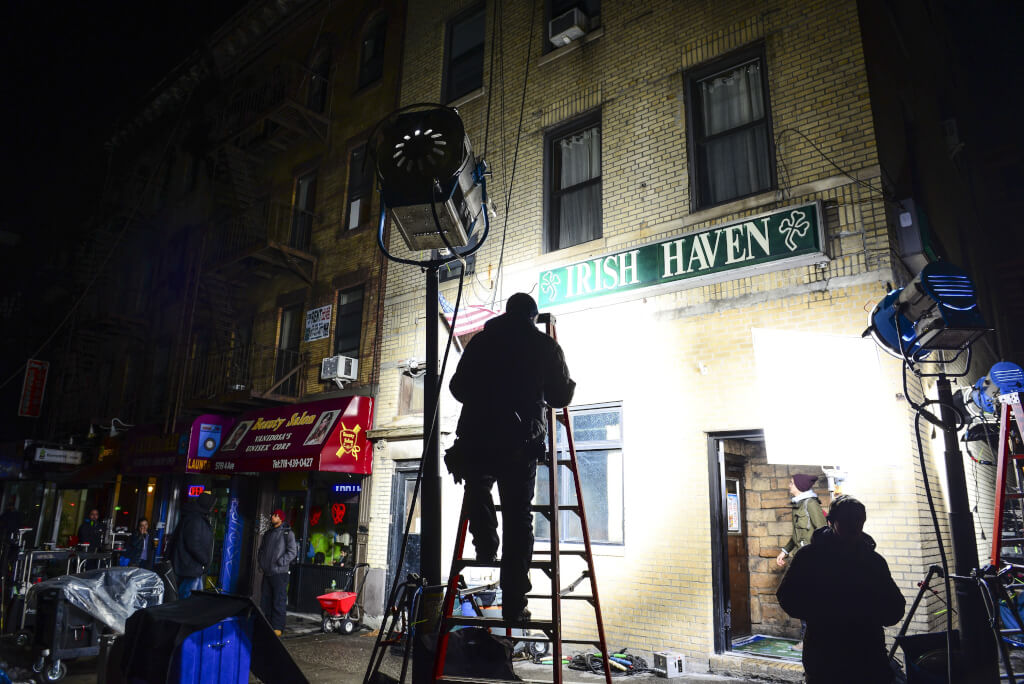 In the fall of 2018, I had to visit the city that many dream of. And either I love cinema too much, and it is energetically attracted to me everywhere, or it is a happy coincidence, but even over the hill I managed to partially visit the set, which was not originally planned.
A location like New York for filming is not uncommon in US cinematography. Many films feature Central Park, New York Public Library, Grand Central Terminal, Plaza Hotel, Times Square, Brooklyn Bridge, and more.
Often, we are directly bribed to watch a movie if the Big Apple is in the frame.
After all, we immediately imagine tough guys from Wall Street, or fashionable ladies walking around Manhattan, chic old apartments in Greenwich Village, a huge bustle on the main street of the city, orange cones on the road, steam from the hatches and, of course, a yellow taxi as a visiting card of a metropolis.
On the subject: Opinion: why Russians don't 'survive' in America and return to their homeland
Looking at such a huge city, we often ask ourselves the question - how can you shoot a movie here, blocking entire streets, attracting a large number of people, famous actors, professional equipment to the shooting, and how does the city not get stuck in one big traffic jam?
Traffic jams for New York, of course, are not such a rarity; rather, it is even in the order of things.
Is there always a real NYC in the frame? Of course not. In fact, filming can take place in Seattle, and in Vancouver (Canada), and in any other city that even slightly resembles New York.
By the way, if you watched the series "Force Majeure", where all the action allegedly takes place in the Big Apple and the gurus of jurisprudence often flicker on its streets, you will be surprised to learn that the shooting took place exclusively in Canada.
Why is this happening? Probably the most accurate answer will be budget savings. Filming a series near New York skyscrapers and skyscrapers, for example, Chicago is a huge difference. And if you shoot in Canada, then, as far as I know, there are even benefits and a law according to which it is possible to partially recover the costs of filmmaking.
But let's still look at how the filming process goes if the film is actually filmed on the streets of a big city.
You may be surprised, but the New York authorities not only do not prohibit filming in famous and recognizable locations, but also support it in every possible way, and the mayor's office willingly issues permission for the production process.
On the subject: They are rude, spoil things, appropriate jewelry: the stylist from Hollywood named the worst female clients
More can be added. If, for example, you left your car at a future filming location and forgot to remove it, or stayed too long, your car will be evacuated and you will be wrong, even if parking was allowed BEFORE that. And all because filming a film and obtaining permission costs a decent amount, which then goes to the city's treasury and this income is an impressive part of it.
So, to the story.
My friend and I were in New York for work in September 2018, as there is the head office of the company we work for. For lunch, a colleague joined us and we decided to arrange a little final tour of the city. Having entered the coffee shop for an invigorating, hot drink, we heard just a wild, wildest screeching on the asphalt and the howl of sirens. After running out of the coffee shop, we saw a crowd of people gathering at the end of the street. Without thinking twice, we went just in that direction to get into the thick of events and find out if everything is in order.
As it turned out later, the film "John Wick" was filmed here with Hollywood actor Keanu Reeves. Of course, the fact that the shooting was this particular film, we learned much later from a friend, because then the film had a working (read "conspiratorial") title "Runaways".
Believe me, if I see a film set somewhere, where a bunch of onlookers have gathered and something large-scale is happening, I will definitely try to find someone from the assistants to find out what is being filmed here.
It happened this time too, when one of the girls stood with a walkie-talkie near the trailer. In fact, if you do not climb with the camera and do not surreptitiously shoot the actions taking place on the set, no one drives you or yells. At most they can say that they have no right to tell anything.
On the subject: Alla Klyuka: how the star of the TV series 'Evlampiya Romanova' conquered Hollywood and why she returned
I asked the girl if there was any need for extras, she politely refused. They already have all the actors recorded. In the States, as in principle everywhere else, extras are paid. Sometimes they pay decently and for some it is either a good additional income, or even the main one. We thanked the girl and were about to leave, when suddenly she said: "If you really want, you can participate, only for free". In an hour, there will be several takes with a large crowd crossing the road at a traffic light. You can wander among them. But you will not be able to participate in the filming of other locations ".
In order to act even in extras in the United States, be it a movie or a TV series, you must have a work permit. Accordingly, if it is not there, then no one will give you the go-ahead for shooting. To shoot for money, of course.
As for the extras, eIf in the frame you see a large crowd, at least 30 people, at least 500; if people are late somewhere or run, cross the road, leave a cafe or taxi; even if this is a shot taken from afar, there is not a single random person in the shot. Not a single bird in the frame will fly by accident.
The girl gave us some pieces of paper with some numbers and showed us where to go. The entire street was blocked, trailers stretched for several tens of meters, the police and even a fire engine were on duty nearby. Somewhere white screens were stretched, somewhere green, similar to chroma key.
Then, when the light and the camera were set up, the director in the loudspeaker said what we need to do and how to behave. Someone had to put on a jacket on the go, someone spoke on the phone, someone hugged a loved one nearby. All that was needed was movement and dynamics. About a hundred meters away from the main crowd, already in the frame, Keanu Reeves was standing, discussing something with the director and another actor.
Of course, it was impossible to shoot it. Although I really wanted to.
After 40-50 minutes we left the general crowd, honestly handed over our paper numbers and, several times turning back, went further for new coffee, discussing and sharing emotions along the way. In 7 hours we had a plane to Moscow.
Original column published on the blog. Popcorn on Yandex Zen
ForumDaily Woman is not responsible for the content of blogs and may not share the views of the author. If you want to become the author of the column, write to us - woman@forumdaily.com.