The article has been automatically translated into English by Google Translate from Russian and has not been edited.
Cooking burgers, nuggets and fries: homemade fast food recipes
The trend towards healthy and proper nutrition is becoming more and more popular every day, although the number of visitors to fast food restaurants is not decreasing. We all sinfully love to eat harmful, but so tasty fast food.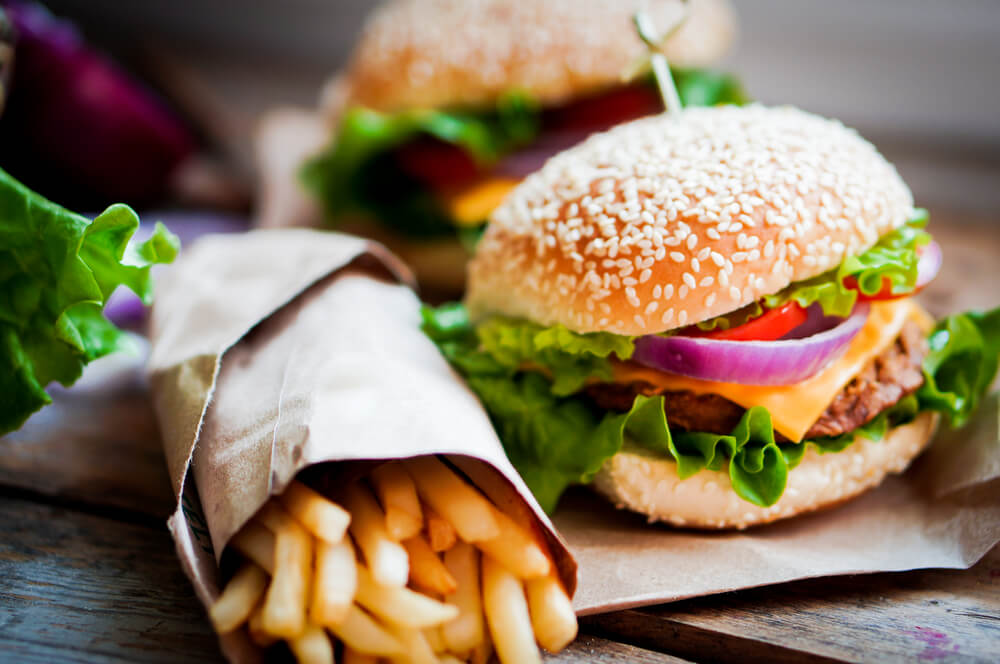 Lady.tut.by invites you to independently arrange a feast of the most popular fast food dishes that can be easily prepared at home.
Homemade burger
Ingredients
Whole grain ciabatta - 1 pcs.
Chicken or turkey fillet - 150-200 g
Tomato - ½ pcs.
Leek - to taste
Cucumber - ½ pcs.
Salad to taste
For sauce
Natural Yoghurt - 100 g
Garlic - 1 Head
Parsley, dill, green onions - to taste
Mustard - ½ tsp
Salt - a pinch
Preparation
Bake ciabatta in the crunchy oven for 5-10 minutes at a temperature of 160 degrees.
Wash vegetables and cut into thin circles. Salad tear hands.
Mix all the ingredients for the sauce.
Lightly beat off the chicken or turkey fillet, salt, pepper, you can use your favorite spices. Fry in a small amount of oil until tender. You can also grill it if you have one.
We assemble the burger: grease the lower part of the cut ciabatta with the sauce, put the lettuce, fried fillet, tomato, cucumber, onion, then grease the vegetables again with the sauce and cover with the second half of the bun.
Homemade French Fries
Ingredients
Potatoes - 1 kg
Olive oil
Granulated garlic - 2 tsp
Dry granulated onion - 1 tsp
A mixture of dry herbs - to taste
Salt, pepper - to taste
Preparation
Preheat the oven to 200 degrees. Bake potatoes either on a baking sheet covered with parchment paper, or on a baking sheet greased with oil.
We clean and cut the potatoes at your discretion: with chopsticks, like the original french fries, or slices.
Fill the potatoes with water and boil for about 15 minutes, until it becomes softer.
Spread boiled potatoes on a baking sheet, sprinkle with garlic, onions, herbs, salt and pepper. Gently mix everything so that the potatoes are evenly covered with spices.
Bake for 30-40 minutes until golden brown.
Homemade Chicken Nuggets
Ingredients
Chicken Breast - 3 pcs.
Egg - 2 pieces.
Bread crumbs/breadcrumbs - 225 g
Sesame - to taste
Parsley - to taste
For sauce
Honey - 60 ml
Soy sauce - 60 ml
Garlic - 3 heads
Salt, pepper - to taste
Preparation
Preheat the oven to 190 degrees. Baking we covered with parchment paper.
Place the breadcrumbs in one bowl and beat the eggs in another.
Salt and pepper scrambled eggs. Roll down the chicken, which was previously cut into small pieces, in an egg mixture.
Roll the chicken pieces in the breadcrumbs and arrange on a baking sheet. Bake in preheated oven for about 20 minutes (until golden brown).
Meanwhile, combine all ingredients in a small saucepan. Bring to a boil over medium heat and reduce heat to low, simmer for a couple more minutes.
Pour the sauce over the cooked chicken so that it completely covers it. Decorate with sesame seeds and parsley.
Bon appetit!