The article has been automatically translated into English by Google Translate from Russian and has not been edited.
'It's a mini protest': Congresswoman Alexandria Ocasio-Cortez on red lipstick
Member of the House of Representatives Alexandria Ocasio-Cortez starred in a video for Vogue magazine, in which she told how she takes care of her face in the morning and showed how she applies makeup. She explained why it is important for a woman politician to look good: makeup and red lipstick help to feel confident, writes Newspaper.ru.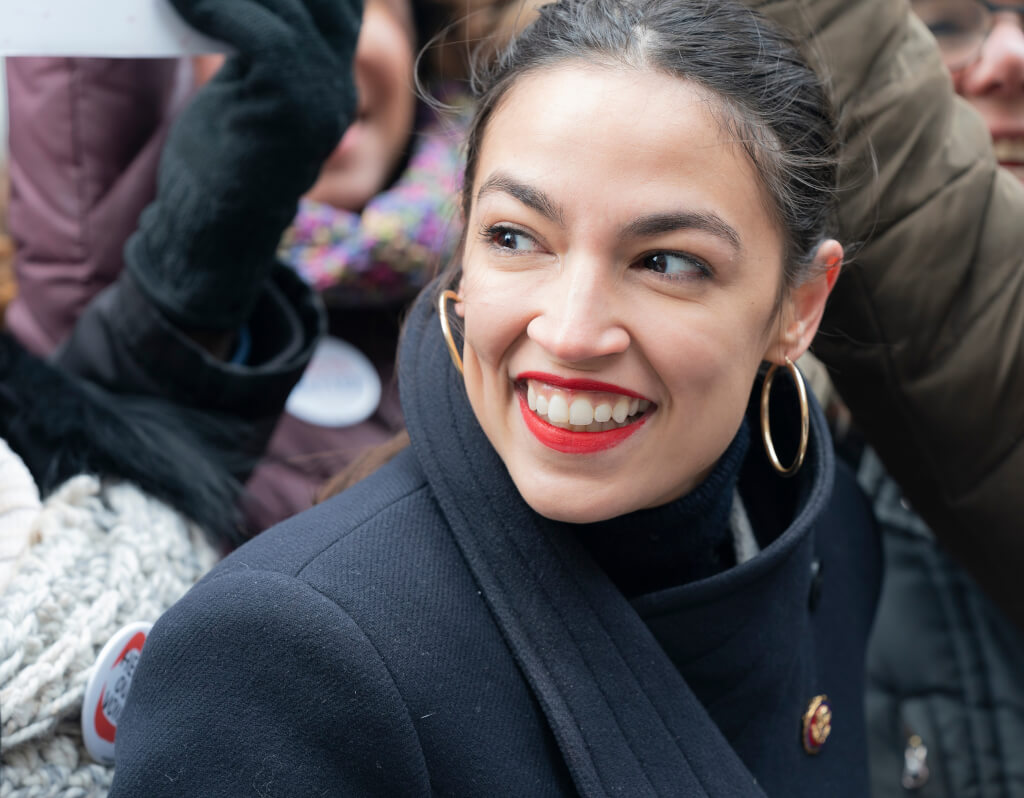 Congresswoman Alexandria Ocasio-Cortez gave women a lesson in facial skin care and makeup - she starred in an 18-minute video for Vogue's Beauty Secrets project, in which she shared and showed how to take care of for themselves and why a politician should care about their appearance.
The 30-year-old member of the House of Representatives from the Democratic Party admitted that on Instagram she was repeatedly asked about the secrets of makeup - the interest was confirmed by the number of views of the video, which exceeded 1 million people in five days. Indeed, red lipstick has recently become a visiting card of the congresswoman - in the video she, among other things, explains why she chooses such an uncharacteristic color for a politician.
The video begins with complaints from Alexandria Ocasio-Cortez that she did not get enough sleep the night before: "Welcome to politics," she says, explaining why she has bags under her eyes. However, the congresswoman did not, contrary to the expectations of the viewer, show how to get rid of these imperfections, but demonstrated her routine morning skin care actions - applying tonic, vitamin C serum, moisturizer and, finally, sunscreen, which, according to Ocasio -Cortez, there is never too much.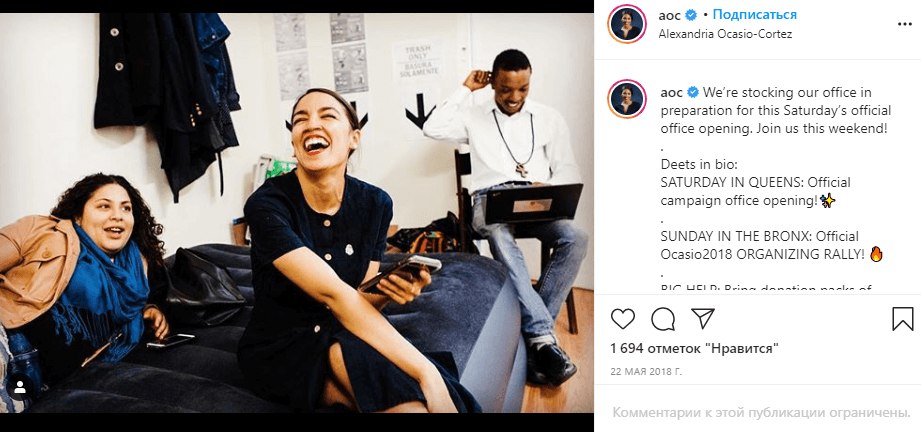 While applying the funds, the politician talks about the lifestyle of members of Congress - as a representative of New York, she often moves between her city and Washington, spending so much time on the road that she had to have a separate case for cosmetics, which does not need to be constantly packed. but you can just carry with you from place to place. Personal care and makeup, according to the congresswoman, are important primarily because "there is power in femininity."
"There is a false idea that if you care about makeup or if you are interested in fashion and beauty, it's kind of frivolous," says Alexandria. "But I think one of the most significant decisions is what we do every morning."
What a congresswoman uses as a makeup base depends on how she plans to spend the day. If she knows that she will be photographed a lot and she needs to look luxurious, this is a foundation, if not, then a tint moisturizer that Alexandria Ocasio-Cortez, according to her, "loves-loves-loves".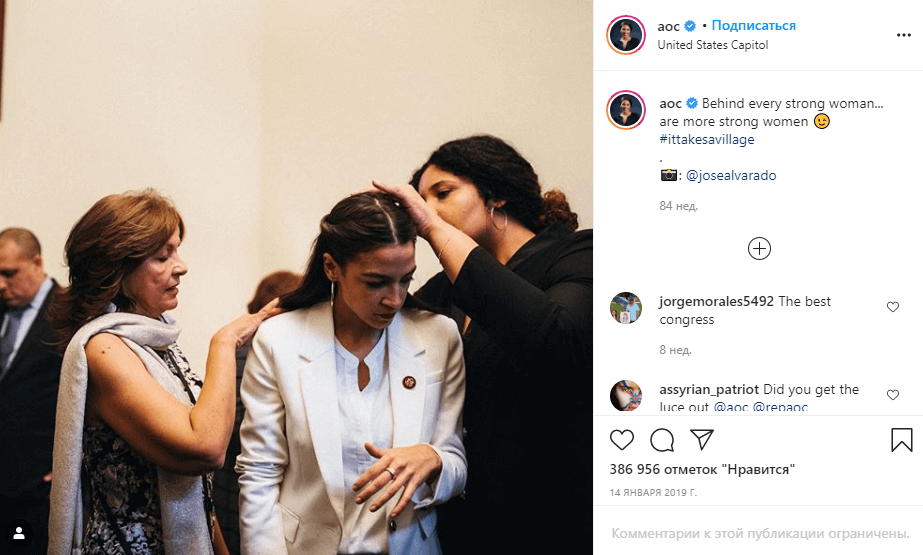 A member of the Democratic Party dedicated a separate story to her red lipstick. She reported that she started using it during the first primaries.
"Outside our community, no one knew who I was, and we went from door to door, knocking on doors, making sure people were heard," Ocasio-Cortez recalls. "And one of the things I've learned is that when you're on the go, sometimes the best way to look tight is with bright lips."
The politician clarified that for Hispanics, and her parents are of Puerto Rican origin, red lipstick is part of their culture.
"I paint my lips with red lipstick when I want to feel confident," explained the congresswoman.
In modern society, women are still in a humiliated position, Alexandria Ocasio-Cortez expresses her opinion, highlighting the lower eyelids.
"It's kind of like a mini-protest to love yourself," she says.
"You cannot get a feeling of beauty and self-confidence from anyone but yourself," the politician continues to explain why taking care of your appearance is not at all frivolous.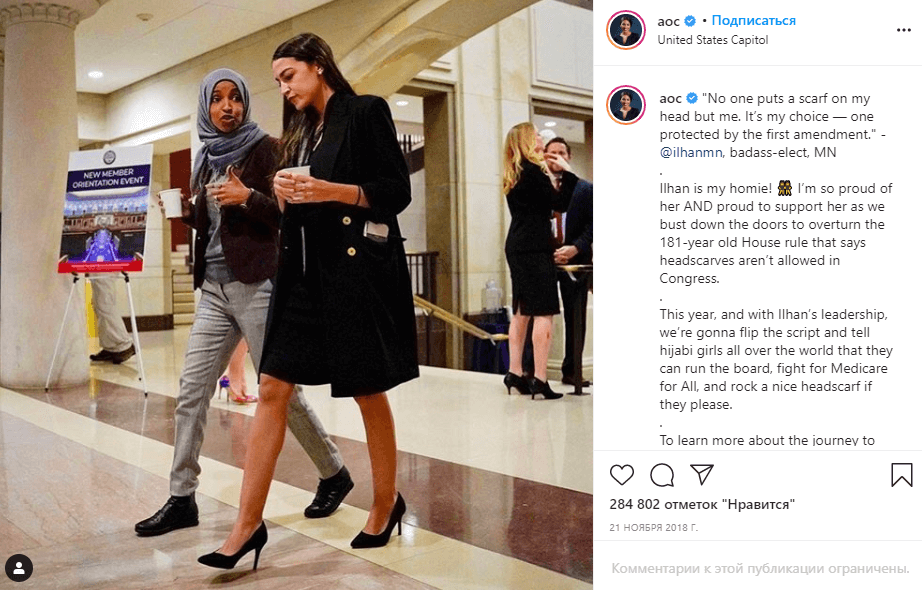 As a beauty blogger, Alexandria Ocasio-Cortez can compete with other YouTube stars - explaining and demonstrating the technique of applying makeup, she continues to remind the viewer with every step that she is doing this not in order to hide flaws, but in order to emphasize the merits. and not to please someone, but then to please yourself. This thought is perhaps the main thing that can be borne after watching the video.
Advice on self-care, I must say, a bright representative of the Democratic Party regularly gives in his Instagram stories. Last year, she was asked questions about how she copes with stress, cares for her skin and nourishes. Ocasio-Cortez answers them in detail and point by point. Even with regard to diet, she adheres to the same position as regarding makeup: the main thing is to please yourself. For example, she once advised subscribers not to limit themselves rigidly in some products.
"It completely spoils your relationship with food, which should be enjoyable and satisfying, instead of causing anxiety," - wrote the politician.