The article has been automatically translated into English by Google Translate from Russian and has not been edited.
It's an honor to be #FLOTUS: Melania Trump wrote a touching post
Melania Trump and her team decided to divert public attention to the gratitude and joy of the wife of the president about how she likes the work of the first lady, because her approval rating in a recent poll dropped by a double-digit number of points.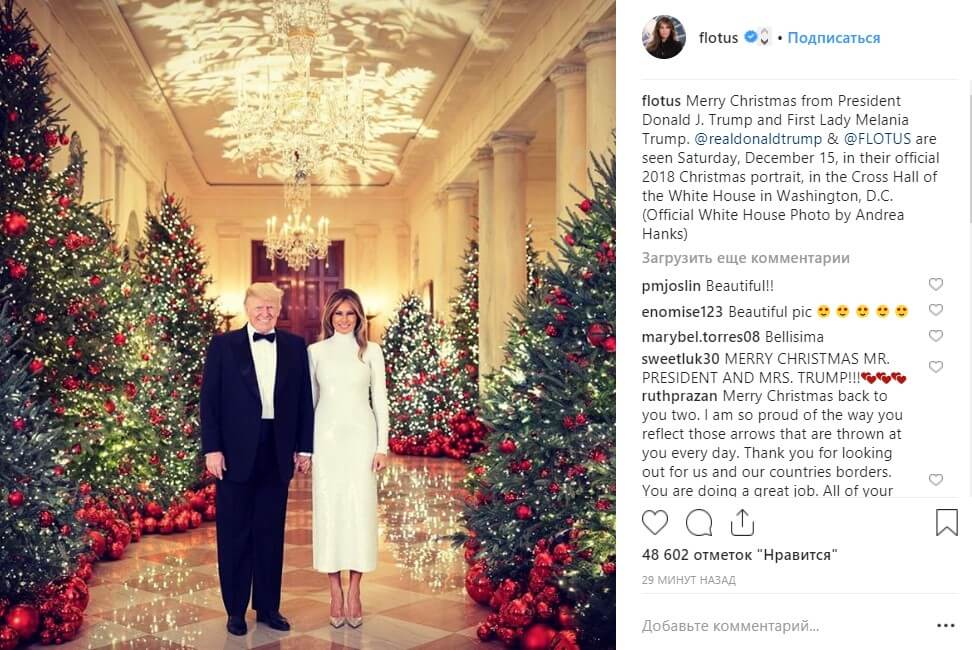 "I am honored to be #FLOTUS in this incredible country," Mrs. Trump tweeted on Monday, captioning a video taken while visiting a military base last week. The Daily Mail.
As Melania Trump stepped up her defensive rhetoric against President Donald Trump, the East Wing stepped up her own information defenses - especially as Melania joined her husband in his public attacks on the media.
The other day, a CNN poll showed that Melania Trump's approval rating has dropped to 11 points since the last data collection in early October.
The fall was due to the fact that Melania was increasingly seen in public with her husband, and usually the couple held hands. In October, in an interview with ABC News, she defended his presidency and herself, mentioning that she was "the most hunted man in the world."
In addition, Mrs. Trump has increased her public appearances - most of them related to the holidays: she packed boxes with Red Cross aid, helped the Marines with their Toys for Babies campaign, visited troops at US bases, and read books to sick children in the hospital. Washington, DC.
Trump's director of communications, Stephanie Grisha, has stepped up her boss's public defense. This weekend, she wrote an emotional article that sounded CNN's comment about the first lady, and also (which doesn't happen often) appeared on television on Monday morning criticizing the media.
"The constant negative media coverage that Mrs. Trump receives is unfair these days. We defend ourselves against this. I can't say how many requests I get that have nothing to do with the essence of her work. Two weeks ago, she went to Liberty University and educated 10 young people about the dangers of opioid abuse. She answered questions about New Year's decor, we talked about it for two days. I think the media are missing out on the opportunity to cover the great work she is doing, "Grisham told Fox News.
She added: "The simple fact is that Mrs. Trump deserves honest reporting and media coverage, which focuses on the content of her message: the importance of helping children grow up to be happy, healthy, and socially responsible adults."
"The role of the first lady provides a unique opportunity to help people across the country and around the world. And Mrs Trump is not missing out on these opportunities. She does and will continue to demonstrate her commitment to helping children and promoting the causes that she is passionate about. There is nothing wrong with staying true to yourself along the way. In fact, her strength, individuality and integrity must be noted, "wrote Grisham.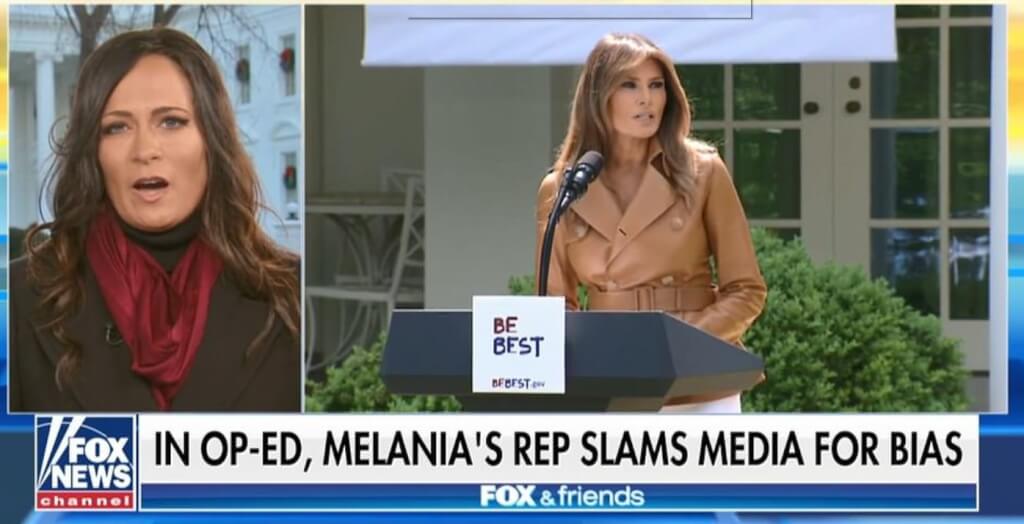 Melania was criticized because of a white hat in the summer, because of a jacket with an inappropriate inscription, because of red trees in the White House, because of the support of her husband and his policies.
"I knew that I would be criticized, but I will do what is right for the next generation," the first lady said during a speech at Liberty University.
Grisham also said that the first lady would not stop or limit her work due to criticism.
"She's going to do what she thinks is right. She will remain true to herself. Despite the negative criticism, despite the fact that the media may be trying to portray her in a bad light, she is going to continue to work on BeBest and do what the children need, "said the spokeswoman.