The article has been automatically translated into English by Google Translate from Russian and has not been edited.
'Children sleep in shoes': a Russian mother spoke about the features of kindergartens in the United States
Muscovite Anna Naumova with her husband Anton and two-year-old daughter Eva moved from Russia to the USA a little more than a month ago. They settled in Jersey City (New Jersey). One of the first questions that mother took up was a kindergarten. What difficulties she encountered during the search, as well as the difference between American kindergartens and Russians, Anna told in an interview deti.mail.ru.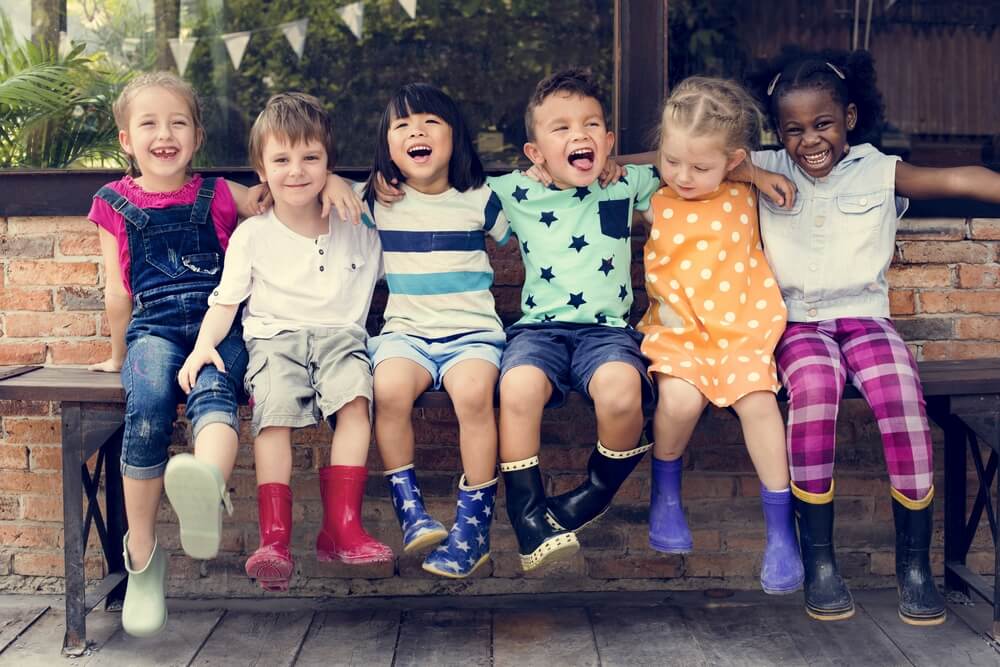 From the very beginning of the conversation, Anna notes that she will talk exclusively about her personal observations about some of the kindergartens in New York and Jersey City. It should be remembered that America is a big country, there are a lot of kindergartens here, and they are all different.
- Anna, tell me how you chose a garden for your daughter?
- My daughter started to go to kindergarten from 1,5 years. In Russia, we changed two private kindergartens (due to relocation). The first was huge, more like a municipal, the second - apartment. Therefore, the child was accustomed to kindergartens, loved and walked with pleasure. Back in Moscow, I thought about what kind of kindergarten I should give Eve to the USA - Russian or American.
With Russians, everything is clear and well-known: Russian nannies, soup, porridge, books ... But with the American everything is different. But I thought that if we were going to America, then we needed to assimilate and accept their culture and rules.
When we moved to Jersey City, there was no choice. We live in an area where there are many African Americans, there are no Russians at all. And you have to work. I phoned 10 kindergartens in the district, and only one agreed to receive us (there were no places anywhere). A week ago, came to see it. I was met by good-natured nannies. The garden itself is cute, spacious, a lot of toys, the same children's tables as we have. Only all children are African Americans.
I decided to write down. She warned that the child does not understand English at all, wrote popular everyday words on a piece of paper with the transcription: pisat 'and touch her privat zone - pee, babay - drink (yes, this is how our daughter asks to drink), etc. They said so as not to worry. It was mentioned that there was a French family, the child also did not speak English, but after a month or two, he settled down.
Then the most difficult thing began, I read and signed a bunch of different papers for two hours. Of the interesting things: permission to walk, permission to take photographs for non-commercial needs, and a food questionnaire, for example, how much fat the child drinks, what meat prefers, all sorts of lactose / gluten. Apparently, they are so easy to sue that you sign a billion papers and agreements. In Russia, everything was limited to one contract, vaccination card and a certificate from a doctor.
On the subject: How American kindergarten differs from Russian and how much they pay for it
- How much is a garden?
- 150 dollars per week. Believe me, this is cheap because the area is quite poor. In the garden in Staten Island 1 day costs $ 60, and nannies $ 20-50 per hour. We also had to pay the $ 100 entry fee. In addition, it was necessary to buy a pack of certain pencils (like pastel) and glue like PVA.
You also needed to bring a sheet and a blanket with you. Children sleep in American kindergartens on beds that resemble folding beds. Interestingly, the kids sleep and walk through the kindergarten in shoes.
This is a federal law in all states related to safety: if a hurricane or earthquake happens, so as not to waste time on shoes.
- Are all kindergartens in the US paid?
- Yes, all kindergartens in the US are paid. Price depends on state, district and positioning. AT Palo Alto California garden will be more expensive than in Jersey City.
And in a good area of ​​Jersey City is more expensive than in poor areas - the price starts from $ 500 per month. $ 1000 per month is quite a normal price for a normal garden. We pay $ 600 per month because our area looks more like a ghetto.
There are also increasing factors due to the age of the child: the younger he is, the higher the cost will be.
- How often are fed in a kindergarten?
- Fed in the kindergarten three times a day. Here is the menu:
9:00 Breakfast: cereal with milk, with the milk you can choose with any percentage of fat, soy or lactose-free.
12:00 Lunch: chicken nuggets or turkey, sausages, pizza, sometimes meatballs or goulash, rice / mashed potatoes / pasta, vegetables. Pork and fish do not give, because many children are allergic. Beef - rarely.
15:00 Snack: snacks, yogurt, cookies, at least - fruit.
The menu is almost the same every day and does not differ in variety. Food plan for a month in advance, so you can get acquainted with the dishes in advance. It is allowed to bring food with you.
- How would you rate the quality of the food?
- Food has become a stumbling block in our desire to go to kindergarten. The first days the daughter constantly cried in the morning in front of the kindergarten, and in the evening she ate in the garden everything we brought to her. In Moscow, this was not. In the morning we hungry her, we took her to the kindergarten around 7-8 in the morning, and in the evening we took her to 7 in the evening, and it was even possible not to feed her.
We realized that the child was hungry, although she ate well in the kindergarten. Also for the first time constipation.
We decided to feed her tightly in the mornings and at night, add butter, and before going home from the kindergarten to bring her a hearty meal for snack (cheese, banana). This solved the problem, constipation was gone, the daughter stopped behaving like a child from a hungry land.
Maybe this adaptation, and perhaps the abundance of rice and low-fat products had such an impact.
On the subject: The Russian singer said how she was unpleasantly surprised by the American kindergarten
- What is the work schedule at the kindergarten?
- Sadik works from seven in the morning to five in the evening, which is in principle inconvenient if the parents work. It is not clear how people survive with such a schedule.
- How well tutors watch the children?
- Here the responsibility and authority of caregivers are very strictly regulated, and they are very strictly watching this, therefore, before entering the kindergarten, it is necessary to fill in a ton of documents with the smallest nuances, for example, to give permission to walk.
For any violation or if something happens to the child, you can sue and with a high probability of winning. Therefore, educators act strictly according to the rules and regulations - not one step to the side.
Even children go to the toilet on a schedule, although if the child wants it earlier, he will of course be put in prison. Children are looked after, but there is no such empathy as we had in a residential garden. Nobody calls on weekends and asks Eve. Nobody "lisps."
- At what age do children take to kindergarten?
- In the States the garden is called Daycare, and children are accepted from one month. This is due to the fact that maternity leave is very small - about three months - and you need to go to work. In our kindergarten, children are divided into groups only formally, and are assigned to a specific tutor, and in fact they are in the same room and play with each other in one big room. There is a group up to 1,5 years (infants), 1,5-3 of the year (toddlers) and 3-4 (pre-kindergarten). On average, no more than 6 children per educator. With 4-5 years, children go to another pre-school to prepare for school (pre-school).
- How can you assess the situation in the garden?
- Our garden is simple, cheap, so the situation is not luxury, but in general, everything is clean and comfortable, there are no washed-out toys and books, which are dangerous to touch. Again, because everything is strictly controlled. Many kindergartens are provided with donations and volunteer money. Charity is highly developed.
- What are the fundamental differences in kindergartens between Russia and the United States you saw?
- I can distinguish three differences that impressed me personally:
1. Food, about which I have already said above.
2. Children walk and sleep in shoes. As I already noted, this is due to safety regulations at the legislative level throughout America, so that in any emergency (hurricane, earthquake, fire, etc.), educators do not waste time collecting children. Changing shoes is not accepted either. It seems that we alone carry interchangeable shoes. In America, they don't really like walking; children are most often brought to kindergarten by car, so shoes are usually clean. And there is less dirt and dust on the street than in Russia.
3. Children sleep on the floor on mattresses or cots. They also sleep in shoes. The blanket and sheet should be brought with you. There is no separate room for sleeping, everyone is laid out in the room where they play. When the children sleep, the mattresses or cots are neatly stacked. Cots with sides are only for babies.
4. And of course, we had difficulty with the language. In American kindergartens, American educators read books, sing songs and teach in English. Eve does not speak English yet, but she already understands well. At this age, children adapt easily.
Otherwise, everything is the same: children draw, sing, dance, make crafts, read books, learn letters and numbers, walk and simply interact with each other. For those who want to observe Russian traditions, there are Russian gardens in the States, exactly the same as in Russia - with borscht and porridge, Russian nannies and Russian fairy tales.