The article has been automatically translated into English by Google Translate from Russian and has not been edited.
"Even Elizabeth II does not allow herself this": the trick of Pugacheva angered the fans. VIDEO
'02.07.2019'
Source: Facts
The trip of the famous Russian singer Alla Pugacheva to Jurmala, which has already managed to show photos from the rest, caused a wave of indignation in the network. According to tradition, the folk artist went to Riga by train, in her personal car, since she categorically does not like to fly.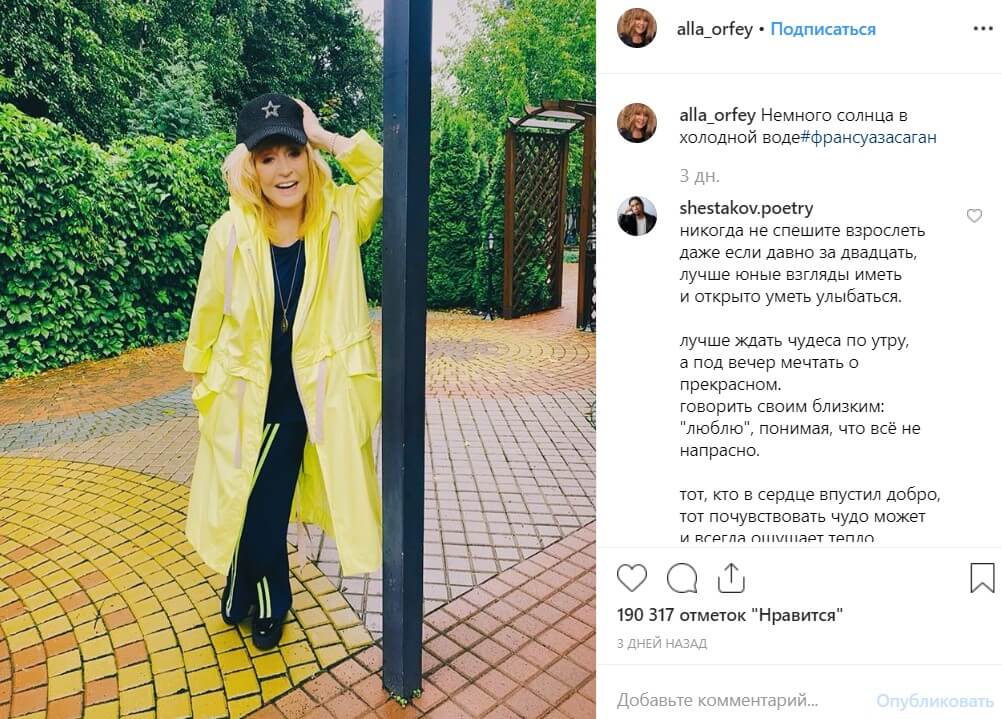 70-year-old star rolled on the car directly to the platform of the Riga station in Moscow. Accompanied by a guard she went to the train, they write Facts.
Alla Pugacheva is not the first year leaving for the summer holidays in Latvia. Accidental passengers managed to take off as the actress got on the train with her children Garik and Liza and her husband Maxim Galkin. They were outraged that Alla Borisovna enjoyed such privileges.
On the subject: 70-year-old Pugacheva looks the same age as 36-year-old Loboda. A PHOTO
"And how did the car get on the platform at all?" Where did the guides look? Although everything is possible for money "," I'm just shocked. There are always so many people around trains, cars are definitely not the place "," Yes, you cannot drive to the platform by car, but this is for ordinary people. Pugacheva is our property, she is allowed such things, "the actress's fans were outraged. She was even compared to the British Queen Elizabeth II, who in her advanced age does not allow herself to be like that.
Alla Pugacheva's colleagues reacted to the criticism. Well-known humorist Vladimir Vinokur stood up for her. "First of all, this is Alla Pugacheva. Secondly, she is not 20 years old. Yes, she drove up. And what should she cut on the platform, to greet everyone and tell everyone her biography? "Vinokur said in an interview with Channel Five.
The directorate of the Russian Railways noted that the prima donna did not prevent the passengers, since her car was on the second platform, which is technical. However, they promised to check the actions of the station officials.
On the subject: 'Like Pugacheva': 65-year-old Lyubov Ouspenskaya declared pregnancy
Recall Alla Pugacheva prefers not to fly airplanes, and travels in a personal car with maximum comfort. It has a double bed, a jacuzzi and a separate toilet.
The family of Pugacheva and Galkin settled in Jurmala, where he spends his summer in a comfortable climate on the shore of the Baltic Sea. Alla Pugacheva also has a solo concert in Minsk in honor of her 70-year anniversary.