The article has been automatically translated into English by Google Translate from Russian and has not been edited.
What can the children of American stars
It's no secret that motherhood changes a woman - and even the brightest stars cannot avoid change. At first glance at her child, a woman will do everything to make him happy. But the definition of happiness can vary depending on the mother's income.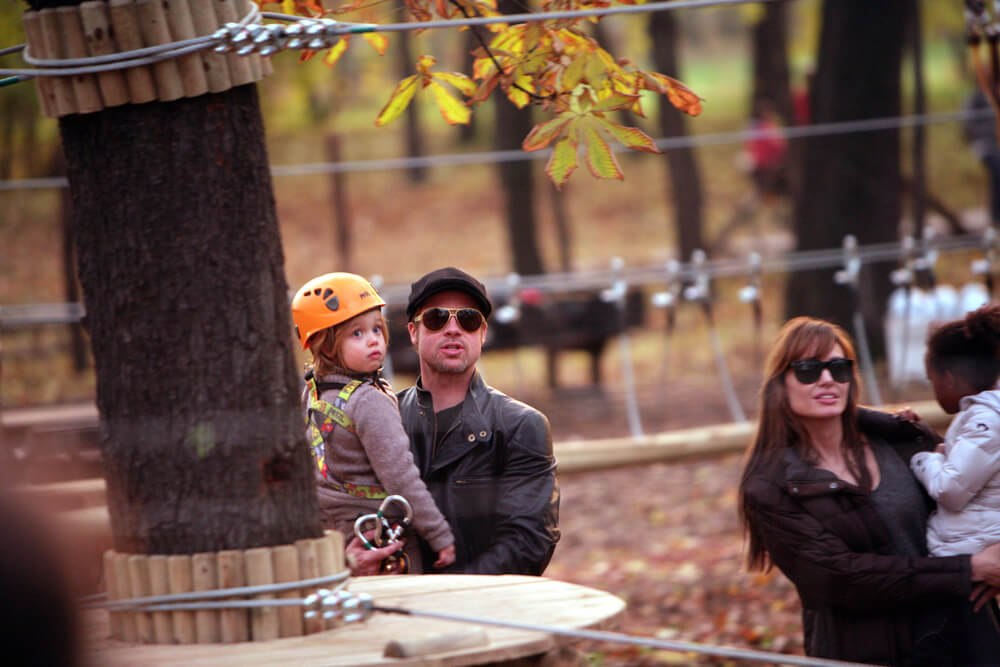 Go Banking Rates talks about some of the most curious quirks of famous American mothers.
Kim Kardashian
Kim transformed from a tycoon to a mother of many children in a very short time - and, of course, could not resist instilling in little North, Saint and Chicago a taste for a good life. The offspring of Kim are already taking their first steps in a fashionable style and are not alien to life in step with the times.
It is known that the Kardashian family demonstrates its flights on private jets in social networks. And instead of traveling with screaming babies in the car for a long time, Kardashian-West's mother finds at least 1200 dollars an hour to hire a private jet and travel with the kids in comfort.
Mindy Calling
One of the most popular actresses in the modern comedy genre, the star of the Mindy Project, Kaling decided to change her love of scripts to her love of children. Fresh "project" Mindy Kaling is the daughter of Catherine Swati (Mindy is of Indian origin, hence the child's middle name). The girl was born on December 15, 2017, and since then her mother has spared no expense on her.
Recently on Instagram, Kaling posted a photo of Katherine's stroller - an exclusive Gold-Wings CYBEX from designer Jeremy Scott worth over $ 2499.
Beyoncé
Since it became known in January of 2012 that Beyonce is expecting a baby, Blue Ivy Carter has not been walking off the pages of glossy magazines and Internet resources.
Now that the family has expanded to include twins Rumi and Sir, Blue Ivy's older sister took an example from her stellar parents and showed up at the 2018 Grammy Awards with Valentino's adorable $ 2,675 heart-shaped clutch bag.
Katie Holmes
Suri Cruise appeared on the front pages of print publications immediately after birth in April 2006 - her parents were Tom Cruise and Katie Holmes. Now the girl has entered adolescence and is still attracting attention.
Despite the fact that nowadays her life looks a bit less stellar (they say that dad Tom has not seen Suri for almost five years), the girl was once one of the most luxuriously dressed daughters of celebrities. Back in 2014, Suri was impressive with her personal designer wardrobe, and Katie Holmes's mother somehow spent more than 1000 dollars on children's dresses in the elite Bergdorf Goodman store.
Angelina Jolie
A mother of six, whom she bore and adopted with Brad Pitt, Angelina Jolie is one of the most iconic Hollywood mothers of our time. It is known that this "mother of worldwide importance" spends huge sums on her babies, they say, especially Jolie spoiled them before parting with Pitt.
In the 2017 year, according to Hollywood Life, she spent 1000 dollars on Halloween clothes to be at the top of the rankings among the most originally dressed families on this holiday.
Jennifer Lopez
While she may still be Jenny from the Block, her twins Emmy Maribel and Maximilian David have been accustomed to the luxury life from birth. The twins - born to ex-husband Mark Anthony - are ten years old and have periodically attracted the attention of the press and social media around the world since their birth.
This year alone, TMZ announced a swanky birthday party at the Las Vegas Sugar Factory that cost their mother an incredible $ 7500. The celebration included individual signature cakes baked for each child - Mario Bros. Red Velvet Cake. for Max and chocolate cake for Emma. It is said that J. Lo also paid $ 5,5 thousand for the party.
Christina Aguilera
Perhaps Christina once asked for her "Genie in a Bottle" to give her the happiness of motherhood - and this desire was doubly fulfilled in the form of Max Liron's son and Summer Raine's daughter.
Aguilera could never resist being the first, and this attitude of the diva was reflected in her maternal responsibilities. According to Hello Magazine, back in 2016, Aguilera spent fabulous money on a Super Mario-themed birthday party to celebrate Summer's only two-year anniversary. The party, according to the magazine, was luxurious and was complemented by matching outfits, bouncy slides and a play area.
Salma Hayek
Actress Salma Hayek has been waiting for her motherhood for quite a while, but as soon as her daughter Valentina Paloma was born in 2007, Hayek didn't lose a single day to pamper her only princess.
By the time Valentina was born, the girl already had a $ 12 million home in Los Angeles, which she should receive on the day of her majority. Since then, Salma has repeatedly arranged lavish vacations for her daughter - once, for example, it was a 12-day trip to Bora Bora with a total cost of 52 thousand dollars.
Courtney Kardashian
Kourtney became the first mother in the clan of young Kardashians - she gave birth to a son, Mason, in 2009. Since then, she has had two more children from reality TV star Scott Disick, these are the son of Raine Aston and the daughter of Penelope Scotland.
Courtney's children are everywhere - on pages and sites - thanks to their mother and father. Penelope loves expensive shopping and bags - for example, once her parents bought her a Saint Laurent Sac De Jour Nano Leather Satchel bag for $ 1350, and the girl also has a favorite Fendi Peekaboo bag for $ 3,450. Elder Mason regularly travels with his parents to shopping at expensive New York Barney's.
Mariah Carey
When Mariah Carey joined the ranks of mothers, having given birth to the twins Moroccan Scott and Monroe, she added a bit of her glitter and glamor to their childhood.
Raising children on a par with ex-husband Nick Cannon, Mariah, of course, can offer them an excellent life. Monroe and Mariah mother regularly indulge themselves in the spa evenings together. In addition, the twins blew the media with their luxurious party in honor of the sixth anniversary, organized with the help of the famous event designer and planner Kat Minassi, as well as sumptuous desserts from Rafi's confectionery in Los Angeles.