The article has been automatically translated into English by Google Translate from Russian and has not been edited.
What surprised me in the American kitchen: Immigrant Impressions
Agree, the kitchen can be called the focal point of any home. Here its inhabitants, sipping cautious sips of coffee and a new day, wake up, meet with their families for dinner, and receive loved ones on Sundays. And people all over the world in their kitchens like to talk about politics, writes the author of the channel "50 shades of New York" on Yandex.Zen. What are the features of American cuisines?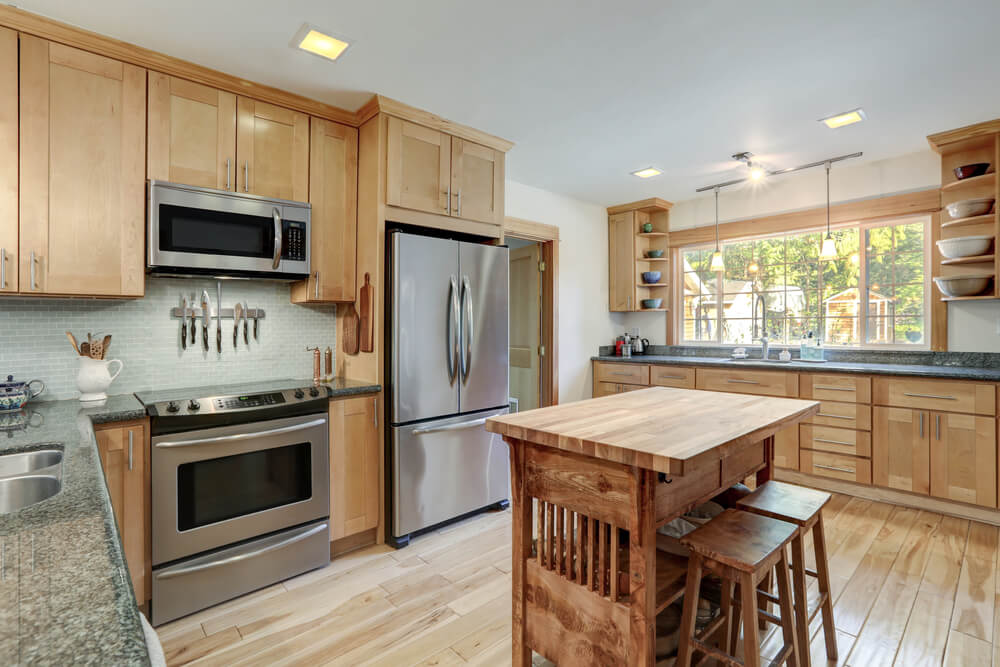 Combining kitchen with living room
In American apartments, the kitchen is very often a narrow room, in which there is barely enough space to move along the line of cabinets. Therefore, it is very often combined with the living room. In private houses and apartments of recent construction, these two rooms are combined at the design stage. Households spend their time here: while mom warms up semi-finished products for dinner and complains about incomprehensible customers or a tyrant boss, dad, sitting in a chair with a lifting mechanism for his legs, watches a baseball and something answers her out of place. And for dinner, the whole family will gather at a large table.
Huge refrigerator
At first, I was very surprised that all refrigerators in the United States are so large, often with two doors and a hefty freezer. This is due to the fact that in America products are sold in so-called jumbo packs - very large packages that simply do not fit in a single-door refrigerator. It is the addiction of American manufacturers to massive containers that is considered one of the most common causes of obesity.
On the subject: Like in the best restaurants: does your kitchen meet sanitary requirements?
Ice maker
Americans consume large amounts of ice all year round - they add it to any drinks and plain water. Refrigerators here are often equipped with an ice maker built right into the door: you can pour a full glass, and then pour soda into it.
Many storage areas
I never understood why American housewives need so many kitchen cabinets. After all, many of them, well, are very far from cooking and use the kitchen to assemble simple sandwiches or lay out food from Chinese delivery on plates. It turns out that all the free space is filled with the same giant packages, usually bought in a hypermarket at a discount. The higher the discount percentage, the more cans / bottles / boxes in a pack - simple market arithmetic. And then you have to store all these stocks somewhere.
Islet with a bar
Very often in American apartments you can find a kitchen island with a countertop, and sometimes a sink. As a rule, it is combined with a bar, where you can quickly have a bite to eat in the morning or sit down with a glass of a punctual guest while you mess with dinner.
3 bins
Remember that in the USA you have to sort your trash. Paper and plastic with glass are disposed of separately from food waste and sent for recycling. By the way, do not think that it is enough to simply send the plastic container into a special bucket - first it must be washed (in some houses this is very strict).
On the subject: Why do Americans bake Russian cookies in the USA: history and recipe
Lighting zoning
I would not say that Americans love bright electric light. Rather, they prefer competent lighting zoning. The interior of the kitchen-living room often involves a separate lighting of the kitchen area and bar, the use of ceiling spots, a pendant lamp above the dining table and a floor lamp in the corner.
Toaster
Not a single kitchen in the USA can do without this household appliance. I think you noticed it even in the movies. Every morning, American children spread peanut butter on a browned slice of bread. It is the love of toast that determines the strange choice of bread in local stores - it is more like cotton wool and without roasting it can hardly cause interest. But there are always Russian shops where you can buy fragrant rye brick. Long live globalism!
Original blog post "50 shades of New York" on Yandex.Zen.
ForumDaily Woman is not responsible for the content of blogs and may not share the views of the author. If you want to become the author of the column, write to us - woman@forumdaily.com.