The article has been automatically translated into English by Google Translate from Russian and has not been edited.
The most fashionable summer shoes: how to make your favorite sneakers white again
White sneakers are the most popular, but at the same time short-lived summer shoes. RBC Style tells how to get rid of dirt, darkening and yellow spots, without resorting to dry cleaning services and specialized tools.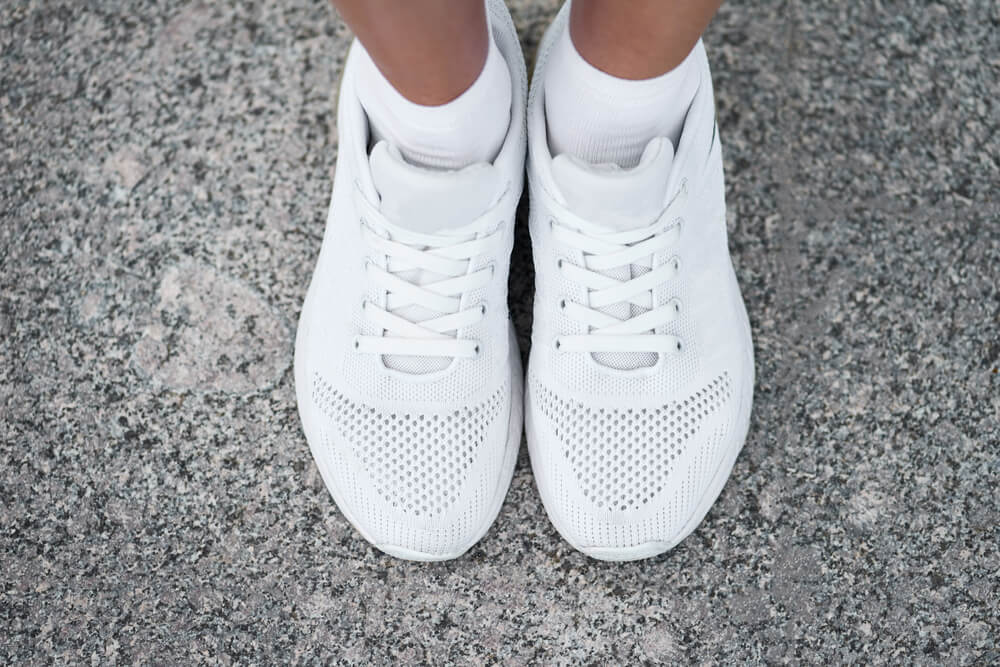 Sneakers have long ceased to be exclusively sports shoes. Today they are worn with classic clothing as an alternative to high-heeled boats or loafers that often rub their feet. Best of all with office suits, flying dresses, pleated skirts and cashmere coats, it is white sneakers that are combined - the most minimalistic, neat and calm. For their versatility, they pay with longevity: white sneakers turn gray at the slightest contact with dirt or sand and turn yellow with frequent washing and improper drying. We list the ways that will help return them to their original form - from the simplest to the most complex.
Can I wash sneakers in a typewriter
The easiest way to clean white and any other sneakers is machine wash. However, none of the specialized shoe brands recommends it: sneakers can simply sit, deform, or stick out. Representatives of the Street Beat sneaker chain and sneaker chain store recommend washing only cloth shoes in the machine, warning that washing at temperatures above 30 degrees can lead to spoilage of the pair.
"The glue that holds the sole and frame parts goes into a viscous, viscous state. Therefore, washing at high temperatures can cause glue to wander around the shoe, and frame parts may become deformed or peel off altogether. As a result, you get twisted sneakers, "the Street Beat memo says.
Representatives of adidas also advise washing only fabric shoes, only at cold temperatures and in the delicate washing mode. It assumes low drum revolutions, while high revolutions can cause tears, scratches, and component breakdowns. To avoid deformation of the shoe, you need to insert plastic spacers into it, and put the pair itself in special textile bags - they will soften the blows on the drum and prevent the paint from coming off.
How to clean your sneakers manually
Ideally, sneakers should be cleaned immediately upon returning from a walk, without waiting for the moment when the dirt dries and is absorbed into the fabric. For leather shoes, use a soft, colorless, and damp cloth; for suede, nubuck, and textile, use a dry brush with soft bristles, and for mesh, use adhesive rollers or masking tape. If the mud still dried up, forming a gray spot, you should turn to water procedures using household improvised means. It is better to try each of them first in a small section of the shoe, and later, after making sure that the method is effective and safe, clean the whole pair. To do this, it is also worthwhile to first remove the insoles and laces (the latter can be washed directly under the stream of water, walking on both sides with laundry soap).
On the subject: How to clean white sneakers: 7 easy steps
Method 1. Toothpaste
Toothpaste and brush will help quickly, easily and efficiently clean white sneakers from dirt. It is better to choose a paste without perfumes, dyes and colored blotches, and a brush - without hard and prickly villi, otherwise the material can be damaged. In the case of sneakers with suede and leather inserts, the brush can be replaced by a household sponge or a tightly twisted nylon stocking. The selected tool should be moistened in warm water, put on top of the toothpaste, rub it into the contaminated surface in a circular motion, and then carefully remove the remains with a napkin.
Method 2. Laundry soap
If the pollution is insignificant, then you can turn to household soap - apply it to the surface of the sneakers with a brush or walk along the stain with the bar itself. Then the steam must be left to dry completely and then rinse thoroughly with warm water. With running dirt or yellow spots, it is necessary to grind laundry soap with a grater or knife, then pour chips with boiling water, let it brew, add soda and treat the surface of the shoe with the resulting solution. After 30-40 minutes, remove the residue with a dry brush.
Method 3. Micellar water
Micellar water can be used to clean not only the face, but also sneakers: it is enough to moisten a cotton pad profusely and thoroughly treat it with a surface. Excess moisture should be removed with a dry rag or paper towel, and then dried shoes in natural conditions - outdoors or in a ventilated area.
Drying the sneakers on a battery or the sun is not recommended: they can stick out, warp and turn yellow.
Method 4. Varnish remover
Another cosmetic product that can be used to clean sneakers is nail polish remover, which is always colorless. It should be applied to the surface with a sponge or cotton pad, and after 30 minutes, rinse thoroughly with warm water. If the stain is corrosive, it is recommended to perform the operation several times or mix the nail polish remover with a dishwashing detergent. It is important to remember that the second ingredient must also be colorless.
Method 5. Lemon Juice
Lemon juice is a natural bleach that can be used for serious contaminants. To do this, dilute 2 tbsp. l lemon juice with the same amount of warm water, then soak a cloth with a solution and gently walk along the surface. Despite the fact that the remedy is natural, it is also very aggressive: it should be accessed rarely - only if the previous manipulations did not help.
Method 6. Baking soda
Baking soda (4 tbsp. L.) Must be mixed with hydrogen peroxide (2 tbsp. L.) And warm water (2 tbsp. L.) Until a homogeneous pasty mass. It should be rubbed into the surface with a brush, and then leave the sneakers to dry completely. To remove residual mortar, you can tap sneakers against each other from the soles, and then treat the pair with a dry sponge or brush. According to those who have already tried this method, it is the most energy-consuming, but at the same time the most effective.
On the subject: Keys, car steering wheel, bank cards: 10 things you need to clean now
Method 7. Potato Starch
If you have potato starch and milk at home, you can try turning them into a cleansing paste. It must be densely spread on the surface with gauze soaked in warm water, thoroughly wiped and wipe off the residue. This method applies to leather sneakers that get dirty or have acquired many creases with yellowness. For shoes made of textiles, suede, nubuck or mesh, it will not work.
Method 8. Oxygen-based stain removers
For fabric shoes, you can use an oxygen-based cleanser (labeled Oxi): just mix it with a little water, apply to sneakers with a sponge and rinse for 15 minutes. For best performance, you can put the shoes in water with a stain remover or bleach for a couple of hours, and then additionally treat the surface with toothpaste or baking soda. The final chord will be rinsing the sneakers in warm water and drying in natural conditions. You should also turn to this method after you have tried it on a small surface area.
How to clean a white sole
Toothpaste and nail polish remover work best with dirt on a white sole. They must be applied with a brush without hard bristles or with the soft side of the household sponge. Another excellent assistant is a clerical eraser: it erases dirt, stains and yellow spots as easily, quickly and without a trace as errors in a notebook.
How to clean white sneakers inside
The inside walls of white sneakers can be cleaned in the same way as the outside. Do not fill in with hydrogen peroxide, micellar water or green tea, waiting for the liquid to absorb naturally and take away dirt, stains and an unpleasant odor. Insoles of shoes that are not soiled as much as are affected by bacteria are allowed to be washed in a basin or machine, but infrequently (they are quickly deformed). It is better to change them whenever possible.
What to do after cleaning the sneakers
Gently wipe the inside of the shoe with cotton dipped in vinegar or hydrogen peroxide. This will help get rid of bad smell.
Place white paper towels inside the shoe that take away excess moisture and shape it.
If the sneakers are leather, treat them with a colorless cream. It will mask minor defects, give shine, but most importantly - protect it from moisture, dirt and dust. It is better to do this a couple of hours before going for a walk.
To store the sneakers, place them in a fabric bag and shoe box. Do not stuff one box in several pairs - this can lead to deformation and the appearance of creases. But it's not as easy to deal with them as with spots.