The article has been automatically translated into English by Google Translate from Russian and has not been edited.
'It was very bad and scary': Pink told how she and her three-year-old son had been ill with COVID-19
The 40-year-old singer Pink and her three-year-old son Jameson had been ill with COVID-19 (according to her, they had already managed to defeat the disease, and a recent test gave a negative result). The singer herself spoke about this on Instagram: she urged fans to follow the rules of self-isolation and not leave home without urgent need, writes "Gossip".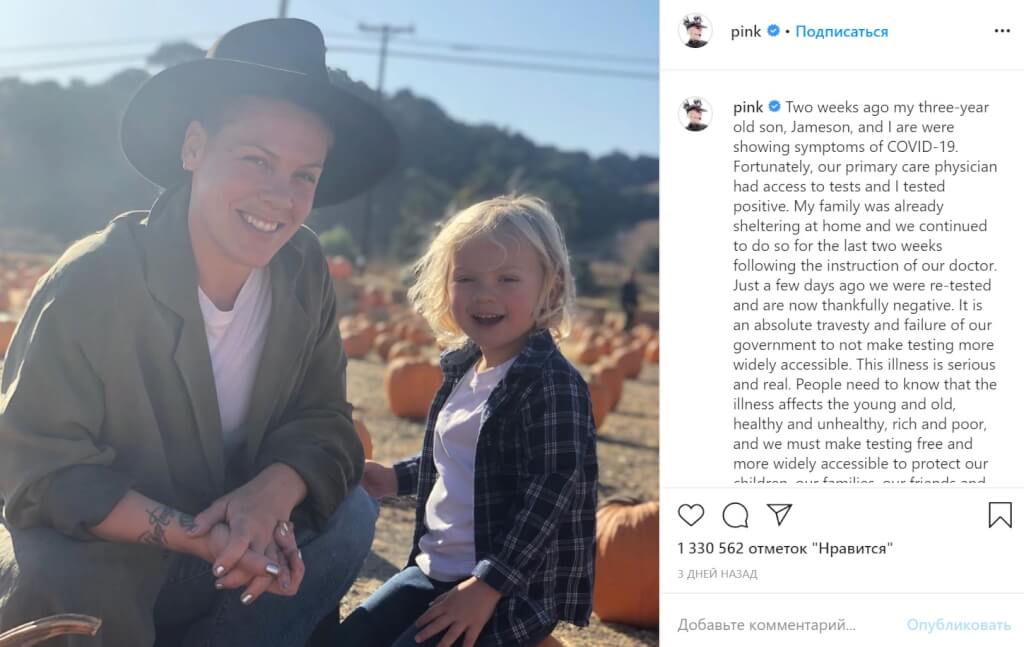 Pink's admission, of course, excited her subscribers, so she decided to tell in more detail how the disease went.
"I hope it's over, but it's actually a roller coaster. As soon as you think you're better, something else happens ... Jameson was very bad. For the past three weeks, I have kept a diary of his and my symptoms. He still has a fever three weeks later, "Pink said during a live broadcast.
"All that we heard at the beginning:" If you are young, then it's okay, it's dangerous for people over 65, and nothing threatens children. But Jameson was three years old, and he was very, very sick, it was really scary. And for the first time in 30 years I had to use an inhaler, I had very severe asthma attacks, "the singer continued.
Earlier in her post, Pink also criticized the government for making it difficult to pass the COVID-19 test in the country.
"The complete failure of our government is that it is unable to make testing more affordable. This disease is serious and real. People need to know that the disease affects young and old, healthy and unhealthy, rich and poor, and we must make testing free and more accessible to protect our children, our families, "Pink wrote at the time.
On the subject: 'Do not play with fate': 39-year-old sick COVID-19 recorded a video message from intensive care
During the live broadcast, the performer also confirmed that her husband Carey Hart and their eight-year-old daughter Willow had no symptoms of the disease. Well, Pink herself obviously had a hard time.
"There were many nights when I cried and prayed like I've never prayed before in my life," Pink confessed.
The singer also donated $ 500 to the Temple Hospital in Philadelphia. In this medical institution, Pink's mother Judy Moore worked for 18 years. Pink transferred another 500 thousand dollars to the emergency crisis fund of the mayor of Los Angeles.
"Thank you to all our healthcare professionals and all the people in the world who work so hard to protect their loved ones. You are our heroes! " - wrote Pink on her blog.