The article has been automatically translated into English by Google Translate from Russian and has not been edited.
A Wall Street businessman killed his wife and wanted to sell his daughter, but his offended mistress stopped him.
A murder in a family of Wall Street financiers was investigated for ten years. The former trader did not shy away from anything to get to the millions of his late wife. He planned to poison his own parents, kidnap an underage daughter, and forcefully marry her off. He was stopped by an offended mistress. Lenta.ru report found out how the high-profile trial ended.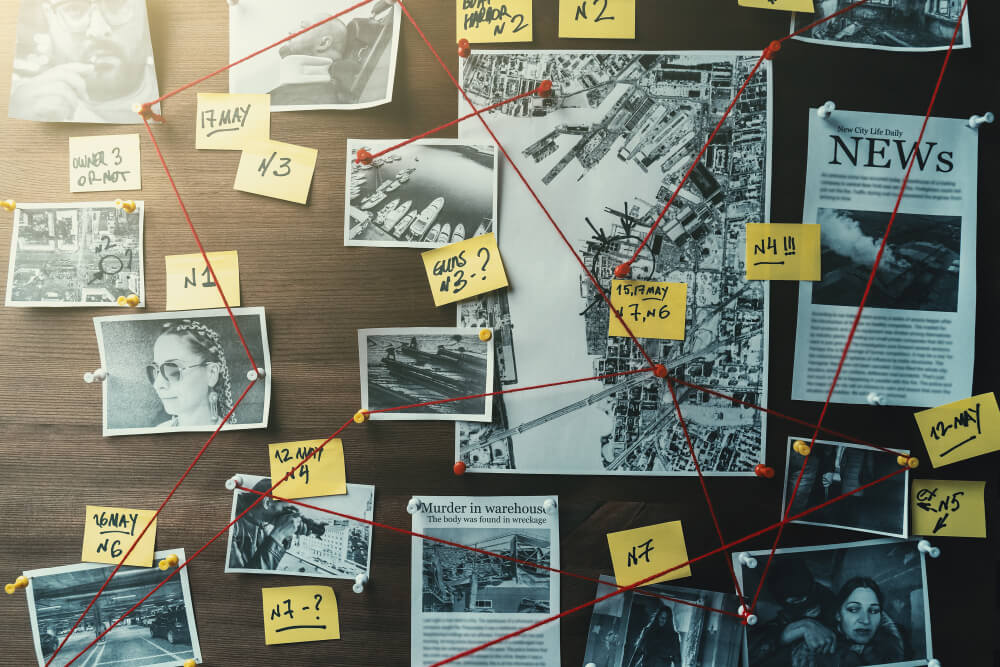 On the morning of December 31, 2009, nine-year-old Anna woke up first. Her three-year-old brother Miles was still asleep. The girl got out of bed and went to the bathroom. There, a terrible picture appeared before her: the water in the bath was mixed with blood, and at the bottom lay a dead woman, her mother, 47-year-old Shele Danishefsky-Kovlin, face down.
Anna ran to the phone and dialed the number of her father: "Something is wrong with my mother." After a couple of minutes, 36-year-old Roderick Kovlin stood on the threshold. A few months ago, Shele filed for divorce, but rented an apartment for him in the neighborhood - she did not hurt the children who wanted to see her father. A man called the rescue service and reported the incident.
The girl opened the door for the police and firefighters, took them to the bathroom. Rod sat on his knees in front of the body of his ex-wife lying on the floor. "Do something!" he asked. It was too late to save the woman: judging by the stage of rigor mortis, she died more than an hour ago. Fresh scratches were visible on her face, and blood flowed from a wound on her head. The cabinet door that hung over the bathroom had been ripped off its hinges.
Rod said he pulled the body out of the water, covered it with a blanket and tried to do artificial respiration. "I think she could grab a piece of wood, a locker, fell down, hit the back of her head and went under the water," he suggested. The man was clearly agitated. He trembled, tried to hug the police and repeated: "I do not believe that this happened."
Marriage and Divorce
Shele and Rod met in 1998 year and after a few weeks they played a wedding. Both worked on Wall Street: Rod was a novice trader, and Shele was engaged in managing private capital and rose to the position of vice president at a large financial company. The family lived in Upper West Side, a wealthy area of ​​Manhattan near Central Park.
Unlike his wife, Rod failed to make a career. He didn't work anywhere for a long time and lived on his wife's salary or begged money from his parents without any embarrassment. All the time a man was spending on a hobby. He received a black belt in taekwondo and regularly went to professional backgammon tournaments.
His third hobby was women. Shortly before the divorce, Rod maintained regular contact with two dozen mistresses. In order not to get confused, he made a date schedule and kept it on his computer. The man often met with prostitutes and with amazing persistence tried to make new acquaintances on the Internet. In October, November and December 2009, he corresponded on Facebook with 860 women.
On the subject: "My 13-year-old son killed my daughter, but I still love him": confession of a sociopath's mother
On the tenth wedding anniversary, Rod announced that he wanted an open marriage and the right to meet with others. Shele has long suspected treason, but this was the last straw. In April, 2009, his wife kicked him out of the apartment, and a month later filed for divorce. She confessed to relatives and friends that she was afraid of revenge, and was thinking of paying 250 thousand dollars to her husband so that he would leave her alone.
The fears were not in vain. The prospect of being left without money did not please Rod at all. He began to harm Shela: first he called her superiors and lied that she was taking drugs, and when they refused to believe, he threatened to write a denunciation to the tax office. He still had the keys to his wife's apartment, so he secretly visited there to read her text messages and emails. In July 2009, Rod accused his wife of harassing their three-year-old son and even took the child to the doctor for a medical examination.
The result was the opposite of what was expected: he was accused of slander and forbidden to meet with his son without supervision. In addition, Shele managed to get a court order, which did not allow Rod to approach her, and to prevent him from taking the children, she never parted with their documents.
29 December 2009, a woman wrote to a lawyer that she wanted to change her will and cross out her husband. In the event of her death, four million dollars will remain to the children, and Rod will not receive anything. They made an appointment for the first of January.
Suspicions
On January 1, Shele's body was examined by a pathologist. He noticed four bruises the size of a coin on her right wrist and a big bruise on her index finger. The specialist insisted on an autopsy, but the religious parents of Shele were opposed. The police did not mind. Since an accident was considered the cause of death, neither fingerprints, nor DNA samples, nor other evidence were searched for at the place of death. Two days later the woman was buried.
Soon, the relatives of Shele began to realize that they hurried. There were too many suspicious details. Someone remembered that the day before her death, Shele visited the beauty salon and made keratin hair straightening. After this procedure, you can not wet the hair for three days, but the body was found in a bath of water. This was also strange: everyone knew that Shele did not like to sit in the bath and preferred a shower. Her sister recalled how Scheele complained to her husband: "Rod hates me more than she loves children," she said.
In April, 2010, the family consented to the exhumation of the body. A medical examiner found abrasions on a woman's face, bruises and cuts on her lips, two broken ribs and a fracture of the hyoid bone. Such injuries may indicate that the woman was killed by a suffocating technique.
Suspicions immediately fell on Rod. Both the motive and the opportunity were only with him. According to investigators, he committed murder in order to remain in his will. In this case, he would have received two million dollars and insurance in excess of a million dollars (another two million would have received children). In all likelihood, the man opened the door with his keys, entered the apartment and strangled his wife. He then placed the body in a bath filled with water to make it look like an accident and returned home.
The problem was that only circumstantial evidence pointed to his guilt. The jury can't be fooled by this. To gain time, Schele's relatives delayed the payment of the inheritance and insurance for six years. Rod could get them faster only if the investigation was completed earlier and all suspicions were cleared from him.
The man had only one way to reach the millions of his wife - children. If he were able to retain parental rights, he would gain control over their share of the inheritance. Shele's parents categorically objected. His own father and mother, with Anna and Miles since 2011, too, once he beat his son before their eyes. Rod moved to them and pocketed the 80 of thousands of dollars set aside for his daughter's college, but did not achieve anything else.
For the first time in a long time, he had to make a living himself. The man became a collector and amazed even his own colleagues with his toughness. "On one occasion, his client said he had cancer and could not pay back the loan immediately," one of his colleagues later recalled. Rod was furious. He had no pity. He said: "I don't care that he has cancer. I want money. "
Disclosure
In 2015, Debra Oles, one of Rod's mistresses, came to the police. They met at a backgammon tournament a few months before Shele was killed. After a quarrel, the woman decided to lay out everything she knew. She claimed that Rod had confessed to killing his wife, and then told her about attempts to get to the money that went to Anna and Miles. And these were not just words. She has audio recordings of some conversations.
According to Oles, Rod has quarreled with his parents because of his guardianship. The father and mother prevented him from disposing of the inheritance of the children, therefore they should be got rid of. How exactly, he did not know yet. During a hurricane in 2012, a man was thinking about setting fire to their house. Then it occurred to him to change clothes to a black election agitator and kill his mother with a karate technique. He bought a brown make-up, a wig and a false mustache, but it didn't get any further.
On the subject: The American claimed that his wife left him and disappeared. 54 a year later, her body was found in his yard
Other plans required the participation of the daughter, who by that time was 13 years old. At first, Rod incited Anna to accuse her grandfather of rape. The girl refused, but the man did not give up. Now he wanted his daughter to poison his parents with rat poison. "Even if she is imprisoned, it is unlikely for a long time," he explained to Oles.
After a new failure, Rod decided to approach the problem from a different angle. He plotted to kidnap Anna and forcefully marry her off in Mexico. In the event of marriage, guardians will not be needed. "I am sure that for 10 thousand dollars I will find some 18-year-old Mexican who will be ready to marry her," said Rod Oles. "He will stay married to her, sign a prenuptial agreement and all that, but, of course, he will not live with her." "Great idea! the woman replied sarcastically. "Then they'll write about her again in the New York Post. "Married at 14."
Shele's parents did not lose hope of bringing Soda to justice, so he began to think about additional insurance in case of exposure. In 2013, a man retained on his daughter's phone a confession of murder. "I lied," he wrote on behalf of Anna. - She didn't slip. That day we had a fight because of her dates. I got angry and pushed her, and not much at all! I didn't mean any harm, I swear! But she fell, there was a terrible sound, and the water turned red. " Rod hoped that this note would help remove the blame from him.
Приговор
It is precisely such evidence that the investigators lacked. In November 2015, Rod was arrested. By that time, it seemed to him that the danger had passed. Another two months - and he could get the inheritance and insurance of the murdered wife. At trial, the man insisted on his innocence. "I did not kill my wife, but her family constantly blames me for this," he said. - We got divorced and at the time of her death broke off the relationship. I have nothing to do with her death. "
In 2019, the case was examined by a jury. The police were the first to arrive at the scene, forensic scientists examining the body, relatives and acquaintances of Shele, to whom she complained about her husband, her former boss, who told about the false denunciation of Rod, and the girls with whom the man met, including Debra Oles . The prosecutor demonstrated a schedule of meetings with his mistresses, found on the defendant's computer.
That was enough to convince the jury. The last to appeal to the judge were the children of Rod and Shele. The son, who turned 12 years old, asked the judge to show leniency. "I have already lost one parent and do not want to lose the second," he said. "I'm afraid that he will receive the maximum punishment, and then I will not be able to do anything with my dad." 18-year-old Anna could not come to the meeting, but also asked to spare her father.
The request did not touch the judge. He stated that the evidence presented was more than enough, and sentenced Roderick Kovlin to life imprisonment.