The article has been automatically translated into English by Google Translate from Russian and has not been edited.
No regrets or resentment: Alice Freindlich's three 'service novels'
December 8 celebrated her 85 birthday with Alice Freindlich, an actress whose name everyone knows.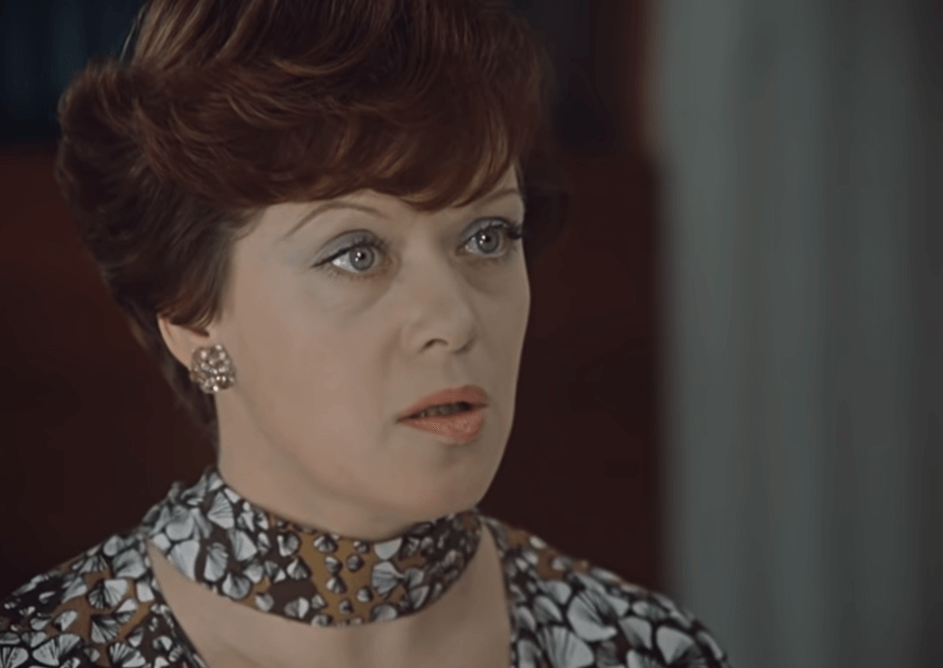 "Office Romance", "D'Artagnan and the Three Musketeers", "Cruel Romance" ... People's Artist of the USSR became famous throughout the country after roles in these and other films, recalls Teleprogramma.pro.
Perhaps the most memorable was the role of Alice Freindlich in the film "Office Romance" by Eldar Ryazanov. It is interesting that the actress, like her heroine, also had an official romance in her life. Yes, not one, but three.
Vladimir Karasev - what quickly breaks out quickly goes out
It was a student marriage. Having entered the Leningrad Theater Institute after school, the graceful and very feminine Alice with her huge bottomless eyes immediately became popular among the guys. And she herself liked a fellow student Vladimir Karasev.
The young people began to meet, then Vladimir made an offer, and Alice married him. At first it seemed that the marriage would be lasting and long, but they divorced a year later. Later, Alisa Brunovna admitted: it only seemed to her that she loved Karasev.
Igor Vladimirov - an experienced director for a young actress
After graduation, Alice was admitted to the Komissarzhevskaya theater, where she initially played children and adolescents, as well as various secondary roles. Until now, the actress recalls those times with warmth, emphasizing that it was then that she went through a real school of acting.
And once a new director appeared in the theater - Igor Vladimirov. He was 16 years older than Alice and immediately discerned the talent and beauty of the young actress. Soon, the new director has already staged performances specifically for Alice, trying to fully reveal her natural gift.
On the subject: How 10-year-old granddaughter of Alexandra Nazarova lives, left without relatives after the death of the actress
And Alice was drawn to him, but she was not going to become another entertainment for a successful and experienced director, accustomed to female attention. She valued herself too highly for this.
They merried. Everything went well in the family, the daughter of Varvara was soon born, but this did not stop Vladimirov from becoming interested in pretty actresses. Alice Freundlich did not tolerate betrayal, and the marriage broke up, despite mutual love.
I must say, a significant role in the separation was played by the jealousy of her husband - not only to men, but to Alisa Brunovna's success in the cinema. Igor Vladimirov was against her shooting with Ryazanov, repeating that she was created not for the cinema, but for the theater.
Mutual claims outweighed love, and the couple broke up.
Yuri Solovey - husband of the star
Alice Freindlich's third husband, Yuri Solovey, was also an artist. However, compared to Alice, then already a star of Soviet cinema and stage, he was not successful, and they spoke of him as "Freundlich's husband," which would be offensive to any man.
On this basis, family quarrels sometimes occurred. The Barbara grew up and added fuel to the fire - the girl, becoming a teenager, was not going to endure a stranger's man in the house and in every possible way contributed to quarrels. Only then, becoming an adult, she regretted her behavior, but in 13, few people think about this for years.
Despite everything, Alice and Yuri more or less happily lived together for 14 years. Yuri dropped the stage and began to engage in the work that he really succeeded in - he turned out to be a talented artist.
On the subject: The most beautiful actress of the USSR: 68-year-old Irina Alferova admired the flowering view. PHOTO, VIDEO
And when he had the opportunity to go abroad, Alisa Brunovna broke up with her husband calmly, without regrets and insults. Just this marriage has outlived itself. He and Yuri managed to maintain a warm relationship, and after the divorce, Alisa Brunovna came to Germany several times to his exhibitions.
Lonely but still popular
Alice Freundlich never married again. And today she is convinced: the actress is better to live alone, without a husband. True, at the same time, she has been very popular with men all her life, even now, in her 85 years, remaining as attractive and feminine.
The actress admits that she is happy. She is still in demand in the profession, she has a beautiful daughter, granddaughter Anna became a producer, and grandson Nikita became a director. In 2017, the film "Carp Frostbite", shot by him, was released with Alice Freindlich in one of the main roles.