The article has been automatically translated into English by Google Translate from Russian and has not been edited.
Barbra Streisand has spent $ 100 thousand on cloning her dog
From 50 to 100 thousands of dollars - Hollywood diva Barbra Streisand cost her a tidy sum to double clone her favorite, Samantha's dog, who lived with the 14 star for years and died in 2017. For this decision, users of social networks have already condemned it: they say, it would be better to take a puppy from a shelter, and distributed the money to the poor.
In the edition Variety February 27 released an interview Streisand writes Meduza. In it, the two-time Oscar winner confessed that she had cloned her dog Samantha. Sammy (as the pet called Streisand) was a rare Coton de Tulear breed; Puppy actress gave her husband, actor James Brolin, on the fifth wedding anniversary. Barbra said that Sammy was like a daughter to her, which she never had. The genetic cloning material was taken from the dog's mouth and stomach shortly before its death.
Now the actress lives with three dogs: two clones of Samantha and another Coton de Tulear named Miss Fanny. Her Streisand acquired from the breeder while she waited for the clones, and named after her heroine Fanny Bryce from the musical "Funny Girl". According to the actress, Miss Fanny is a distant relative of Samantha. Two other dogs Streisand named Miss Scarlett and Miss Violet. Puppies got their nicknames because of the costumes in which the actress dressed them - red (from the name of the Scarlet - scarlet) and purple, respectively.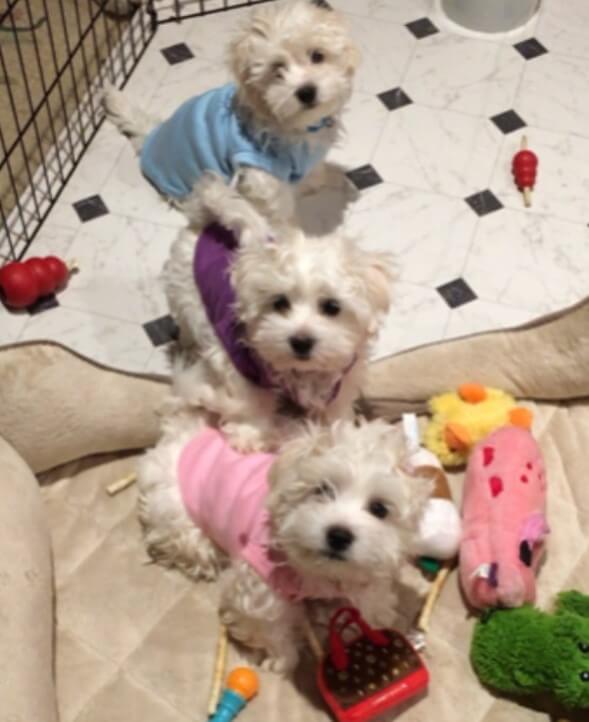 Streisand claims that Scarlett and Violet are completely different animals. "I'm waiting for them to grow up to see if they have Samantha's brown eyes and her seriousness," said the actress. While Streisand distinguishes dogs by their costumes: Violet in violet, Scarlett in violet or red. Before Samantha, Streisand lived a Saddy dwarf poodle - a gift from the acting troupe of the "Funny Girl" musical; after Sadie's death, the actress's pet was a bichon frize nicknamed Sammy.
According to the magazine Time, before 2015, South Korea was the only country where a pet could be cloned. In the USA, the dog was first cloned in 2016. Scientists from the lab Viagen created a copy of the jack russell terrier. According to The Daily Beast, for two years Viagen cloned about a hundred dogs and cats.
Cloning pets causes a lot of controversy. Journalist John Wostendik, Pulitzer Prize winner and author of the bookDog Inc."Believes that cloning raises the question of why humanity should look for new ways to create pets, when there are a huge number of animals in the shelters. In addition, cloning exploits other animals: in order to create a puppy-clone, scientists need not only the genetic material of its predecessor, but also the eggs of other dogs; then this material is placed in a dog acting as a surrogate mother.
Uostendik noted that people who mourn their pet most often resort to cloning pets. However, the journalist emphasizes that in the laboratory it is impossible to reproduce the personality and character of the deceased animal.