The article has been automatically translated into English by Google Translate from Russian and has not been edited.
All Inclusive: how to eat and not gain weight on vacation
Summer is a long-awaited time for vacations and at the same time, the danger of gaining extra pounds and losing the figure on which they worked so hard all spring. If you still have to test the assortment of food in all inclusivethen use these tips from our fitness blogger Anna Garnetsto keep fit and even lose weight!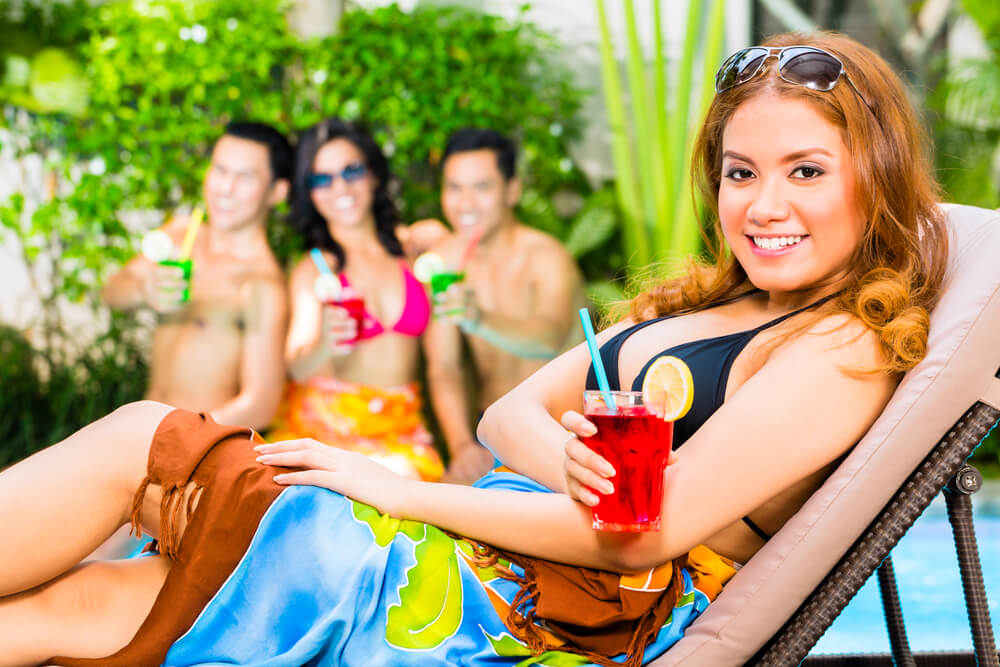 Flight
Any flight is most often accompanied by edema, which can spoil the appearance and mood for the first few days.
What to do?
Avoid salty and spicy foods during the day before departure, do not drink alcohol and reduce caffeine consumption to a minimum.
If the flight is night, then try to sleep during the day.
Your task is to minimize stress in the body.
Prepare light snacks in the form of nuts, apple or banana.
In the plane, avoid sugary drinks and instant coffee, the best would be tea or pure water.
When you get to the hotel restaurants for the first time, do not rush to rush to everything, familiarize yourself with the assortment, determine in advance what you want most - meat or fish, what vegetables and what fruits and sweets.
Because of what usually gain weight on vacation
Of course in the first place will be alcohol.
These are always superficial invisible calories, increased appetite and swelling.
Choose a dry white wine and dilute it with water, but colored cocktails and strong drinks are better not to use.
Simple numbers:
100 ml wine -55-70 kcal
100 ml whiskey -235 kcal
Color cocktail can reach 500 kilocalories per serving, if the composition includes syrup and sweet soda.
Second place is honorable sweets.
Many are not able to eliminate them completely, but this is not necessary, because on vacation you should experience only positive emotions.
Breakfast is a great time to indulge in a slice of your favorite cake or croissant, but slice is the key word here.
Enjoy this moment without haste under a cup of aromatic coffee, but be active throughout the day.
In third place, I would put portion volume.
During the rest, besides in the fresh air, we often release the brakes and go on about our appetite.
The assortment of food, smells and good company have to eat more, and even if there is only healthy food on the plate, but its volume and calorie content will exceed your daily calorie intake, then you can't escape the scales.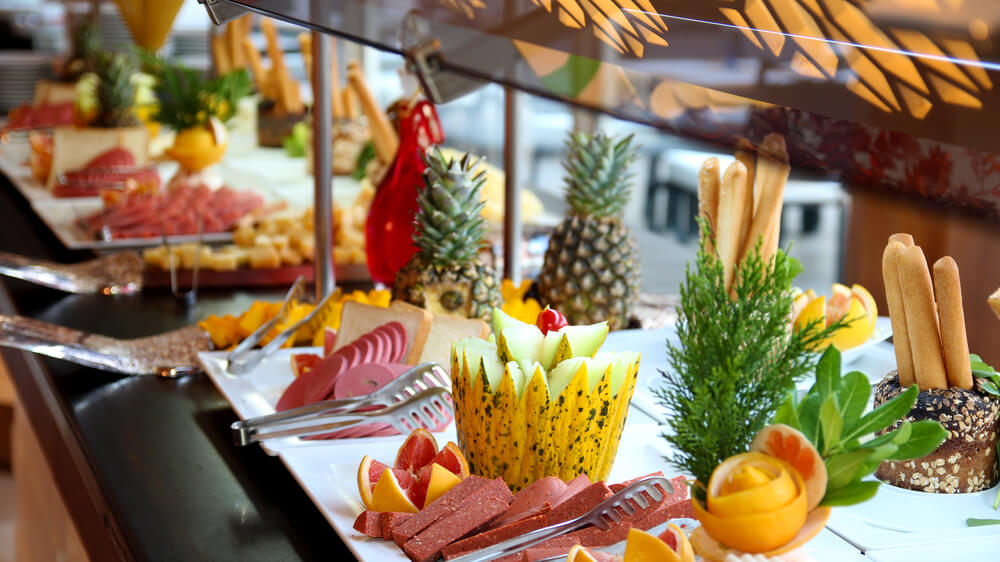 Activity during the day
Physical activity during the day is a must if you don't want to turn into a pumpkin in a week.
Even if you plan not to get up from the chaise longue all day, add 20-30-minute walks after each meal.
Swim, especially in the sea, is a great way to improve skin turgard and increase energy expenditure.
Even if your number is higher than the second floor, then forget about the elevator and walk.
Ideally, you should always have a set of sports clothes with you in order not to interrupt the training process.
How to build your diet properly
The most important thing is to decide for yourself once and for all that there is always enough food, no one takes it away or forbids it, you just choose the best for yourself in order to be more beautiful, slimmer and healthier.
Breakfast
Great time for fresh fruit, natural yoghurt, seasoned with porridge, and a piece of your favorite sweetness with coffee or fragrant tea.
In your plate should be carbohydrates, and proteins, and a portion of healthy fats.
Dinner
Lunch can also include carbohydrates in the form of porridge (2-3 tablespoons).
A portion of lettuce and greens with butter, instead of salt, you can use lemon juice.
A serving of protein - fish or meat.
Avoid ground meat, it can be supplemented with different ingredients that increase the calorie content. Whole grilled poultry is the perfect choice.
Also, the breading and the method of cooking in deep fat can hide a few hundred calories in their crust.
Dinner
In the evening, your plate should contain only protein, vegetables and some healthy fat.
Salad leaves should occupy most of the plates, their caloric content is low, but they contain a lot of fiber and perfectly satisfy hunger.
If it is possible, give preference to fish dishes instead of meat, so the food will digest faster and you will feel easier.
snacks
In between the basic techniques, you can add one or two snacks.
In the morning it can be fruit or berries (volume 150 grams).
And between lunch and dinner you can eat a portion of vegetables in the form of a salad.
Do not forget about clean water, especially if you are in warm countries and the air temperature is above average.
1-2 l per day for 30-40 minutes before and after meals.
These rules are good not only for holidays, ideally every girl who takes care of her health should adhere to them every day. We must move away from the stereotype that a vacation trip is always eating and drinking a lot and uncontrollably, that it is time to skip workouts and uncontrolled behavior in relation to the body.
Have a nice trip - and keep yourself in hand!