The article has been automatically translated into English by Google Translate from Russian and has not been edited.
70-year-old Pugacheva looks the same age as 36-year-old Loboda. A PHOTO
Maxim Galkin and Alla Pugacheva were invited to visit friends with children for the weekend. Alexander Revva with wife Angelica and daughter Amelie and Svetlana Loboda with daughter Eva were very pleased with the visit, writes open.lv.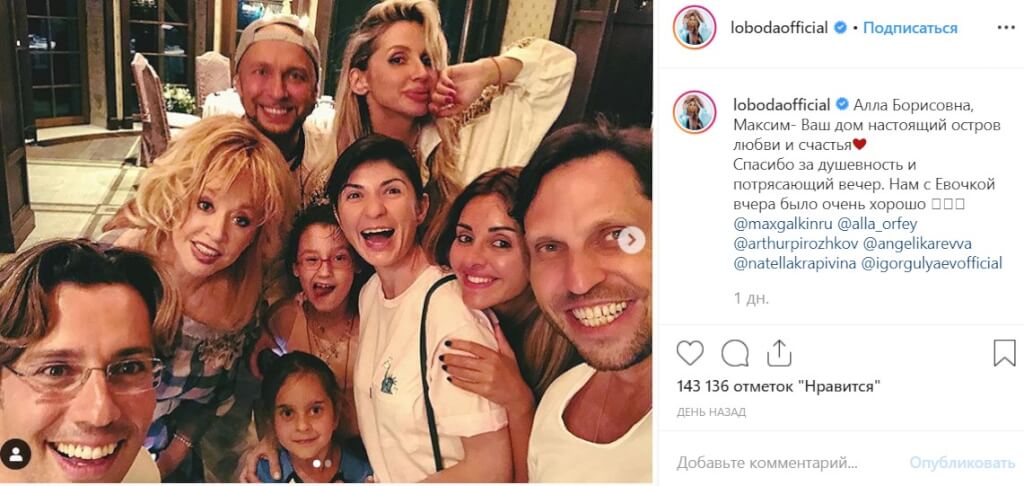 Loboda's producer Natella Krapivina was also invited, who - as they say, by chance - got on the main poster of Alla Borisovna's recent anniversary concert. Fashion designer Igor Gulyaev was also a guest.
"Alla Borisovna, Maxim, your home is a real island of love and happiness. Thanks for the warmth and an amazing evening. Evochka and I felt very good yesterday, "Loboda thanked the hosts.
On the subject: 70-year-old Alla Pugacheva surprised fans with a new image. A PHOTO
But subscribers first of all paid attention to Alla Borisovna's appearance. Many were shocked by the fact that the 70-year-old Diva looks almost the same age as her guests.
"The most beautiful on this photo is Alla Borisovna!" "Alla Borisovna rejuvenating apples eat kilograms or something?" "Pugacheva looks years on 20 younger than her age, and even on 30 ... Straight in the company. Here's how she does it? "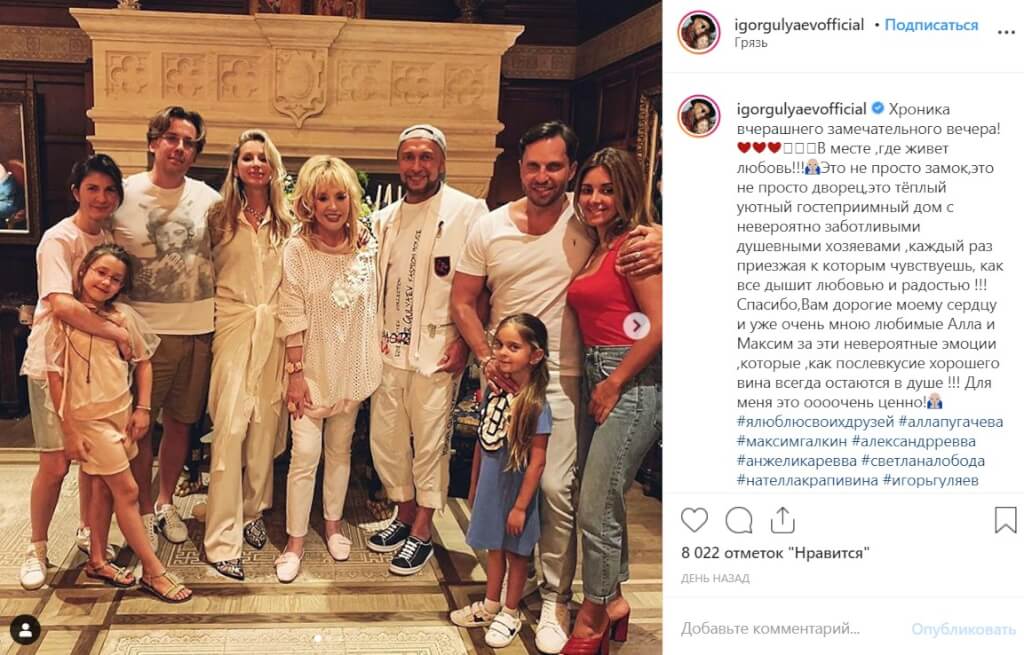 "Two blondes with such a difference in age - and they look the same age!" - amazed fans commented, comparing Pugachev with Loboda.
No matter how much the spiteful critics do not squirting "poison" in the direction of 70-year-old Alla Pugacheva, she again and again forces the public to talk about themselves. While one stars need to take off all their clothes, turn themselves inside out, commit some kind of insane act, Diva just needs to change the image a little bit and, voila, hundreds of thousands of likes in a couple of hours and an infinite number of compliments.
On the subject: "Why am I getting old, but she is not?": Alla Pugacheva again shocked the fans. A PHOTO
What to hide, sometimes colleagues flatter Alla Borisovna: they say that she looks great even when she has a trendy slip. But this time, the people's artist really deserves praise.
Alla Borisovna's transformation was rated by Natasha Koroleva, Philip Kirkorov, Sergey Lazarev, Igor Nikolaev, Svetlana Loboda, Anita Tsoi, Alika Smekhova and many other stars.