The article has been automatically translated into English by Google Translate from Russian and has not been edited.
61-year-old Sharon Stone repeats the famous scene from the 'Basic Instinct'
The actress in a piquant outfit appeared on the stage of the GQ Men of the Year Awards ceremony in Berlin.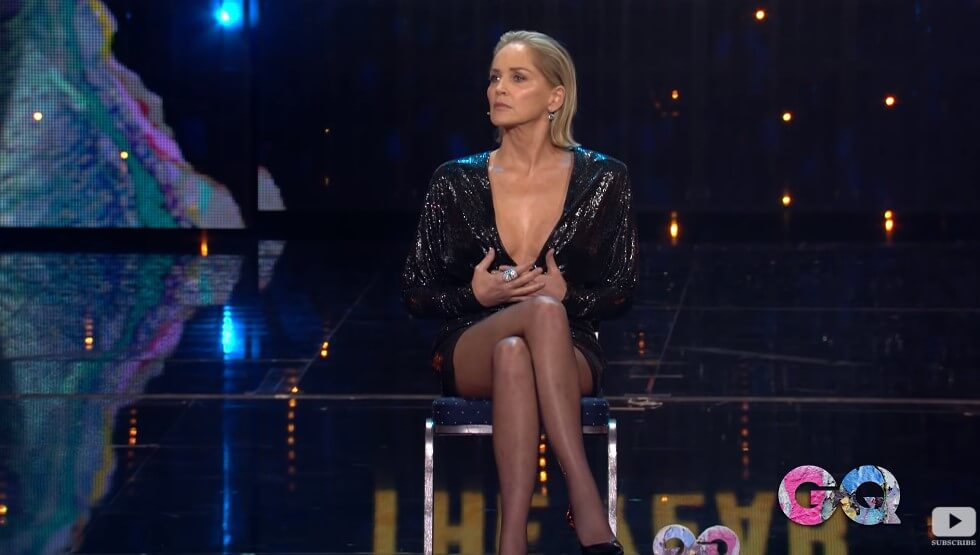 Sharon Stone has starred in dozens of films, but still this actress cannot be forgotten because of the "hot" scene, where she sits on a chair and shifts her legs on the foot, in the film "Basic Instinct" of 1992 of the year, recalls Teleprogramma.pro.
Now the star is already 61 for a year, but it can still give odds even to models. A woman has a slender figure and youthful appearance. The fans were once again convinced that this was so when the artist came to the GQ Men of the Year Awards ceremony in Berlin.
On the subject: After a new photoshoot, Pugachev was compared with Sharon Stone in 'Basic Instinct'
At the gala event, Sharon came in a shiny black mini-dress with a revealing neckline. The image was completed by black pumps. White curls were neatly varnished. When she was awarded the Woman of the Year Award, the actress climbed onto the stage and publicly repeated that famous scene from Paul Verhoeven's film. It is noteworthy that she elegantly crossed her legs during the speech, which she decided to deliver in front of hundreds of spectators.
Many noticed that the 61-year-old actress shocked not only the audience, but also her 19-year-old son Roan Bronstein, who also sat in the hall. But it is possible that he is proud of his mother, who at such a mature age can still excite the imagination of men and looks no worse than young colleagues, writes the Daily Mail.
On the subject: 'I lost everything, I was forgotten': Sharon Stone told about the stroke
Recall that at the beginning of last year, Stone admitted that in the 2001 year she suffered a hemorrhage in the brain. This affected her professional qualities, so for some time the actress could not get new roles. By the way, now Sharon is again actively acting in films.