The article has been automatically translated into English by Google Translate from Russian and has not been edited.
43 Board, how to save in Macy's
These recommendations are from blogger The Krazy Coupon Lady help you save on Macy's purchases.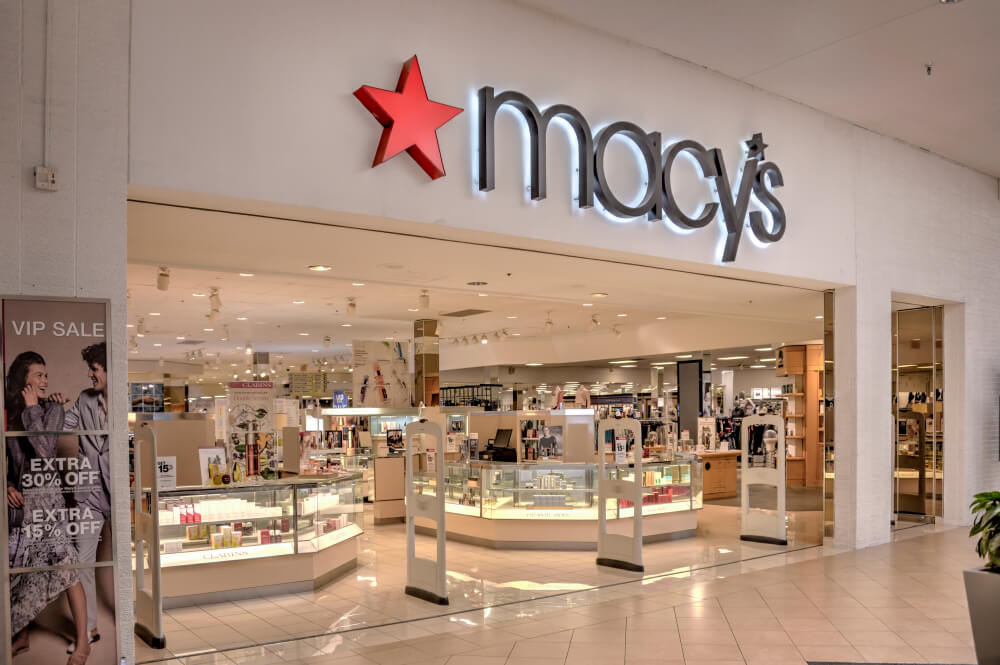 In stores Macy's you will sell the goods at the price of the site Мacys.com и will make a coupon discount
Often prices on the site Macys.com different from the shops. If you find an online product at a lower price, show this price to the seller at any checkout - they will sell you the product at this cost.
If you want to pay for your entire virtual shopping cart in-store after using a discount coupons for use in online stores, you can either show the cashier your entire cart on your phone or tablet, or provide them with the coupon code. They will take this into account when processing your transaction in-store.
Macy's does not accept competitor coupon codes.
Use application Macy's to compare prices in the store and on Macys.com
Scan items with mobile applications Macy'sto see the price of goods on the site. If it is lower than in the store, show it to the cashier from your phone, and you will be sold goods at the price of the site.
Macy's will also sell you goods at the price of competitors (except Amazon и Costco)
Price Compliance Policy Macy's with competitors is not advertised loudly, but it is simple and clear. Macy's ready to sell goods at the price of local stores and their sites. This policy covers stores such as Bloomingdales, Dillards, Kohl's, JCPenney, Nordstrom, Belk, Neiman Marcus, Saks Fifth Avenue и Sears. Do not fall - Amazon, Costco, Bed Bath & Beyond и eBay.
To buy goods in Macy's at the price of a competitor, show the cashier an advertisement, a website or any other proof of the price of a competitor. Customer Service Representative Macys.com can also check the price by phone.
Despite the fact that Amazon not included in this pricing policy, it is still worth checking prices Amazon и Macy's through mobile applications Amazonso as not to overpay.
Use Paribus to automatically check the price for 10 days after purchase on Macys.com
Macy's gives customers the opportunity to adjust the price of the purchased item during 10 days after the purchase in case the item was later discounted.
Download the free app Paribus, and you will receive information about price changes automatically. That is, you will not need to track the price of the purchased goods. For example, you bought 2 towels for $ 16 and two for $ 10. After 2 the day after the purchase, they began to cost $ 3,90 cheaper. You can not pay attention to it, but Paribus will notice.
The application will send you a notice that they will send a letter to Macy's asking you to return the difference. Commission Paribus is 20% of the price difference. You get 80% and do absolutely nothing.
If you iOS, download the mobile app Paribus at this link. If not - go from any PC to Paribus.coto register.
The best way to save money (especially on household goods) is with coupons to refund a portion of the amount. Macy's Rebates
Every month Macy's publishes on Macys.com roughly 20 new coupons for reimbursement of part of the cost. On average, the refund amount is $ 20. It is recommended to use only those coupons that refund more than $ 5. Anything less is a waste of time and effort. But in general, the process is simple.
Very often, redemption coupons coincide in time with product discounts. Another plus is that you can combine coupons for a discount and for reimbursement of a part of the amount! If you use both a coupon for a refund, a coupon for a discount and the actual discount in the store, you can get up to 70-80% benefit! The author of the article bought a cast-iron baking dish for $ 180 for only $ 39, using all the coupons and discounts.
But the refund has to wait about a month. After making a refund, you will receive an email with a tracking number. With it you can check the status of the refund. at this link Anytime.
Important: Application for reimbursement of a part of the coupon amount should be submitted where you made a purchase - in the store, if you bought it in the store, or on the website Macys.comif bought online. Although the forms are almost identical, this is of great importance.
Look for the biggest discounts in the section. Last Act
Sections labeled as Last actcan be found throughout the store. In one such section there is in the department of men's, women's, children's products, shoes and so on. Super Discounts Last actAs a rule, they are held once a month depending on the availability of trading stocks.
Yellow price tags with 6 ending is the latest price.
Products with a yellow price tag attached are sold at the lowest possible price. It will remain that way until the end of the stock. If the item you want to buy has such a price tag, there will be no more discounts on it.
Blue price tags ending in 3 are the last but one price.
Blue price tag indicates the penultimate product discount. These prices end on 3, and after them there are only yellow price tags and final discounts. Typically, these prices are in the range of the 70% discount. Products with blue price tags will still be discounted just 1 times.
If you like to catch the biggest discount, you can wait until the yellow price tag appears on this product. But if you like the product, do not wait - it can be bought up before the next markdown.
Prices on white price tags in the section Last Act actually lower than indicated
Products in the section Last act with white price tags are at a discount not too long. This means that this is not the lowest possible price for these goods. It follows that…
You need to scan the code to find out the real price of the product from the section Last Act with white price tag
Prices for any and all products with a white price tag in the group Last act end in 3 or 6. If you see the white price tag in Last act, take the goods and go to check the price. As a rule, another price will appear when scanning. It is lower and also ends on 3 or 6. If not, then the product is not from the category. Last act and got there by chance.
(Even if you do not check the price, at the checkout, such a product will break through cheaper than stated. This is just a tip for you to find out the price of the goods in advance).
Macy's changed their policy of applying coupons in February 2016, so for the purchase of goods from the section Last Act coupons can not be used
In 2015, y Macy's There were not very good sales, so at the beginning of 2016, the company announced about changing the sales policy. Macy's publicly promised buyers even more discounts than before, but without additional coupons for goods section Last act.
Representative Macy's said that "before you had to count a lot (with coupons); now everything will be easier. " So-so explanation. Another year of poor sales - 2016 - led to the fact that the company plans to close 68 stores in 2017.
But it is not all that bad. It remains Macys.com with a bunch of promotions and discounts.
Shopping in Macy's, always strive to save up to 60-70%
Despite the fact that the goods Last act coupons cannot be used, it is still worth striving for average savings of at least 70% on purchases in Macy's. The author of the article writes that she does not always succeed in this, but at least 50-60% of savings is on every purchase. This goal is easier to achieve by buying products from sections. Last act, as well as using coupons and returns on goods at the usual price.
Shop when you can get Macy's Money
Macy's money - this is the same as Kohl's Cash. Shop in stores Macy's during the week of accrual Macy's money and spend these bonuses next week. Macy's money even charged for goods from the section Last act.
The accrual scheme is as follows:
For spent $ 50-74,99 you will receive $ 10
For $ 75-99,99 - $ 15
For $ 100-149,99 - $ 20
For $ 150-199,99 - $ 30
For $ 200 and more - $ 40.
Throughout the week of use Macy's money You can spend this amount along with any other coupons and discounts, both online and in regular stores. In fact, Macy's money work as a gift certificate.
Use coupons Rite Aidearn points Plenti and waste them in Macy's
Plenti - this is a total bonus program Macy's, Rite Aid, Hulu and other companies. You get points for purchases and spend them on your next purchase.
Accumulation of points in Macy's - the process is not fast. For every $ 10 you get an 1 score Plenti.
For comparison, in Rite aid There are stocks that allow you to accumulate much faster. For example, "Get 2 000 Points Plenti for every spent Rite Aid $50».
The difference is impressive: is it in 400 times the score for every dollar in Rite Aid, than in Macy's.
What is even better, you can download free mobile app Krazy Coupon Lady and receive coupons to reduce cash costs in Rite aid. Even if you use a coupon and only pay $ 36 for an 50 dollar purchase in Rite aid, you will still earn points Plenti for the amount of purchase to the use of coupons.
Points can be spent as in Rite aidAnd in Macy's. For example, 2000 points for the purchase of personal care products can be used as a $ 20 purchase loan in Macy's. These points can be used to make the product free for you.
Do not believe what is written. One-day sales always last 2 of the day
Almost all sales fade amid one-day promotion One Day Sale at Macy's. The company tries not to advertise them, but, as a rule, these actions take place on the third Saturday of the month and begin on Friday. It is best to go shopping on Friday morning, when there is still plenty to choose from.
Shop during seasonal sales in January and August
Seasonal sales take place in January and August. With the help of the promo code, you can get an additional 40-75% discount on already discounted products (last time it was the word "SALE").
Save an extra 25% on all products, including discounted, during stocks Friends & Family in April and October
shares Friends & Family held in April and October. Using the code word (last time it was FRIENDS) You will receive a 25% discount on all products, including discounted ones and on the final sale.
Track stocks in Macy's and Macys.com using the app Krazy Coupon Lady
You do not have time every day to monitor discounts, sales and coupons? Of course not. Put yourself on a smartphone the free app Krazy Coupon Lady, and you get access to manually selected items and discounts on them every day.
In the application, you can choose Macy's as one of the stores and browse through dozens of their new offers. Savings will average 70%.
Add a cosmetic product to your online order to get free shipping.
All orders that have cosmetics are delivered free of charge. Their cost starts at $ 4. It turns out, instead of paying $ 10,95 for delivery, if your order is cheaper than $ 99, you take a lip balm for $ 4, and this is all delivered to you for free.
Here are the links by which you can choose the most affordable cosmetic products: all cosmetics from cheap to expensive, Cheap to expensive skin care products.
Macy's also offers free return by mail. Simply print the home label with the return address already indicated.
Choose slow delivery and get $ 5 in Macy's Money
During periods of active shopping, especially during holidays, look for the site's delivery option "no hurry". If you choose it, Macy's will give you $ 5 as Macy's Money, which you can use as a gift certificate for your next purchase.
Order goods online and pick up at the store - you will receive additional 15-20% for the next order
When shopping online, look for the "pick up at store" button (pick up in store). Enter your zip code to check if there is a product in the store Macy's close to you. If yes, then you are lucky! You will not only save on shipping, but also get a coupon Macy's WOW Pass at 15% or 20% discount on your next purchase just because took the goods in the store themselves.
Discount coupons Macy's are called WOW! Passport
У Macy's There are 2 type coupons for use in online stores. One for credit card holders, the second - for those who do not have such. The second get coupons called Wow! Pass. If you do not have a credit card Macy's, then every time the word "coupon" is written in this text, it means Wow! Passand every time you see the inscription Wow! Pass in the store - it means "coupon".
When buying online at Macys.com or in the store Macy's you can only use one coupon or Wow! Pass.
The best days to search for coupons - Friday-Sunday
Coupons for shopping in Macy's You can always find, but most of them are applicable only in one department. To find a coupon for all departments, it is better to look at the weekend. Coupons Macy's collected at this link.
Additional coupons Macy's there is in sunday newspapers
Almost every week in the Sunday newspaper you can find a coupon Macy's. But for this you do not need to buy a subscription to the newspaper - as a rule, the essence of this coupon is in the discount code, which you can just call at the box office or enter when buying online.
Get 25% discount on first purchase through mobile app Macy's
To download the application, send an SMS with the word APP to the number 62297.
Create an account on the site Macy's and get a 15% $ purchase discount worth $ 100 + free shipping
If you haven't yet free account on the site Macy'screate it. When you create, you will receive an e-mail with a discount.
Coupon Macy's exclude almost all the brands you've ever heard of
So many coupons, and so few products to which they apply! List of brands for which coupons do not apply Macy'sone of the worst.
Coupons do not apply to such brands and product categories: Breville, Coach, Dyson, Fitbit, Frye, Hanky ​​Panky, Jack Spade, KitchenAid Pro Line, Le Creuset, Levi's, Locker Room, Marc Jacobs, Michael Kors Studio, Michele Watch, Natori, Sam Edelman, Samsung Watch Shun, [are you still reading? ...] Stuart Weitzman, The North Face, Theory, Tumi, Vitamix, Wacoal, Wolford, Wüsthof, Tory Burch, UGG, littleBits, 3Doodler, Movado Bold, M by Macy's Marketplace, men's electronics, sportswear, shoes and accessories, designer jewelery and watches, designer sportswear, gift certificates, private shows of jewelry collections, previous purchases, some licensed departments, services, special orders and purchases, technological watches, jewelry and accessories, women's footwear; Allen Edmonds, Brahmin, Birkenstock, Hurley, Johnston & Murphy, Merrell, RVCA, Tommy Bahamatoys
Do not buy branded items (like Nike) before discount
Although branded items cannot be bought with coupons, they often end up in the sales section. Last act. It is there worth buying branded items in Macy's. It is best to do this during the week. Macy's money and use Paribus, so as not to miss another price reduction.
Do not buy anything with a price ending in $ 0.98
Price tags ending at $0.98 are usually found on permanent goods. They should be avoided - not because they are overpriced, but because they cannot be bought with a coupon or discount. Sometimes, though, they make it into the final sale section. Permanent goods are socks, simple T-shirts, and so on.
Do not take a credit card Macy'sif you spend less than $ 1200 per year
Credit card Macy's didn't hit list of best credit cards from storesand this is not the only reason not to take it. Rated Credit Karma She has a very low score - 1,6. More than 200 credit card users complained about service problems, low limits, the inability to raise them, and strange write-offs without warning.
Credit card holders, on the other hand Macy's get some privileges:
First purchase discount: With a credit card Macy's You will receive 20% from the first purchase. The discount is displayed in the monthly debit, and not at the box office.
Bonus points: They're called Star rewards and charged for a certain amount. Can be displayed in both dollar and percentage discount.
20% discount in addition to discount coupons for one-day sales.
The number of bonus credits depends on the level of membership. Those who spend from $ 1 to $ 499 per year receive 3 "stars", from $ 500 to $ 1 - 199 "stars", and from $ 6 - 1 bonus accruals per year.
Gift voucher purchases Macy'spurchased at a discount, help save up to 8,5%
You can buy a gift certificate Macy's discount online - try Raise.com. On average, the savings are 6-9% per certificate. Another option is to use the mobile application. Raise for an instant discount. For example, you go to Macy's (or at Macys.com), choose a product, consider the total amount, then go to Raise and buy an electronic gift certificate for the amount of your purchase. Enter the 16-digit code (or speak to the cashier) - and here's your discount! It is very simple and can be done even by standing in line at the cashier.
Register on Raise.com and get a $ 5 discount on your first purchase. If you spend more than $ 50, you can also use the code KCL5 and get another $ 5 discount.
Search for free promotional offers of cosmetics in Macy's
Throughout the year Macy's conducts various promotions with free distribution of cosmetics, which compares favorably with other cosmetics vendors, for example, Sephora. Here it is also possible to use several promotions at the same time and receive several free products for the purchase of a particular cosmetic product or for a certain amount.
Every year before Christmas Macy's gives out free gift certificates to $ 10
They can be used both in stores and online. Certificates are distributed to all store buyers. Macy's For 2 days pre-christmas week. These certificates last only a few days and are suitable for use as in a store. Macy's, and online.
Take a look under the bedspread - there are more items on sale
When will you next consider the goods on the table with the sale in Macy's, look under the bedspread - there is still a product that does not fit on the table!
Get a gift certificate Macy's for 9 store visits
Download application Shopkick, turn on the bluetooth and walk around the center of the store Macy'sto earn points or kicks. Redeem points for gift certificates of your favorite stores (gift certificate Macy's $ 5 is worth 1 250 points or 9 visits Macy's).
Look for reward coupons from Ibotta
Coupons for reimbursement of the cost of goods in Macy's from Ibotta very rare, but they exist. Go to the page Macy's in ibotta several times a year. After registration on Ibotta You will receive a $ 11 refund coupon for your first purchase!
Get paid for creating a wedding list of goods
The only time to think about opening a credit card Macy'sThis is when you have a wedding. When opening a credit card and creating wedding list of goods on Macy's You will receive bonus dollars for every purchase made by your guests. If guests will use the card upon purchase Macy's, they will also receive bonuses. In addition, for all products from the list that nobody bought, the newlyweds receive a discount of 20% for the next six months!
Return unused items throughout the year after purchase
What else you can sell, you can safely return to Macy's. This rule does not cover some brands, the return period for which is set separately - for example, Louis Vuitton (14 days), Stride rite (30 days) or The fur vault (30 days).
Take advantage of free fits or samples
For example, free bra fits, free makeup or free samples in the cosmetics department. Men can customize the costume for free.
It is not necessary to buy from vendors who work for commission
Some departments Macy's work for a fee, but not all. Most of the commission earn such departments: jewelry made of precious stones, furniture, mattresses, cosmetics, shoes and men's suits.
It is best to buy household goods, small appliances and clothing.
Discounts for clothes reach the level of 50-70%. Discounts on household appliances - up to 60-80%, if you use coupons during sales. Kitchen appliances are sold with good discounts ($ 9,99 and cheaper) during holiday periods.
Better not to buy branded items and electronics
It often happens that electronics is sold only online, and discounts on it are extremely rare. And sometimes there are no good discounts on brands.
Discounts for seasonal products start in 4-6 weeks before the end of the season
It is best to buy things when they are out of season. However, Macy's starts to make seasonal discounts faster than competitors JCPenney and Nordstrom.
This is how the seasons are determined in Macy's:
Spring (February - April)
Summer (May - July)
Autumn (August - October)
Winter / Holidays (November - January)
This means that it is better to buy things during these periods:
Spring Sale: April 1
Summer Sale: July 1
Autumn sale: from October 1
Winter sale: January 1.