The article has been automatically translated into English by Google Translate from Russian and has not been edited.
24 ideas for extra income in America
Most of us have a rather complicated relationship with money. We like it when we have them, but we hate to mine them. Perhaps you love your stable job with 9 to 5, but you are unlikely to earn millions. Or maybe you feel trapped: you have to go to the office and therefore you do not have enough financial freedom to look for something better. But there are ways to earn extra money quickly enough and, most importantly, without harm to the main work. This is - work on the side writes resource CheatSheet.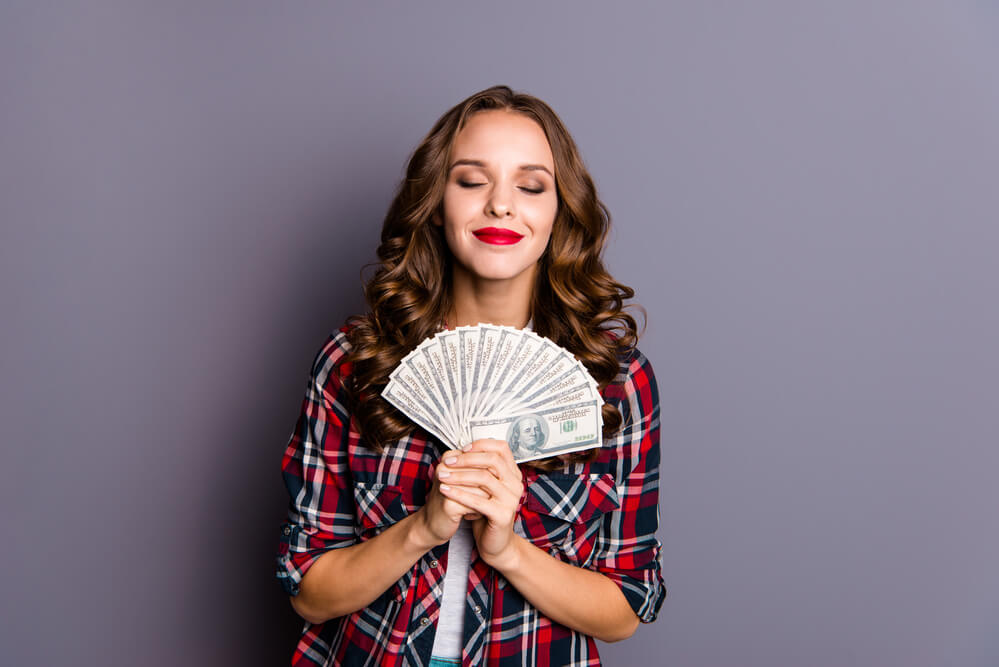 Today, from 20% to 30% of workers in Europe and the United States are engaged in the so-called "free earnings economy." This gives them the opportunity to work when they want, where they want and as much as they need. Interestingly, many people of retirement age also resort to underworking to increase their retirement incomes.
With the help of outsourcing, you can save for the next vacation, replace the main job from 9 to 5, or increase your retirement savings. There are several ways to do this. Below is a list of 24 ideas for part-time work, with which you can start earning extra money today.
Become an online dating consultant
Yes, yes, you were not mistaken, there is such a job. In the world of online dating reigns merciless competition. On any service - Tinder, Coffee Meets Bagel, Match, OkCupid - to stand out from other users is terribly difficult. This is where dating counselors come into play (dating consultant). Use your social media skills for the good: help others choose good profile pictures and create engaging "about yourself" posts. For example, Heartographer charges $ 349 for online video chats that help create engaging profiles that help users find a match or at least arrange regular dates.
Open a cooking business
Few of us find comfort in staying in the kitchen after a long working day and making a hot home-cooked dinner. For most people, finding an idea for a homemade dinner and making it happen is just awful. One couple, culinary blog writers, earns $ 100 per week for making 5 frozen dinners for a family that doesn't have time to cook every night. If cooking is not your thing, you can earn baking for local events or parties in your area. Who will refuse a good cupcake with perfect proportions of icing and dough?
Sell ​​old gift certificates
Every year before the holidays, you accumulate another pile of gift certificates from stores that you have never heard of and are not going to go there? Instead of wearing them in your wallet, monetize these certificates. There are 2 options: first, sell them sitesthat will offer a certain amount. The second is to exchange them on sites that allow you to set the purchase price yourself. Type Services Raise charge for their services only 15% of the amount of the sale of the card.
On the subject: Utah student earns $ 3400 from blood plasma donations to pay for shopping
Become a notary
A notary is a professional with a legal education who is entitled to carry out legal activities from the state. Notaries can confirm signatures on documents, carry out and accept oaths or certify important documents on real estate. Having received a notary certificate from the state, you will be able to charge for certification of documents. The cost of the certificate, as a rule, does not exceed $ 100.
Breed bees
Bee keepers who breed bees and sell honey earn substantial additional income in local farmers markets and roadside stands. Obviously, it takes time to learn how to breed bees and do them, but this part-time job is ideal for retirees in search of a profitable hobby.
Drive your own car
If your car "eats" some fuel, you can register with companies like Uber or Lyft and work with them in your free time. Park near the airport or some popular bar in the center and earn extra money. Like driving services, there are also mobile applications like PostMates. They make a profit of up to $ 25 per hour for food delivery to customers in your area. The only difference is that they hire both pedestrians and cyclists, as well as drivers.
Create and sell online courses
Some of the most effective part-time jobs are those that generate passive income. By creating and selling online courses, you can spend a couple of hours on creating them, and then sit and watch the money float to you as students register. Decide what you are an expert in and "dance" from there. If you have been working as a financial advisor for 20 for years, you can easily create a course on how to invest in stocks. Ideas for the author's course can be very diverse: from yoga lessons for beginners to salary negotiations and cake decorating.
Educate others on the online platform Udemy
If you do not have time to create a separate course online, try to promote it on the platform. Udemy. This site allows you to monetize your unique skills and conduct your course as you like. Right now on the platform are, for example, courses such as "Body Language for Entrepreneurs", "Microsoft Excel 2010: Advanced User Level" and "Java for Dummies".
On the subject: How Ukrainian in 22 of the year earned $ 100 thousand on boxes for wedding rings
Develop websites
E-commerce and online marketing have soared to such heights that today no business will succeed without an attractive website. Even job seekers in our time are increasingly using personal sites instead of old-fashioned resumes. The only problem is that not everyone can do this professionally. People are happy to lay out a tidy sum to those who know how to create and prescribe back-end and codes that allow the site to work without a hitch. You can make money by design and create websites for clients using special services like Squarespace, GoDaddy и Wix.
Write tweets and posts for money
Writing paid posts on Twitter is not only for Kim Kardashian and her friends (although she still earns about $ 200 thousands for publishing in Instagram). If you have enough subscribers, you can earn publications on products that you like. There are, for example, services like MyLikes и LikeItToKnowIt, but they are only suitable for accounts that have several thousand subscribers.
Sell ​​goods on Etsy
Turn your hobby into a profitable online business: open a store on the platform Etsy. Popular blogger's wife Mr. Money mustache contains the whole family on the money earned through the sale of handmade soap. She once sold goods for $ 10 thousand in just 2 a month. In addition to soap, with the help of this platform, people sell a lot of everything else - handmade jewelry, clothes and even furniture.
Answer online surveys
It happens that after a long working day the brain is very tired. For those who have stressful work, passing online surveys for extra money may seem like a salvation. You choose who to answer and when, and all this from your cozy sofa. Yes, and this work, which does not require mental activity, can be performed while watching TV in parallel. We recommend to subscribe to several websites at once where you can take surveys in order to get more sources of benefit. For example, InboxDollars, Swagbucks и Paidsurveys - The most popular options for this part.
Rent your house
If you live near the metropolis, in the resort area or near the tourist route, you can rent your house in the mountains or an extra room in your house to travelers from all over the world. Application type Airbnb are very popular and simplify the process of delivery of real estate. Through it, homeowners themselves set prices. Many homeowners rent a house for several nights a month - this helps them cover the costs associated with maintaining a home.
Create content for others.
Content marketing is a powerful source of income for companies, so they are always looking for people who know how to use words beautifully. If you feel that you are the author of successful texts, register on the websites for freelance authors and content creators who pay by the piece for each publication. Finding customers who need to create content every day is easy, but the prices for these services are very different. Some pay $ 30 per post. Freelancers with experience charge $ 100 per post and more.
Become a tutor
Chances are good that you can teach something. You may be able to solve complex math problems in a dream or fluent in German. Then offer your knowledge to those who need it, for an hourly fee - this is an excellent additional income. Parents of children are always happy to find a piano teacher who can work with the child at a convenient time for them. Post a couple of announcements about what you are willing to teach, and have your students find you.
Sell ​​photos in stock
To do this, you will need to leave the house from time to time. However, freelance photographers earn very good money by removing family portraits, engagements or children. In addition, bloggers are constantly looking for beautiful photos on the stock for their publications that make you want to follow the linked link. If you are a talented photographer, sites like istockphoto.com и shutterstock.com help you start selling beautiful photos online. Please note that you will not be able to sell pictures from the "iPhone" - you will have to buy a high-quality digital camera.
Become a calligrapher
You've probably seen your friends posting on Facebookwhere they brag about calligraphy writing skills. Handles for calligraphic signatures are now very popular, and they allow users to create unique freehand fonts that can be used for special events: wedding invitations, home decor and other ideas (you can find them on Pinterest). Anyone who needs an interesting and creative hobby can learn this skill and, even better, start to monetize it. You need only a few special pens and lots of blank sheets of paper. Learn to calligraphic writing, and you can earn "live" money at every wedding invitation you sign.
Sell ​​your trees
Believe it or not, there is Web siteswho will pay you money for unnecessary trees. This, of course, is not a constant source of additional income (unless you decide to systematically destroy photosynthesis on the planet), but you can sell trees from your own yard. Suddenly you recently bought a plot where trees grow exactly where you are going to build your dream house. So why not sell this wood? The most valuable are deciduous trees: maple, birch and oak.
Sell ​​unwanted items
You'd be surprised, but there is a lot of money lying around you in your house right now. All-rounders are constantly searching online for old furniture that they can put in order and sell at a higher price. Second hand shops - for example, Clothes mentor or Plato's closet - exchange your sweaters, pants, handbags and jewelry that you no longer wear, for money. Spend spring cleaning at home and put all unnecessary things in cash through sites Craigslist и eBay or local thrift stores.
Become a "jack of all trades"
If you are ready to roll up your sleeves and work physically, you can get good money as a local craftsman who does work that no one else wants to do. Or, if you live in a rented apartment, you can keep it in order and save hundreds of dollars on plumbers and other craftsmen. To learn, for example, to repair the dishwasher, you can watch the video instructions on YouTube - and save $ 300. Further more: you can start helping with this and other tenants of the house. You can advertise services using platforms Takl or Taskrabbit.
Edit college entrance essays
To enter most colleges, you need to write an essay, which is attached to the package of documents. For many adolescents, writing a piece about yourself is an overwork. Entry competition is very high, and parents are willing to pay for the labor of a person who will provide constructive feedback regarding their child's essay. All you need for this job is to be able to edit texts.
Buy and sell domain names
Trade in domain names for several decades. But now, as online business and online entrepreneurship develops, opportunities for earning money from selling domain names are growing with them. Buy domains on GoDaddy and sell on sites like Flippa. The more common the concept used for a domain, the more expensive it is.
Become a brand ambassador
Big brands and startups always need brand ambassadors (brand ambassador) that supported their marketing campaigns. These people get paid for advertising services. This is a very popular source of additional income among university students who have access to a wide range of the public, as well as among "weekend warriors" who are ready to advertise services at local events. Some companies even offer a package of commissions for the sales you attract.
Become a mystery shopper
Using sites like Bestmark You can start making money as a secret buyer. If you are ready to lift yourself from the couch for the sake of part-time work, then go ahead. You will be paid for making a purchase in a store or dinner at a restaurant. The most famous secret buyers are Subway. They check if the sandwich makers of this network follow the generally accepted rules of the franchise. You will go wherever you visit often anyway, plus get paid for it. A win-win.