The article has been automatically translated into English by Google Translate from Russian and has not been edited.
Top 20 features of life with foreigners that annoy our women
Interethnic marriages in our time have become commonplace. And so much so that even sociologists have already stopped researching them. Although more recently, they found out that in such couples both try to show interest in the spouse's culture. But the children intend to instill the traditions of their own people. And this means that even lovers of each other and completely happy people are not ready to put up with any nuances. Adme.ru collected real stories about the peculiarities of mentalities that affect relations with a foreign spouse.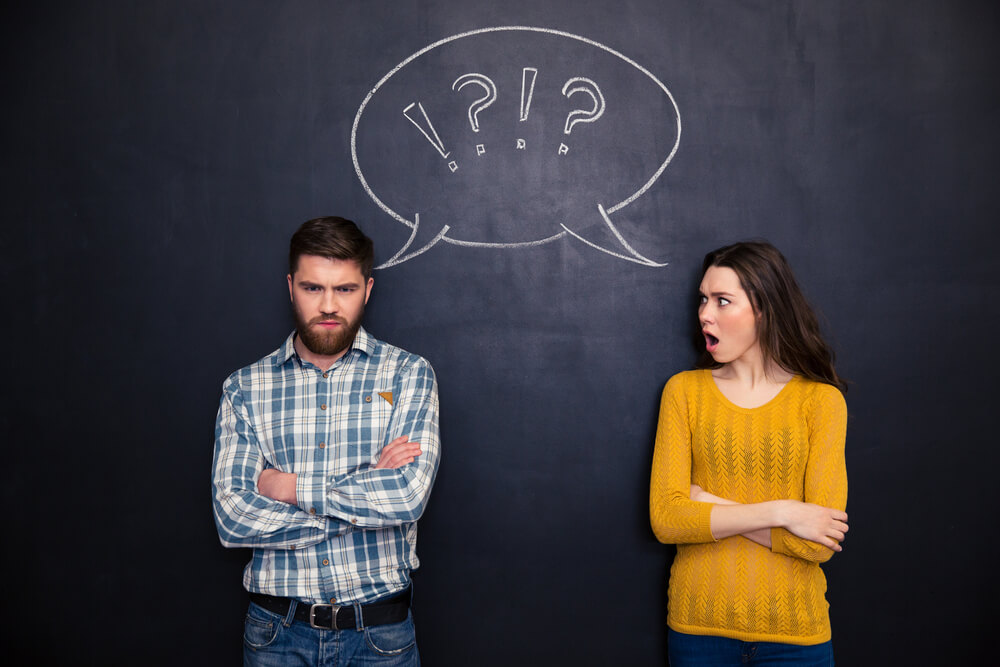 Equality in relationships
Married to a Frenchman
The 50/50 payment in the cafe is still surprising. Everyone in France pays for himself. This is nonsense for me. Once I cry, then you. Now we have coped, but at first it was difficult.
Married to an Italian
Equality in everything. Weight lifting in the store, in everyday life. When we went shopping, he put in two packages the same amount of products, one gave to me and calmly went home. It seemed strange to me, and we came to a compromise. I told William: "If you want to have children, I won't carry heavy loads."
Married to an american
In my free time I decided to make a rearrangement in the house. Jonathan sits next to him and watches football on TV. Even hearing that I move the furniture alone, he will not lift a finger unless I ask him to. And when I lose my temper and am indignant, he sincerely does not understand what the problem is: "Honey, why move, because it's heavy" ... As a child, he has to explain that I need to help with purchases or open the door.
Partner Rights and Family Budget
Married to an Italian
A sore point is flowers. It's a waste of money in an Italian's head. Give me an eternal cactus then! I don't need any jewelry, just a flower. And he says that I always want gifts. Well, okay, I said so once when we were fighting on March 8.
Married to a Frenchman
We do not have a common family budget, like most of my acquaintances, Franco-Ukrainian couples. I pay, for example, for the nanny of my daughter (which, without exaggeration, eats half of my salary), while my husband pays a mortgage. If you prefer a family arrangement in which the husband earns, and the wife sits at home with the children, do not marry a Frenchman.
Married to a German
They look at his wife not as a person with their own interests, but as a "bring-give-take away" - and so that all this is beautiful, with a fresh hairstyle and a smile on her face. Don't say a word across. The Germans do not tolerate scandals. And if you try to explain to him that you don't like something and you want to change something, then he simply withdraws into himself and turns off.
Married to a Frenchman
The French are great individualists. They are scared to death that someone will sit on their neck. Before meeting my husband, I was pretty skeptical about them. The first thought after communication: "How petty." When they brought in the bill at the restaurant, they began to calculate how many glasses I drank, ticked off the check. Most of the time we had dinner with friends was not fun talking and tasting, but counting and dividing the bill. After the generous Russian men, there was a tremendous difference. At first it pissed me off, but now I find it funny and I find it a local flavor. Later I realized that the real French are different - and they are not always Parisians.
On the subject: Marry a Foreigner: 7 Best Countries for International Marriages
Lost in Translation
Married to an Italian
The difference is in education, in jokes. I would quote "12 chairs" or "Well, wait a minute!" And he certainly didn't understand. And vice versa, I have problems with the Italian classics, only Adriano Celentano saves me.
Married to a Frenchman
The French do not differ in knowledge of foreign languages, even English. The methodology of teaching foreign languages ​​at school is very weak. Moreover, they are convinced that the Russian language learning is given easily due to the natural disposition. More than once I tried to make it clear that in fact this is a lot of work, but to no avail.
Married to an american
My husband doesn't like that I speak my own language in his presence. Sometimes it seems to him that I do not notice him or I forget, because he does not understand a word. At the same time, he does not mind that I speak with children and parents in my native language, but when we gather with friends at a common table, and there are people from different countries, he demands that everyone speak English. I just don't know all the words yet, but he thinks it's disrespectful.
Culinary tastes
Married to a Spaniard
Before meeting me, my Spanish husband did not know what porridge was, and still cannot eat it. Cooking okroshka was a real shock for him: "Is this Olivier with cola?" And I really can't stand his Mallorcan cuisine.
Married to an Italian
Food. Not even the food itself, but the habits. In Italy, they have breakfast with a cup of coffee with a croissant, then they have lunch with pasta from 12 to 15 hours and have dinner at about 22 hours. When I was hungry at 16 o'clock and wanted to eat, William looked at me as an alien. Or classic: cappuccino after 12 is a taboo. Although recently I have seen Italians doing this after dinner. Another problem: here they cook everything at once - and that's it. At first I cooked in large portions, like at home, so that I could still have tomorrow, and I had to eat it myself.
The Italian who has cooled down the dinner will not eat at all, well, or the pasta is warmed up, he needs to cook something new every time, and not like ours - one borsch for 3 days.
Married to a Japanese
Until now, sometimes I can add salt while cooking. The Japanese husband spits then for a long time. He puts sugar everywhere. And also monosodium glutamate, it's like seasoning.
Married to a Belgian
My husband has problems with the pancreas, and the first time I tried to transfer him to a healthy (for me) diet. In the morning - porridge, for lunch - soup. I didn't want to eat, despite my arguments, that it was useful. They even went to the doctor to consult on this issue. The doctor looked at me with wide eyes. He said that one sandwich would be enough in the morning.
Temperament differences
Married to a Frenchman
Men are very frugal, but not miserly. They love to flirt, they love themselves very much: sometimes, even watching the manners and conversation, you think that this is a woman inside. They are selfish, a woman is strictly forbidden to show them her weaknesses. Here in France, the wife should be stronger than the husband, not physically, of course. In short, "mother and son" is the most common template for family relationships.
Married to an Italian
We are not afraid to argue to the bitter end when we are right, and Italians prefer understatement. So, of course, at first I tried to find out everything to the end. But then she calmed down. In my subjective opinion, everything is solved with the help of compromises. And the main thing is love, and the rest will follow by itself.
Married to a German
Gerd, like most Germans, does not really understand the breadth of my soul. He says: "My wife is a volcano, scope, emotionality." That there is too much of everything in me, even good.
Married to a Turk
Turks are prone to melancholy and depression. My friend, who has lived here for 5 years, kept repeating the Turkish depression as an axiom. I brushed it off, but a year passed, and I came to the conclusion that she was right. This is confirmed by dry statistics. For example, from 2005 to 2010, the use of antidepressants increased by 65%.
Married to a Cypriot
At first it was difficult to get used to their slowness and sluggishness. And this their whitefish-whitefish ("on the sly") is so often used in conversation that sometimes it seems that they do not want to do anything at all.
On the subject: 10 shortcomings in appearance that idolize in some countries
Reasons for Jealousy
Married to a Turk
My husband believes that I'm not putting him in anything, because I'm not talking to him. A conversation for him is for me to tell him in detail how my day went. If, for example, in the afternoon I bought pots, I am offended: why didn't I share that you plan to buy pots? Apparently, I should have told in detail why we need pots! I broke the flower garden in the country, and he: why did not consult? But why consult if he still will not participate in this? He just wants me to report to him, like a vizier to a padishahu, about all my thoughts and plans. This, in his understanding, is the respect of a wife for her husband.
Married to a Frenchman
We deal with husbands as with little children. And "what do you want to eat", and "why are you sad?" French women don't stand on ceremony, they don't spoil their husbands.
Married to a Turk
Separately, it is worth mentioning the jealousy that is characteristic of all Turks, especially young ones. Their culture is dominated by a woman and her full possession. Therefore, jealousy and the desire to know about each step of his chosen one are caused more by possessive feelings than by fear of competition and serious suspicions of treason.
Married to an Italian
In Italy, girls are more independent in character. If something is wrong, they respond with an Italian temperament. We Russians, it seems to me, are more tolerant in relationships, we forgive more. For example, I easily let William go to play football or have a drink with friends, even go to a club to dance. In my opinion, relationships are built on trust, not jealousy. At first, William was suspicious of my position, he thought that I was pretending. He said that his ex would not let him go anywhere, and if they went somewhere, then only together.
Security attitude
Married to an Italian
Italians take great pride in their ability to outwit another person. Cunning for them is a sign of intelligence. There is even such an expression in Italian "to change the costume in every situation", which means to behave in accordance with the moment. Therefore, an Italian husband can be a real tyrant in the family, and in court - with tears in his eyes, complain how he was deceived by a "foreign predator".
Married to a Japanese
Somehow my husband and I walked for the first time in a park in Tokyo, sat down on a bench to rest, put our things. The husband offered to take a walk around, got up and, without picking up his things, walked forward. And there are telephones, a laptop, an expensive camera. I caught up, said that they would steal, I must take it. And he looked at me like I was a fool. For a long time I could not get used to the fact that they do not soar at all because of this.
Family traditions
Married to a Frenchman
It was a shock for me to practically not receive wedding gifts in France and then no help, but we barely interrupted until I went to work.
Married to an Italian
He has a different attitude towards his parents. We are somehow more independent, but attached to our parents. They have their own family comes in the place of the old parent. I am already silent about grandparents. I didn't even spend the day with my grandmother. For me, this is nonsense.
Married to an Italian
My house in Italy was occupied by his mother's belongings. Up to negligee. Are you pleased to see old Donna's pantaloons? I personally do not. And it's not that there is no place. This is my house! I, having gathered strength into a fist, expressed everything. Of course, I got: "Well, what are you, these are trifles."
Married to a German
In July, our son Alexander was born. We don't show anyone a newborn for a month, except for relatives, even in the photo. In Germany, on the day of childbirth, her husband's relatives crowded in the hospital. I lay exhausted with the child, and they unceremoniously entered the room and took pictures of us, took selfies against our background. After discharge, everything continued. I was just shaking! I was frustrated by her husband, but he sincerely did not understand me and was offended. The only thing that was done was to train them to wash their hands before they take the baby.
Married to a Spaniard
Locals allow their children everything, they never scold them for anything, from birth they take them to guests, to movies, shops and restaurants, smoke next to the stroller, which, of course, causes my indignation. I keep telling my own that we will grow a terrible minion so worried. And he only twists his finger at the temple, they say, stop all nonsense to carry.
Household differences
Married to a Japanese
I could not understand how my husband and his Japanese relatives do without an iron. There is no steamer either. They walk in mint, they say that it is necessary. And I secretly turn on the hot water in my soul and steam the t-shirts.
Married to a German
My husband enumerated my advantages for a long time when he introduced his parents, and at the end he added: "But she doesn't clean the house!"
Married to an Italian
There was even no ordinary tile to cook ... Yes, and why, when there's Mama's apartment near by and you don't have to strain too much. He also tried to crank up this idea for me, such as cooking with his mother - it is a heavenly pleasure, and nothing else! "Well, I do not!" - I thought and said that I want a regular tile.
I climbed into the Internet and found a site in which store they sell it. After a series of Italian passions and emotional heat, the tiles were placed on my kitchen floor, and I became almost half happy.
Married to a German
I will never get used to the fact that the Germans wash dishes once a week. All this lies in the sink. Do you know what it is? Pouring water and wasting soap is not environmentally friendly. And the fact that you can't enter the kitchen without a gas mask is not scary.
Married to an american
My husband's words: "You have a habit of collecting empty glass jars and gift boxes. There were 5 boxes of cans, and when I ask why they are, you answer that you will be useful in the household. But so far none have been needed. My mother-in-law said that as a child you helped her to preserve food for the winter, - maybe this is the point? "
On the subject: Netrebko, Zavorotnyuk and other Russian stars who divorced foreigners
Culture and customs
Married to an Austrian
It does not happen that an Austrian family stays at home on vacation: to relax abroad 3-4 times a year is a common statistic. And sometimes I just want to lie on the couch for a week.
Married to an Indian
Let's start with the wedding, I guess. She was in our country. According to Indian traditions, a small wedding is 500 people. Because he considered it necessary to invite all his friends, neighbors, people with whom he was engaged in the hall. He did not understand why everyone was a little surprised and why I did not call all my classmates to invite them.
Married to a Frenchman
François gets very nervous when I photograph food in a restaurant. And I just want to post it on the social network if I see some outlandish dish! The husband says that this is "a disgusting habit, and for this they can be taken out of the restaurant." He believes that photographing dishes is only allowed for culinary espionage purposes! In general, a lot of comments are related to how I eat. Even at home, you cannot eat with your free hand on your lap under the table. You can't talk loudly while eating, take out your phone and leave the table until everyone has eaten. As in kindergarten, in general.
Married to a Turk
It is difficult to come to terms with the fact that there is a clear distribution of roles in the Turkish family. Murat told me right away: "You will not work, getting food is my concern."
Married to a Japanese
It so happened that my husband and I did not see each other naked in bright light before the wedding. Already when we got married, we went to the beach: I got into a swimsuit, and then he grabbed me by the hand and let's quickly drag me to the nearest toilet cubicle. They are here, by the way, at every corner. Already inside the scandal made, however, very quietly. I have oriental-style tattoos on my lower back and left buttock. Well I love Japan. I didn't even think to tell, I got used to it. And with them, it turns out, almost a taboo. Thank God, it didn't come to a divorce, but then for a long time he asked me all sorts of little things and clarified, I thought, I was hiding something else from him. And on the beach, by the way, then they did not lie around.
And what features of foreigners prevent you from getting along with them? Or do you, perhaps, on the contrary, consider some of their features terribly cute?