The article has been automatically translated into English by Google Translate from Russian and has not been edited.
100 mistresses, millions of secrets and Martina Navratilova's Russian wife
Dozens of mistresses, shooting out of jealousy and millions of bribes for silence - this is not a brief description of the new season of the "Contestants" series, but the real facts from the life of tennis player Martina Navratilova.
Many on the Web have noted Martina's unfeminine appearance and are cautiously interested in whether she is transgender? Like, it looks like a peasant, and paid one of her mistresses three million, for she threatened to "divulge all the secrets of Martina," and in general changed women like gloves, writes Woman.ru.
Indeed, her "Don Juan" list would be envied by many men - according to unofficial data, Navralova's mistresses were around 100 women.
Martina, we recall, became the first tennis player to openly declare her unconventional orientation. However, in this sport, this is far from uncommon.
"When you get tired after a match or practice, you don't want to go to a party anymore. Therefore, the question of intimacy, some tennis players decide "with less blood" - with each other ... ", - once quoted the Russian woman Elena Makarova edition" Sport-Week ". They also cited the words of Olga Morozova, famous in the seventies, that some of her colleagues indulged in love pleasures right in the locker room after the match.
The list of the most famous lesbian tennis players is listed near 20 surnames, but Martina Navratilova rightfully takes the first place in it.
On the subject: How the former Miss USSR became the wife of a famous tennis player
Thank you grandma
Martina was born on October 18 1956 of the year in Prague and at birth was given the name of Schubert. She got her from her father, with whom her mother divorced after three years. While the parents arranged their personal lives, the girl was given up for her grandmother to be raised. But not simple, but titled tennis player - before the start of World War II, Agnes Semanska was fifth in the list of the strongest in Czechoslovakia.
On the fourth birthday, she presented her first tennis racket to her beloved granddaughter, and soon she was taken to the section run by Miroslav Navratil. This man did three main things for his charge: he taught to play tennis, promised that she would be the best on the court ("In 15, you will be the first in Wimbledon") and presented his last name. This happened after Miroslav met Martina's mother, fell in love with her at first sight and made him his wife.
Since then, tennis has become the main thing in the life of Navratilovs. While the classmates of the young Martina lit on the dance floor and met the boys, the future star would sharpen the blow on the court, and then run around the surrounding hills with a backpack full of stones. Hence its incredible endurance, the desire to win and excellent physical shape.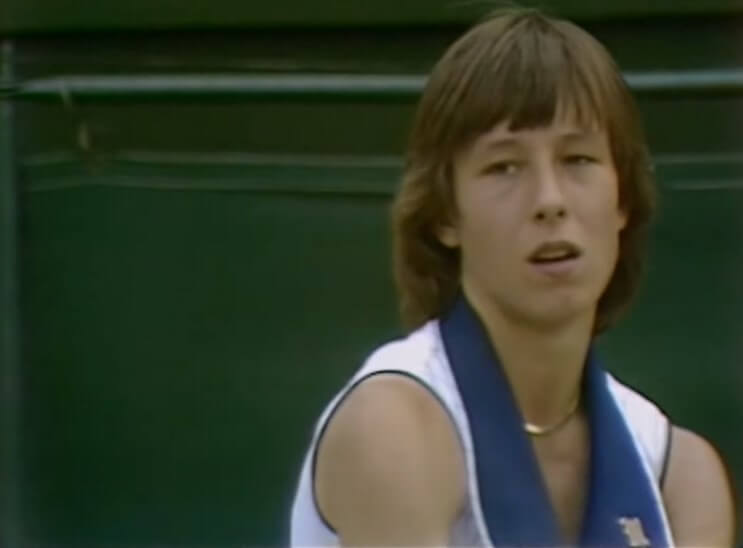 Faster! Above! Stronger!
Martina's brilliant ascent began at the 8 age when she won her first tournament. Subsequent victories fell on a young talent, like balls from a tennis basket. Navratilova took prizes at all district competitions, later distinguished herself in city competitions, and then loudly declared herself at international ones.
When she came to America for the first time, she realized that she didn't want to return to her homeland, and in the 1975 year, when she was not even twenty, she asked for political asylum in the United States.
This is life has begun! Here Martina was free to spend the prize money (in Prague from the first $ 50 000 she won, she received only 200), go shopping, in which, as she then thought, everything was sold, to eat at McDonalds and study the range of hundreds of pastry shops. Passion for fast food and sweets led to the fact that the girl recovered almost 15 kg.
Not a single trainer wanted to take on such a burden, and therefore Navratilova had to lose weight urgently.
There was one more reason - the most important one - why Navratilova was so fond of America. Here she could not hide from anyone and be herself - a woman who prefers women.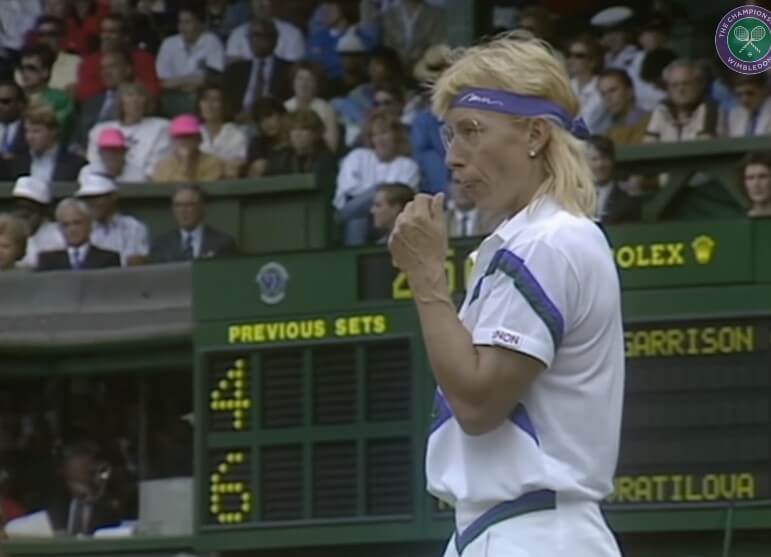 In bed with Navratilova
Martina Navratilova became the first athlete in tennis who openly declared her homosexuality: "From my childhood, I was drawn to women. I liked their suppleness, softness, tenderness ... ".
Martina's first love was golfer Sandra Henie. It was she who insistently asked the tennis player to dye her hair blond - she had such a fad. At first, Martina was in seventh heaven with happiness: a stormy personal life did not interfere at all with her professional success. However, in the second year of the relationship, Navratilova was substituted as if she didn't look the best, was sluggish during the game, she missed the simplest feeds.
Blame it all, you will not believe, became an overly active sex life!
Sandra was completely insatiable in bed and demanded from Martin every time more and more and as long as possible. Such a relationship could lead to the most unpredictable consequences, so the tennis player decided to stop them immediately. Moreover, all her thoughts at that moment were occupied by a new object of passion - the writer Rita Brown.
In the arms of Rita Martin, she escaped not only from Sandra who was persecuting her, but also from journalists and moral advocates. The fact is that, after parting with Heni, Navratilova went to a rehabilitation clinic in order to restore peace of mind. It was there that the Daily News reporter visited her, in an interview with which she proudly declared: "I am a lesbian, and I am proud of it!" There was no doubt that this particular takeaway would decorate the front page of the newspaper the next day.
The eighties began in the courtyard, and America was not so loyal to minorities yet - Martin was accused of immoral behavior, and several large companies refused to sponsor it.
Passing problems before them was not in the rules of Navratilova, and then she was completely worried about something completely different - Martina decided to part with Rita, which made her very angry. During their last meeting, Brown attacked Navratilova, and then shot after the departing car. The bullet, breaking the rear window, was only a few centimeters from the head of the tennis player.
On the subject: Passion on ice: love, betrayal and parting stars of figure skating
Martina Navratilova was not used to living alone, but she was not yet ready for a new long-term relationship after such a "firework". That is why she boldly started a non-binding affair before she met Judy Nelson.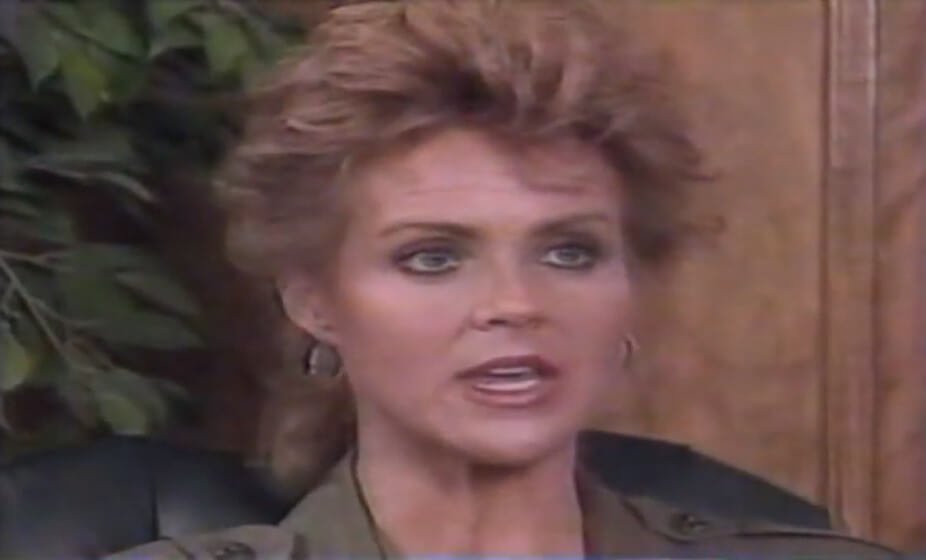 "Miss Texas", a spectacular blonde with gray-green eyes, and also - an extremely intelligent person who, having barely moved to Martina's mansion with her two children, invited her to sign a kind of contract about cohabitation, under which she owed half the star fees. She will get hers in seven years, when their romance comes to an end. In those years, Navratilova was at the peak of her career and made crazy money. Lawyers tennis players did everything to information about the amount paid to Nelson, remained secret. Apparently, one million failed to pay off.
"How could she! After all, I loved her so much! "Navratilova exclaimed, and, tired of playing with love, she began to break free. First of all, I bought myself a mansion in Los Angeles, where I was rolling noisy parties.
It was then that Navratilova uttered a phrase that immediately spread through all the newspapers: "Over the years I spent with Judy, I learned a lot. And no longer believe in crazy love. From now on, lovers for me are like sanitary napkins: I take them, use them and throw them away. "
Kay Di Lang and Madonna
Martina's partners were singer Kay Di Lang, rock star Melissa Etheridge, model and daughter of US Attorney General Heather Reno, tennis players Billie Jean King and Marina de Schwardt ... It is rumored that Madonna herself once went to bed with Navratilova. And, allegedly by the admission of both, they did not get much pleasure.
Shel 1994 year, Martine turned 38 years. At that time, few tennis players lingered on the court for so long. So Navratilova decided that her time was gone, and announced her retirement. The next five years she devoted exclusively to herself. Finally, I visited the Louvre in Paris and saw "Gioconda", became interested in joinery, discovered journalism and began to write. However, love for tennis did not let go, and in 2001, the athlete returned to court.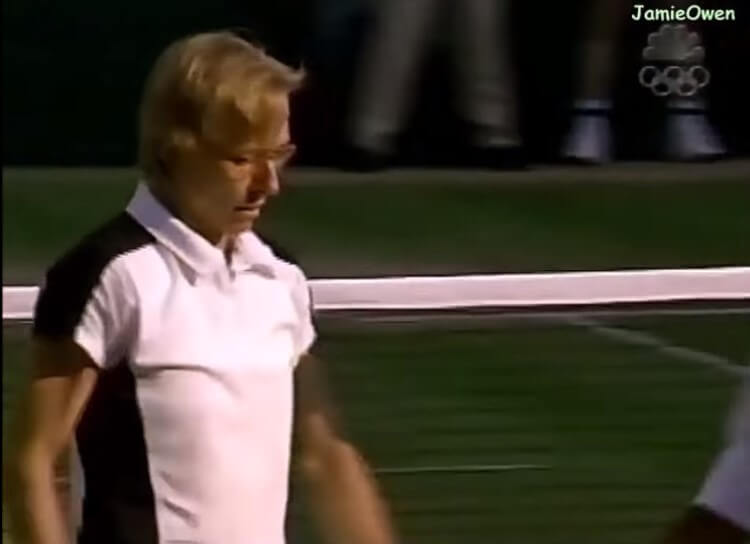 Victories followed one after the other - Martina Navratilova was again the best. And after all, its 50th anniversary was approaching!
By this date, she presented herself the best gift - she collected a full set of Grand Slam titles and won the title of the oldest winner of a single match in the history of WTA tournaments. The perfect moment to put the point. That is exactly what our heroine did.
Ahead of her waited a new chapter devoted to living together with Yulia Lemigova, former Miss USSR. True, before this had to solve a problem called Tony Leighton - that was the name of the woman with whom Martina lived eight years. Abandoned and offended, Miss Leighton, as the "ex-wife," demanded in court half of the state of Navratilova, which at that time exceeded twenty million dollars.
Otherwise, she threatened to uncover all the dirty secrets of the first racket of the world.
And once again, lawyers came to the aid of Navratilov, who managed to negotiate three million dollars with Leighton. Now the path was clear!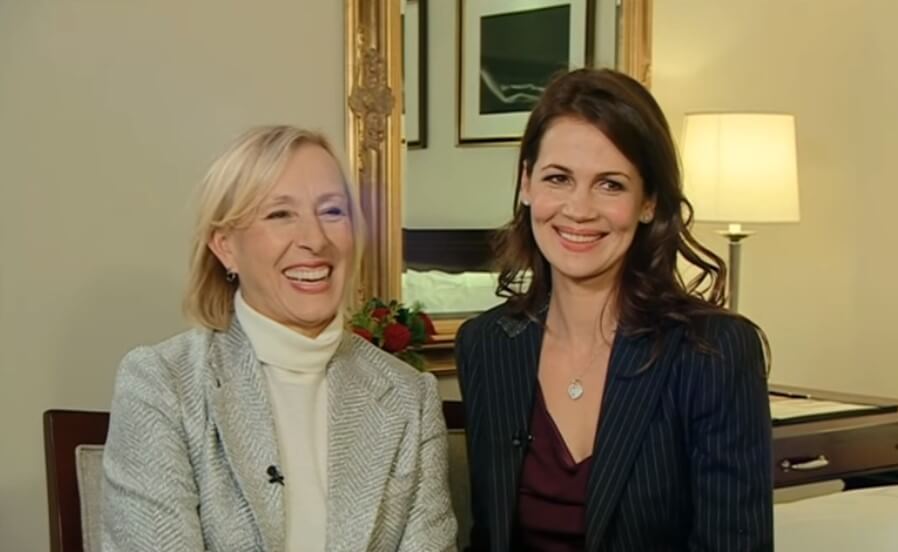 This year, the couple celebrates 10 years of dating and five years of marriage. The candy-bouquet period was far behind, as were the terrible twelve months when Martina struggled with breast cancer, and Julia was there. Now the couple leads a normal family life - brings up two daughters Lemigova, pampers a dog named Lula and travels a lot.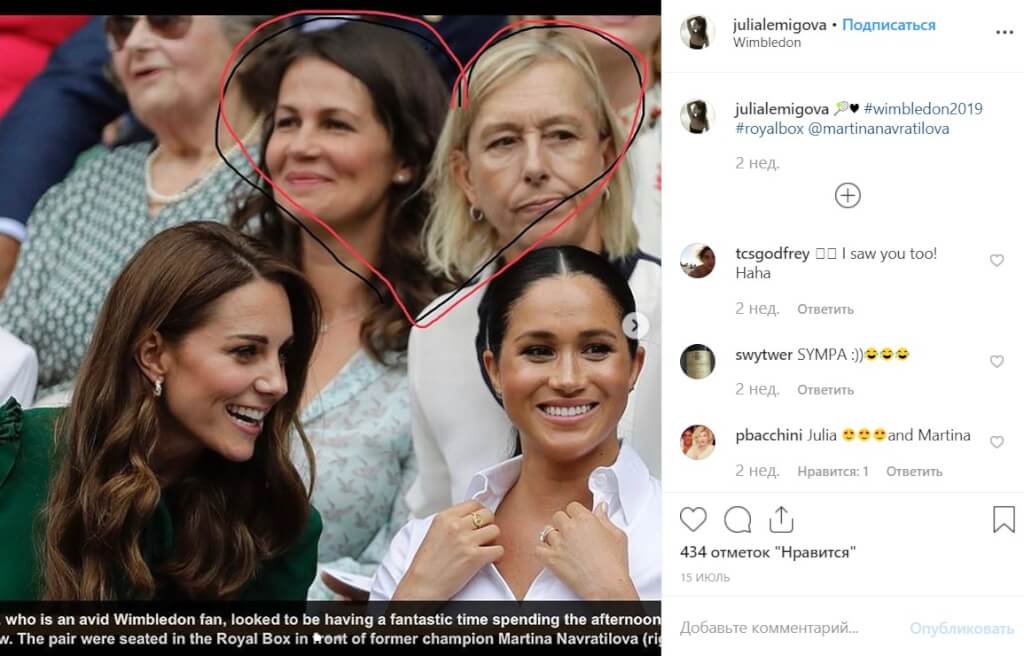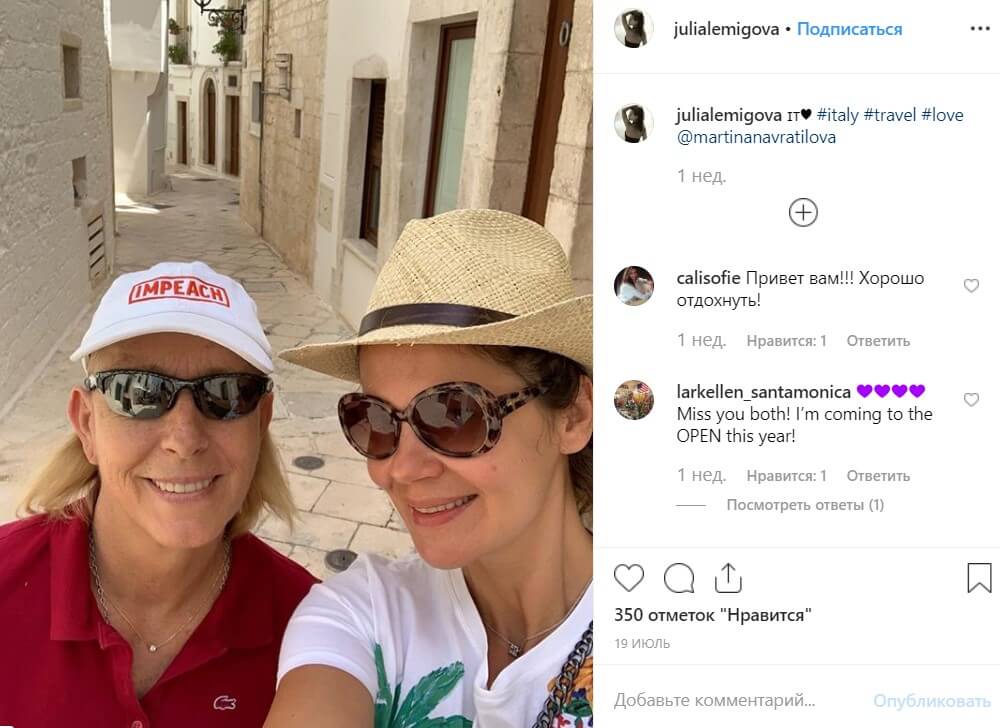 The other day they flew to Moscow and settled in the country, first went to the forest. It turned out that the famous tennis player is an avid mycelium. As a child, she inspected the Prague forests with his grandfather more than once, and today she enthusiastically fumbles through the bushes in the Moscow region and publishes photos of wonderful borovik on Instagram.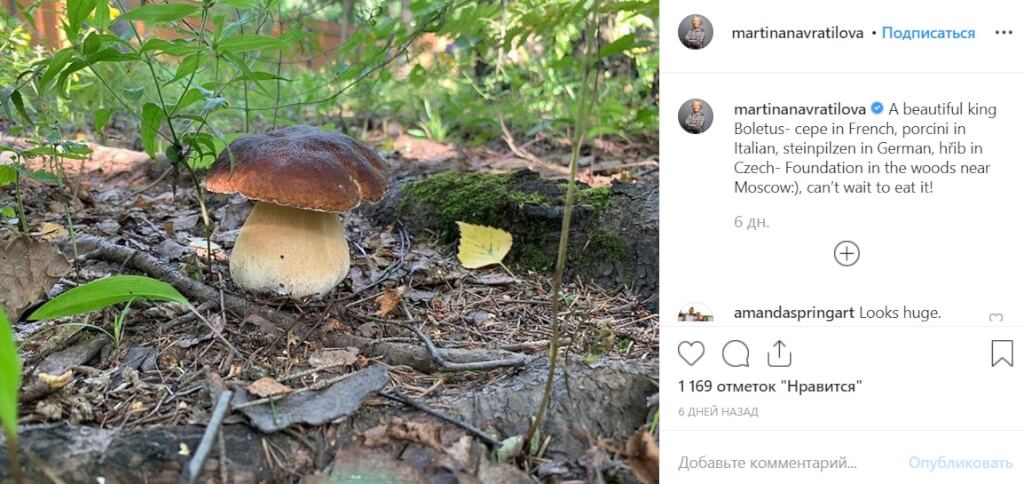 Life was a success!